A few years ago I had a very good reason to start looking for a best kids full face helmet.  My youngest boy happened to be a crash-prone one: he tended to fall of his bike more often than my other kids. However, total lack of fear combined with some obvious problems with steering and balance didn't stop him from riding a bike…
I certainly didn't want my child to get badly injured, and his safety was one of my biggest concerns at that moment. That's why I bought a full face helmet for him.
Best Choice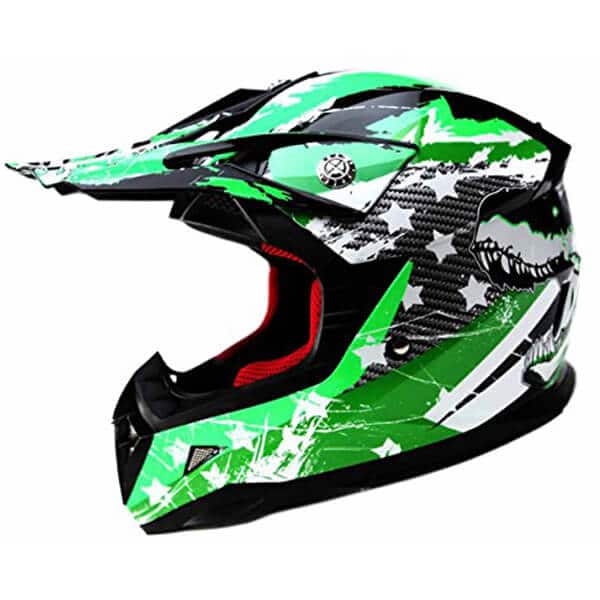 Motocross Youth Kids Helmet
Best Kids Full Face Helmet
If you are looking for a good off-road (BMX), ATV (all-terrain vehicle), street riding, dirt bike full face helmet, this is an answer!
The helmet is DOT-approved. It means that it complies with FMVSS 218 Standard: DOT sticker is on the rear of the helmet.
Read Verified Customer Reviews
Well, I can't say that with this helmet on, his bike riding improved a lot and he started falling less, but at least he was not as severely injured as he might have been with an open face helmet. It did pay!
With that said, just want to add that my little one simply loved this helmet and never complained of any inconveniences wearing it. He thought he looked cool!
What are the differences between full face helmet and open face one?
If you compare full face helmet with a standard bike helmet, you will recognize full face helmet by its distinguished feature – chin bar.
Full face helmet is all about protection. It covers the entire head! And that means that it offers the best possible protection of the chin and face (the most exposed areas of the face). Statistically these helmets are much safer than open face helmets.
Studies have shown that in the event of accident they decrease the risk of traumatic brain injury by 69% and the risk of death by 37%. Moreover, they also protect the rider from rain, dust, cold, bugs, debris, etc.
When it comes to comfort, it's difficult to say what type of helmet is more comfortable: full face or open face one. My youngest kid still loves his full face helmet and doesn't want to replace it with an open face type. Having said that, full face helmet didn't work for my daughter at all: she flatly refused to wear it, saying that she would rather go for an open face one. She didn't feel comfortable in a full face helmet: way too big and heavy for her.
Note, that in case of an accident it's more difficult to remove a full face helmet, but on the other hand, open face helmet could fall off the head.
Full face helmet vs Open face helmet
| | |
| --- | --- |
| Full face helmet | Open face helmet |
| Full coverage | Partial coverage, no face protection (face, jaw and chin are exposed) |
| Statistically safer | Statistically less safe than full face helmets |
| Heavier | Lighter due to the absence of the chin bar |
| More expensive | Less expensive |
| Less visibility: limited field of vision, sometimes with blind spots | More visibility |
| Less ventilation | More ventilation |
How to fit a full face helmet
First thing you need to do is to measure the head of your kid with a soft fabric measuring tape. You have to measure around the widest part of the head, just above the eyebrows. Once you start measuring, place the soft measuring tape in the middle between the eyebrows, go around the head until the tape overlap and get the number. While in the store or shopping online for a helmet, make sure that you buy one as close to that measurement as possible.
Best Kids Full Face Helmets in September, 2023 Review
I can assure you that I've spent enough time looking for a best kid's full face helmet before buying one for my child. And as always, I'm ready to share my experience and help you to make a right choice. Below is the review of the best kid's full face helmets. You can pick up any helmet from the list below, and you can't go wrong!
If you are looking for a good off-road (BMX), ATV (all-terrain vehicle), street riding, dirt bike full face helmet, this is an answer!
The helmet is DOT-approved. It means that it complies with FMVSS 218 Standard: DOT sticker is on the rear of the helmet.
The helmet has an advanced lightweight durable aerodynamic ABS shell (strong and hard) with EPS impact absorption. Couple of other features include removable and washable liner, and multiple fully adjustable vents to create a constant flow of air and keep the head of the kid cool. The helmet is available in 3 sizes: S, M and L. (Make sure you have correct measurements beforehand).
Recommendation: You could also buy matching CRG Sports Motocross ATV Dirt Bike off road racing goggles.
Pros
Aggressive fashionable design with aerodynamic shell
Lightweight
DOT approved
Extra space for glasses
Suitable for boys and girls
Heavily cushioned, removable and machine-washable padding
Adjustable and reinforced chin strap
Quick release, double D-ring buckle
Comfortable, easy to put on and take off
Fairly accurate sizing chart
Worth the money
Cons
Lack of visibility (as with all full face helmets compared to open face ones)
Some users complain about the material of the helmet's outer shell: thinner than they expected it to be
Another good value all-purpose helmet for summer and winter riding! With heavily cushioned and breathable padding the head of your kid would be very comfortable. Moreover, the helmet is well vented for off-riding. As the padding can be removed and machine-washed, it's possible to keep the interior of the helmet fresh and clean. It's a great helmet for kids riding dirt bikes, ATV's, off-road, carts, etc.
The helmet features D-ring chin strap with a snap: it's secure and very easy to use. It is available in 5 different fashion patterns (designs) and in 3 sizes for youth (S/М/L).
Recommendation: Might be a perfect gift for any occasion! Your little rider would get the whole set, including a helmet, goggles, one pair of gloves, and a helmet bag for safe storage and transportation!
Note: The helmet is DOT certified!
Pros
Lightweight and sturdy construction
Comfortable to wear
Extremely durable composite shell
Removable and machine-washable padding
Accurate sizing chart
Complete set: helmet, goggles, pair of gloves and a storage/transportation bag
Cons
Some users complain about poor quality goggles
A bit heavy for some young riders
The aerodynamic, lightweight and durable shell of this helmet was especially designed for high speed riding. It is made of ABS plastic which offers great protection against dents and is heat-resistant. This DOT-certified helmet can be used for motocross, dirt bike, BNX, downhill, mountain bike, and other activities.
It features open front face and allows for goggles for proper eyes protection. Other characteristics include removable chin strap: the only thing you need to do is to pull it out of the shell. This ILM helmet also has air vents in the front chin and in the back, so you can be assured that the head of your young rider is properly ventilated and supplied with the needed amount of a fresh air.
Note: The helmet comes with a detachable visor. It can easily be removed when there's no need to use it. On top of that, the visor can be slightly rotated in order to give better protection against the sun. The helmet also features good vented mouth protection and full-circumference headband padding.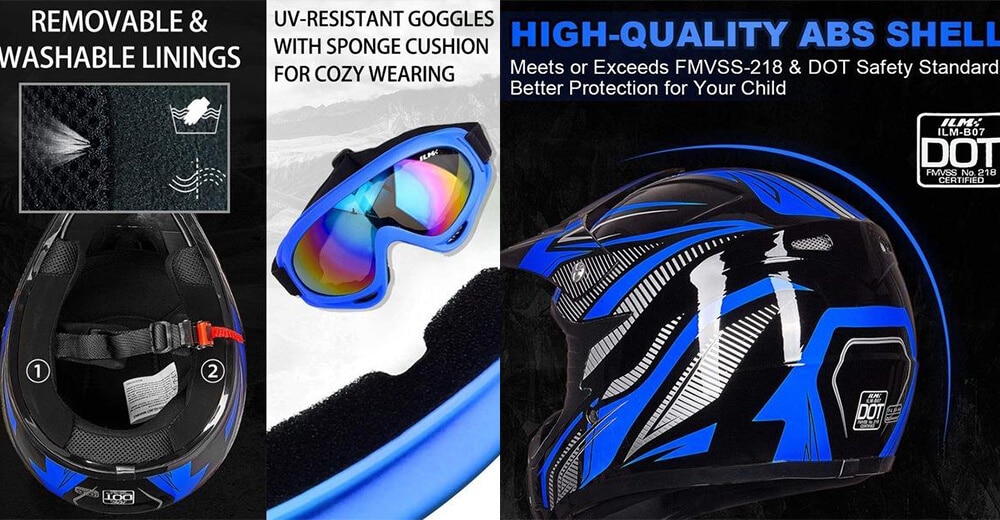 Pros
Lightweight and sturdy construction
Incredibly durable ABS shell
Detachable, slightly rotated visor
Removable and washable inner pads
Perfect fit
Accurate size chart
Well-padded and comfortable to wear
Chin strap buckle
Good value for money
This elegant and laconic, DOT-certified full face youth and kids helmet can be used for dirt bike, motocross, ATV, off-road, street bike, etc. As it has a very comfortable and heavily cushioned interior you might be sure that the head of your young rider would be warm even a snowmobile!
Having said that, the helmet features multicolor flip-up visor protecting the rider from sun, wind or snow. It comes with a special bag for gentle storage and transportation.
Note: The visor can be easily replaced or removed.
Recommendation: Great helmet if you are looking for a high quality at an affordable price!
Pros
Lightweight and yet sturdy construction
Laconic design
Perfect fit
Comfortable interior
Flip-up visor, easily removed or replaced
Removable and machine-washable padding
Available in 6 different colors/patterns
Comes with a storage/transportation bag
Cons
Some users complain about the weight of the helmet: a bit heavy for their kids to feel comfortable while wearing
Best kids full face helmet – Buyer's Guide
Size
First thing you need to do before buying any helmet is to take a measure of your kid's head circumference by using a string or a measuring tape. Make sure you don't wrap either string or measuring tape way too tight or too loose. K
nowing the size of your kid's head will help you to buy a properly and snuggly fitting helmet. A helmet, picked by wrong size, could be either too tight and your child would refuse to put it again, or too loose and would cause a helmet tilt to the sides ever so slightly
Tip: After making the measurements check the size chart provided by the manufacturer and pick the one you need. If you are not able to find the right size you would like to buy (you are in between sizes, to be exact), go for the bigger one and buy an extra inner padding. You can always take them out as needed.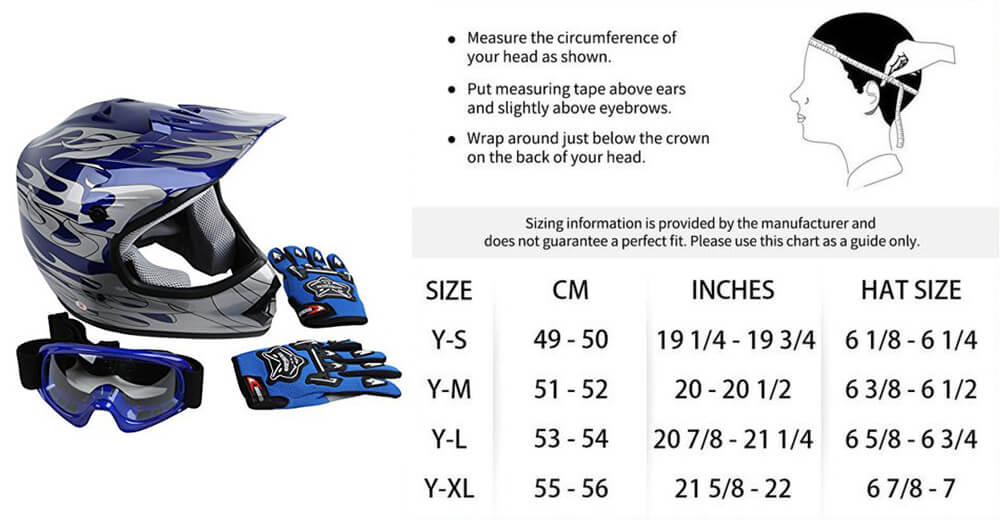 Snug fit
Sometimes it's not that easy to find a helmet that fits snuggly and comfortably, especially if you plan to buy a helmet at least for a couple of years. In that case try to find one with extra adjustable pads: you can always remove them as your kid grows.
Or simply go for extra pads with different widths (thickness) and try all of them till your kid feels comfortable wearing the helmet. The thickness of chin pads does really determine how snug the full face helmet fits.
Make sure you pick right angle adjustment on a full face helmet: don't it put too low as it restricts your vision and don't put it too high.
Weight
The helmet should be sturdy and yet lightweight.
Air flow
It's obvious that good air flow is important for any decent helmet: any rider should feel comfortable even in the heat of the day. However, full face helmets are as good ventilated as open face ones. In winter lots of padding will do its work perfectly well, but in summer the head of the young rider can get extremely hot due to the lack of ventilation.
Make sure you find a well-ventilated full face helmet for your kid. As a general rule, these helmets have small vents as it is understood that off-road races are normally short.
Chin strap
A chin strap should keep the helmet on the kid's head while riding and provide a snug and comfortable fit. Note that no more than 1 finger could fit under the strap.
How to take care of a full face helmet?
It's very important to look after your helmet. Most of the full face helmets come in their own bags for gentle storage and transportation, but if there are none, try to find an appropriate bag and keep the helmet there. You don't want it to be scratched or damaged due to improper storage, do you?
When to replace a full face helmet?
There are several reasons to buy a new helmet for your kid:
The helmet becomes small (your kid's head is bigger than the helmet).
Obvious damage of the helmet after being dropped.
Damage of the helmet after a crash.
How to wear goggles?
Do you want your little one to look like a pro? I bet you do! Then show him how to wear goggles. When it comes to a full face helmet, it all about goggles…They give much more protection to the face than sunglasses. You probably know that goggles can make the life of the rider way better! Different weather conditions, mud, bugs, stones, etc. can greatly affect riding, and wearing goggles would help a lot. Having said that, be prepared to the fact that goggles do take some getting used to.
Good quality goggles circulate air well, don't fog up, have really good field of vision and good lenses, and attach the helmet very well.
Tips:
Teach your kid to look after the lenses. It's very easy to get scratches on the goggle lenses, especially micro scratches from dust and tiny stones, or even cleaning them with the gloves or other pretty rough materials. That's why it's not recommended to wipe and clean the goggles with anything but a soft cloth. Best way to clean is to wash them with a warm soapy water.
If you can afford, buy goggles with a good quality anti-fog coating lenses.
Explain your kid that he should be careful while wearing goggles. If he needs to take them off in the rain, he has to make sure the water doesn't get inside the goggles. He should never pull his goggles off and place them on the chin bar as he breathes into them and may fog them up. If the kid wants to take them off, he should make sure the lenses are facing up and rain drops fall on upper part of the goggles, not on inner one.
In case it's supper hot outside and your kid doesn't want to wear his goggles for a while, you may show him a couple of ways how to store them:
take the goggles off the helmet, turn them around and fix them at the back of the helmet or place them behind your neck,
take the goggles off the helmet, turn them around and place them behind your neck.
Conclusion
A few things to consider before buying the helmet. It really doesn't matter how much money you spend on the full face helmet for your kid, if it doesn't fit properly. Think of the quality and the snug fit.
Hopefully, this article will help you in your search of a new full face helmet or a replacement one for the young rider. In case you are not yet sure which type of helmet you should get for your kid, or you've realized that your rider doesn't need a full face helmet yet, go for a standard one! To get an idea of these types of helmets, read my review of best toddler helmets! Hope it would be of help!
FAQ: Full face helmets
At what age can a kid wear a full face helmet?
What criteria to think of when looking for an effective full-face helmet?
Lightweight, perfect fit, compliance to the standards, high quality outer shell, removable and washable lining, proper visor.
What is the meaning of a DOT-approved helmet?
DOT-approved helmet means the helmet complies with the FMVSS 218, the Federal Motor Vehicle Safety Standard No 218, Motorcycle Helmets, and it is applicable to helmets sold in the U.S. for on-road use.
What is visor for in full face helmets?
Visor protects the eyes from sunshine: in case the sun is shining into your eyes, visibility is significantly reduced. Moreover, visor reduces the risk of injuries when falling off the bike.
Is it really necessary to keep the helmet in a special storage bag?
If you want to keep a full head helmet in a good condition (to avoid scratches, fall, etc.), you'd better keep it in a separate bag. The same is applicable for its transportation.