What Is A Baby Play Fence Used For?
Best baby play fence is used to separate a special play area where a baby can be kept for some time.
The thought of having a baby play fence system first crossed my mind when my eldest kid started to crawl, he was between 6 and 7 months at that time. He always loved his "tummy time" and I did my best to encourage him to reach for the toys he was interested.
And after experimenting with different ways of movements, he finally began crawling and within seconds was on everything…
Best Choice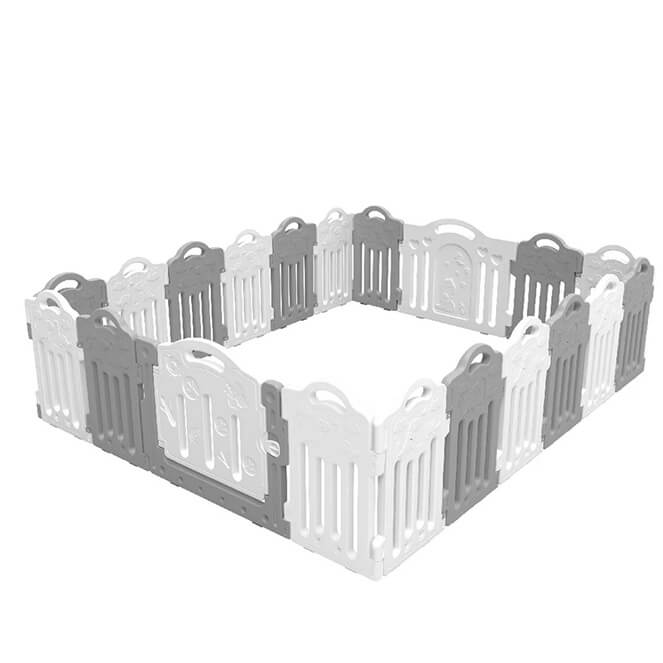 Baby Playpen
Best Baby Play Fence
This play fence system is very easy to disassemble and store if there's no need for it or in case of transportation.
Read Verified Customer Reviews
There were times when I simply couldn't watch him every minute but, on the other hand, I was not able to leave him alone for a second. Once I had to stop my crawling baby who was rushing to eat our cat's dry food.
So most typically I ended up either holding him on my arms or chasing him around the house. As nearly always I didn't have anyone to help me (my husband was on a frequent business trips at that time), the only thing I could have thought of was kind of a fence for our extremely active baby.
After spending some time on looking for the best baby fence system, I bought what I deadly needed at that time. And after I had it assembled, my life significantly improved, it changed within seconds, to be exact!
I was so happy that I was able to arrange a child-proof environment for my little one. Since then he had a safe area to crawl and play with his toys and.
Sometimes he even tried to stand up, but I still could step away for a minute and did what I had to do. The play fence was extremely helpful when I needed to do some things around the house. I could also relax a bit, and my back was pain-free at least for a while.
Best Baby Play Fence in December, 2023 Reviews
Below is my review of the best baby play fence system. Let's have a look!
1. Baby Playpen – Best Baby Play Fence System
If your baby starts crawling around or keeps pulling himself up on the panels, this play fence system really does its job: it provides a safe play area for a toddler. It is made of high quality, non-toxic plastic material, making it less harmful for your baby. It comes in 3 different sizes and with 14, 16 or 18 interchangeable panels. Entertainment panel is also a bonus.
At the bottom of each panel there are suction cups preventing the baby to move the fence around. So, you can be assured that with this playpen your baby is really in the safe area.
It features two gates: one of them is a door gate and the other one is a decorative gate.
This play fence system is very easy to disassemble and store if there's no need for it or in case of transportation. Having said that, you can use the number of panels you think is enough for a kid to have a proper space and fit it in any place of the house: either in the corner or a center of the room, hallway, bottom of stairs or wherever it fits.
Note: This play fence can be combined with other toys for a baby: foam puzzle and play mats, plastic playpen balls, rocking horse unicorn or toddler's first slide and climb and more.
Pros
High quality non-toxic 100% BPA-free plastic
Lightweight and yet durable
Indoor and outdoor use
Sturdy construction with smooth edges
Suctions cups
14, 16 or 18 interlocking panels
Easy to assemble and disassemble (no tools required)
Locking door latch
2. Baby Care Play Pen (Grey) – Best Baby Play Secure and Non-slip Fence System
For the twins or in case you want to have a bigger space for your baby, you can buy two separate sets and fix them together making a huge safe area.
Note: The play fence is easier to assemble than disassemble. If you plan to use it only during day time and put away at night, better consider other option.
Pros
Customized to fit a Baby Care mat
Extremely sturdy
Easy to assemble
Waterproof, BPA-free and tested to European Toy Standards
Secure and non-slip
Curved edges
Thick and rounded panels for extra stability
Double-lock door
Comes in 4 different colors: gray, sky blue, pink, vivid
Worth the money
The obvious bonus of this baby play fence is that you can configure it into any shape. It's a perfect solution for open floor plans. The panels feature non-slip pads preventing not only from slipping but scratching the floor as well. They work on any surface.
As the play fence comes in 4 different colors (sand, gray, colorplay, and fieldstone), it can fit most of the decors.
Recommendation: You can use this play fence for quite a time. At first to keep your crawling baby in the restricted area, and later you may use 2 or 3 panels of the fence as a barrier to block the stairs or any other wide openings, or block off the TV stand or a fire place, etc.
Note: You can buy separately a folding ABC Play Mat. It provides all extra comfort for your kiddy while playing there.
Pros
Foldable, pre-connected panels with carrying strap for easy travel
High quality material: BPA-free plastic
Sturdy construction able to withstand daily tear and wear
Freestanding
Designed for indoor and outdoor use
Easy to set up
Non-slip pads
Extra wide
Possibility to extend
Cons
Some of the users find it a bit bulky to carry around
Regalo
you can do many things: starting from blocking off stairs and backrooms to arranging a play center for your baby and more. Another good news about it is that it could be easily reconfigured into any shape: square, rectangle, circle, octagon, triangle.
It features eight configurable panels with a walk-through door and easy to operate handle and a safety lock. It can work as a fireplace, staircase, Xmas tree or oven barrier, a gate between rooms and a play yard for your little one. You can make a gate and within couple of minutes turn it into a play area.
Note: Wall mounting hardware is included in case of more prominent installation. Before assembling the fence, make sure you have a screwdriver, drill, a pencil and a tape measure.
Pros
Extremely durable steel construction
Multifunctional, indoor and outdoor use
Great for odd spaces
Easy to set up
Easy to operate handle with safety lock
Convenient design with a walk-through door
Configurable and easy to set up
Cons
There are some complains that some toddlers can manage to unlatch the lock and open the door
The play fence comes with six interlocking panels. However, if case you need more playing space, you can buy separately two panels extension or another set and double the play center! It is suitable for kids from 6 up to 24 months.
Note: With this play fence you have a chance to open a door on every panel! What is more, you can do it with one hand only! That's really extremely easy in-and-out!
Recommendation: Could be a perfect gift for baby! I would highly recommend it!
Pros
Safe design
High quality plastic
Easy and quick assembly
Lightweight
Portable: easy to store and move
Durable and sturdy construction
Indoor and outdoor use
Ultra Violet and weather resistant
Available in multiple colors
Door opening on every panel
Smooth edges
Possibility to extend (two panel extension, sold separately)
Cons
Some users find it to be a bit flimsy and easy to climb
Buyer's Guide: What to Look for When Buying a Baby Play Fence
Similar to any other products, there are a few things you need to keep in mind when buying for a baby play fence.
Design
Any baby play fence should be sturdy, stable and have smooth edges.
Material
Most commonly baby play fences are made of heavy-duty plastic. However, there are a few varieties made from metal. It's up to you what you think is more suitable for your baby, but the most important thing is that any play fence should be made of high quality, non-toxic materials. Make sure to buy the one that passes the safety standards.
Easy to fold
You may want to consider a play fence that is easy to fold for storage or transportation. In case of small premises try to find a compact model, the one that you can easy fold and unfold when needed.
Versatile use
Try to find a baby fence system that can be configured into any shape and used not only as a play yard, but a barrier to block any potential hazard area for your baby.
Possibility to extend
It's always better to buy a fence system with the possibility to extend it, especially if you plan to use for some time. When you start with a standard fence, it might be a perfect size for your baby.
But this may change as your kid grows and needs to move around more! In such a case you can either buy the extension for it or another one of these and get double the play space.
Inside and outside use
Before buying any baby play fence, think where you are going to use it. If you plan to use it both inside and outside, look for the special models with weather resistant panels for using in the backyard. In that case make sure the panels are easy to clean.
Try to find the fence with non-slip pads for using in your playroom: these special pads are supposed to prevent the fence not only from slipping but scratching the floor as well.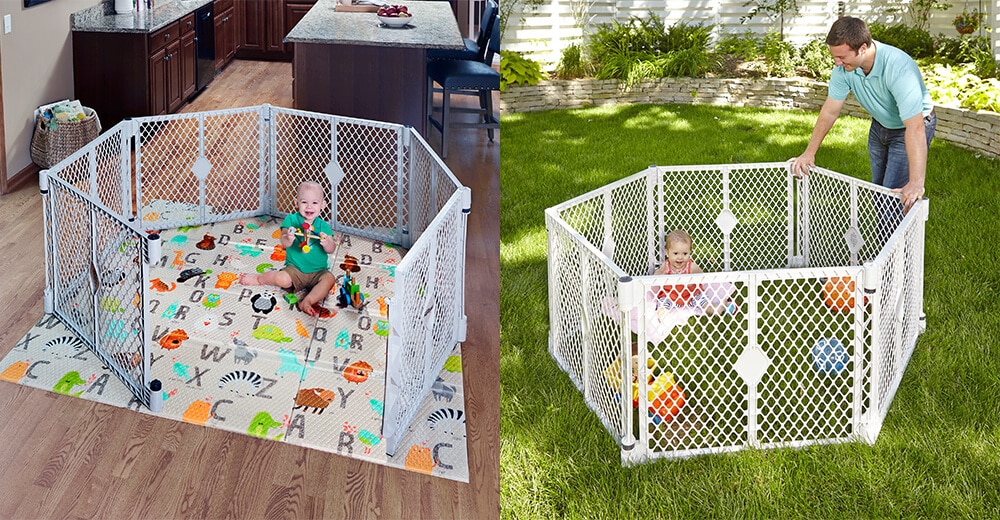 Budget
Most commonly baby play fences are not cheap. If you want to have a good quality one, make sure are prepared to spend a certain amount on money on safety of your little one. Plan your budget!
Is it really necessary to have a baby play fence system?
Based on my own experience, I can say that YES, it is. Having a baby play fence system, you are able to eliminate potential hazards your crawling baby could meet in the house (stairs, fireplace, electrical cords and outlets, medicines, cleaning stuff, plant stands, pets' food, sharp corners of the furniture, oven, and other potentially dangerous objects).
It's a handy thing to contain a baby and let him entertain himself for some time. Most of the time babies don't even notice that they are boxed.
What is the best baby play fence system?
The best baby play fence provides a safe play area for a toddler. It is the one that:
has sturdy construction with smooth edges;
is made of high-quality non-toxic materials (metal or plastic);
can be used both inside and outdoors;
is versatile and multifunctional (can be configured into any shape);
is easy to assemble and disassemble;
has non-slip pad for indoor use;
has easy and quick access to the baby in case of emergency.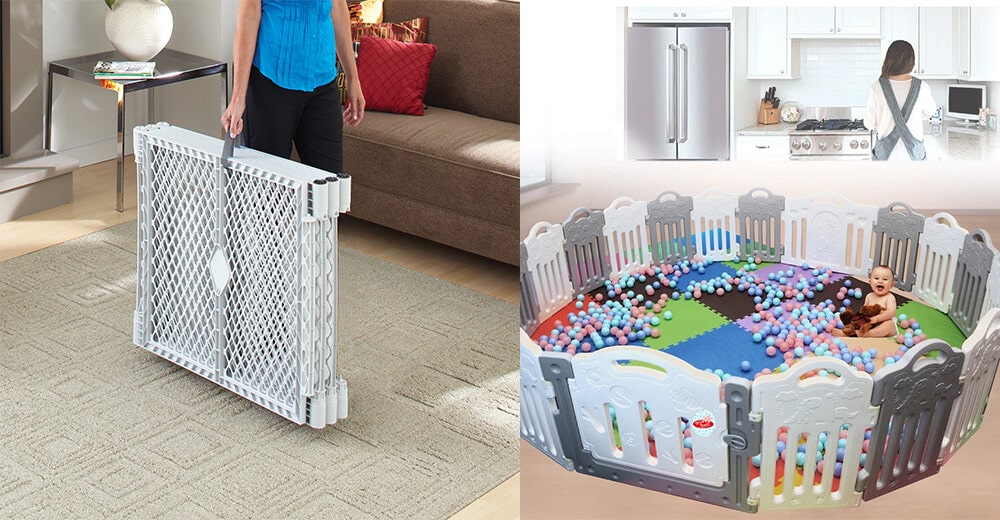 Conclusion
I believe that any baby play fence is a handy thing to have. However, if you are thinking of buying one, try to do it earlier than your little one starts crawling. It would be nice if your kid has enough time to get used to his new environment, so try to make the playing center comfortable and familiar to him.
If you have older kids around, let them play there together. And doesn't matter how safe the play fence is, don't leave your baby unattended for a long time, especially a very active one!
FAQ: The Best Baby Play Fence System
What is the best age to start using a baby play fence?
When the baby starts turning and crawling, 4-6 months; however, any play fence can be used when you think you can not leave your little one alone if you need a little break.
Do the play fences come with the foam mats?
No, they don't. You need to buy them separately and probably even cut them to size if needed.
Is it possible to buy additional panels to make the play fence bigger?
Of course, it is, but it depends on the manufacturer. You'd better check if you can do it, before buying.
Can a baby open a play fence?
No, as a rule a baby cannot open a door of a play fence. Most of the fences are done in such a way that the lock is from the outside.
How long can a baby stay in the play fence?
It depends on the baby: one can stay there and entertain himself for about half and hour and more, and have a nap there, the other one is not able to be there even 2-3 minutes.