If you've started thinking about a backpack for your kid, it only means that he can walk properly and is ready to carry some things behind his back. There are thousands of various backpacks for toddlers, and you should choose the one of best toddler backpacks for Preschool for your baby.
Nowadays backpacks come in variety of fabrics, shapes, colors, and sizes, and you are supposed to find the right one that shows off the interest and personality of your child. In fact, your little one might be helpful a bit: he can decide what color or what carton or zoo character he would like to have in his backpack. But as a parent you should look for lots of other things to make sure your child is safe and comfortable.
Apparently the issue of choosing the right backpack is more serious as might appear at first sight. You sure don't want your kid suffer from different types of pain (back, neck or shoulder) due to the wrong model of the backpack your baby has to carry. And in this article I'm going to tell you what I'm looking for in backpacks for my kids.
List of 11 Best Toddler Backpacks for Preschool in December, 2023 Reviews
My personal 11 includes the following backpacks. Let's have a look!

This is a very interesting model, and I would like to be more detailed. Yodo Zoo luggage /backpack is a perfect versatile option. In fact, you can transform it either into a backpack or a suitcase.
If you don't want your kid struggling with carrying it as a backpack, you can always make a rolling one. Easy and quick access pouch on the front of the backpack is great for the items your kid might need at any times.
Recommendation: It's an absolutely perfect gift for a child loving animals. Five different designs (unicorn, monkey, owl, dinosaur, and shark) come in different colors and shapes. I'm sure any kid would be able to choose his favorite. Highly recommended!
Note: Mind that the product is available in two sizes: small and medium, and there are some differences between them with regard to opening, availability of the internal pockets, and name tags. As a majority of backpacks, you can open the small one halfway only; while main compartment of the middle sized can be fully opened.
There are neither internal pockets nor name tags in the smallest option; whereas middle size has both: fairy large internal pocket and a name tag.
Skip Hop
! It's roomy enough to accommodate some things your kid needs not only for 2-3-4 hours outing but even for a short travel as his personal hand luggage.
Lunch box or some snacks can be placed into the separate multi-use front pocket, while the main compartment could fit kid's clothes and/or toys. The zippers are very easy to use, and the kids can open the backpack themselves without any help.
With a name tag spot there's a possibility to personalize the bag. For safety reasons the tag is located inside and that's a plus. I don't want to put any personal information on display for strangers.
Recommendation: There's a possibility to complete the back pack with a matching design lunch box, water bottle, cutlery set, and even some tableware.
Note: This backpack comes in variety of fun Zoo patterns. Your little one has a chance to make his choice.
3. Wildkin Backpack for Boys and Girls – best backpacks for Preschoolers, Kindergarten, and Elementary School, Patterns Coordinate with Our Lunch Boxes and Duffel Bags
It's one of the backpacks the kids love to carry around. It's very comfortable and not heavy as the weight of the backpack is well balanced. It's very easy to open, and its spacious design allows fitting most of the things your little one wants to take.
He may keep his pencils in a special pencil holder of the front zipped compartment and easily pick them up any time he wants.
A lunch box, some snacks, extra clothes or toys, and even a folder fit perfectly well in this backpack.
Recommendation: You could also buy additional items with a matching design like lunch box, water bottle, even a sleeping bag with the favorite patterns of your little ones. I would classify it as one of the things that you and your kid won't be disappointed after buying!
3-in-1
backpack by Yodo has some unique features. As it is insulated, it can be used as perfect
lunch bag
, just the right size for your toddler to carry it himself. It can easily accommodate a lunch box, a thermos or a water bottle, and a snack container.
And you will be sure that the lunch of your kid is kept fresh all morning. Of course, it can be used as a standard backpack for diapers, spare clothes, toys, and any other stuff your little one wants to carry.
Other peculiar thing of the backpack is a detachable tether. It comes handy when you are in the crowed places like shopping centers, airports, streets, etc. It works both ways: giving you the sense of security, and sense of some "freedom" and "independence" to your kiddy.
Moreover, it's practical and functional: perfect size for the overnight trips and mini travels. It has enough of space to accommodate some snacks, diapers, small toys, and some extra clothes. And the detachable leash will ensure safety of your kid in the overcrowded places.
While it may seem small, this backpack is roomy enough to fit the lunch box, some snacks and small toys, spare clothes and diapers for child. And pay attention to the handy inbuilt bottle holder in the main compartment. It's a small chance to lose it!
Note: Durable, sturdy, and with slip-resistant bottom! This backpack also features strong hand and shoulders straps.
In fact the same model comes in 4 different colors: red, pink, dark blue and blue. This is one of the adorable backpacks your little girl can easily load and unload herself due to the good quality zippers.
Note: This backpack features a safely leash, however some parents have mentioned that it's not very secure and rather easy to remove. Please bear in mind that there is no chest buckle preventing the backpack from slipping and enhancing the comfort.
In addition to relatively large main compartment it features a roomy zipped front pocket for snacks, crayons, small toys, and other necessities you little one might need being out of the house. Moreover, the front pocket has a very easy and quick access for your kid to use it without any help.
And I'm pretty sure he would be able to load and unload the items he might need at any times.
Apart from tiger, this backpack comes in array of fun Zoo patterns like owl, rabbit, lion, elephant, mermaid, unicorn, and others.
Recommendation: Might be a perfect gift for a preschooler!
This backpack is pretty small but it might be an ideal choice in case your child doesn't like big bags but prefers to carry his own "possessions" himself.
It's made from soft neoprene fabric. Since it's a waterproof material, all the kid's stuff will stay dry even in a rainy day.
Note: Front zipped pouch is insulated and therefore perfect for some snacks.
But even this small one is spacious enough for the most needed items of your kiddy.
You could place some food, toys, small books, napkins, diapers in the main compartment whilst the front one can be used for some snacks or other daily items your baby might need.
Note: The backpack comes in 10 different patterns.
This multifunctional and versatile backpack features insulated food-safe front pocket for a lunch box or some snacks. And you may be sure that your little one can easily unzip this compartment without any help and pick up anything he likes from there any time he feels like.
It also has a mesh side pocket for a bottle or a travel mug, and a top handle to hang it in a cubby.
Recommendation: Should you want to go on with the dinosaur's theme, you may buy a matching insulated lunch box, a water bottle, a plush blanket, or/and a nap mat for daycare and preschool.
Best Toddler Backpacks for Preschool in 2020 – Buyer's Guide
Each time I have to buy a backpack for one of my kids I think about following:
Right size and weight
As we are talking about best backpacks for toddlers, size and weight are the most important criteria to take into account. The right backpack for a toddler should sit exactly between his neck and waist: neither going above the child's neck or below his waist line. Lightweight materials are the best choice.
Shoulder straps
They should be wide and padded in order to distribute the weight more evenly and comfortably. Moreover, shoulder straps should be adjustable. It makes the bag last much longer as your child grows. It would be nice to find contoured straps which fit much better than the ordinary ones but such models are more expensive.
Note: Teach your kid to use both straps, not just one on one shoulder.
Back panel
Ideally back panel of your kid's backpack should be padded. Try to look for a ventilated padding.
Chest and waist strap and buckle
This is a must-have, especially in the backpacks supplied with a detachable tether/leash. In such a case the backpack always stays on your little one! But even if you are not going to use the leash, chest and waist straps help to keep the bag centered on your kid's body.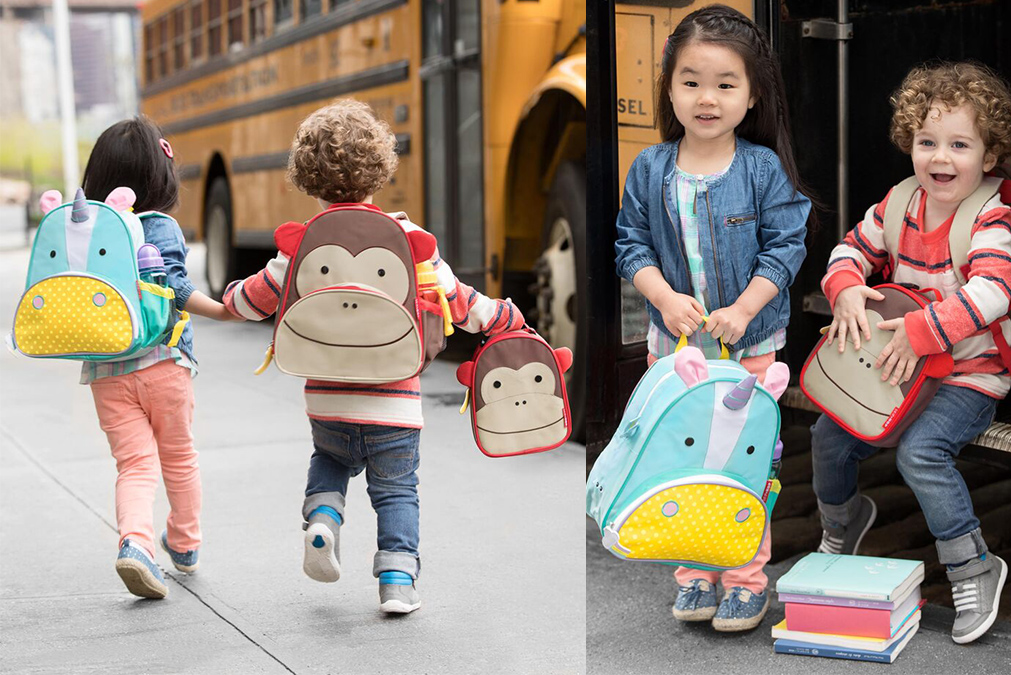 Material
There are lots of beautiful toddlers' backpacks, but do your best to be practical and reasonable. The bag of your choice should be from a material you can easily clean after an inevitable food spills. It should be a synthetic fabric that can be wiped off, washed and dried easily. Machine wash is always a plus!
Zippers
Zippers are an important issue especially if your little one is going to open and close them himself. Look at the backpacks with high quality sturdy zippers.
Internal and external pockets
All the pockets should be easily accessed.
Personal tag
Personal tag is a great thing to track your belongings and avoid any mix-up. But I prefer internal label that doesn't expose any personal data of my kids to the strangers.
Rolling backpack
Rolling backpack might be a good option in case your kid needs to take more things to school or daily care, and you don't want him to struggle with a heavy weight. But make sure this type of backpacks is allowed in your school. Rolling backpack is also very good for travel.
Some extras
Reflectors, side mesh pockets, coin purse and some other extras are always a plus!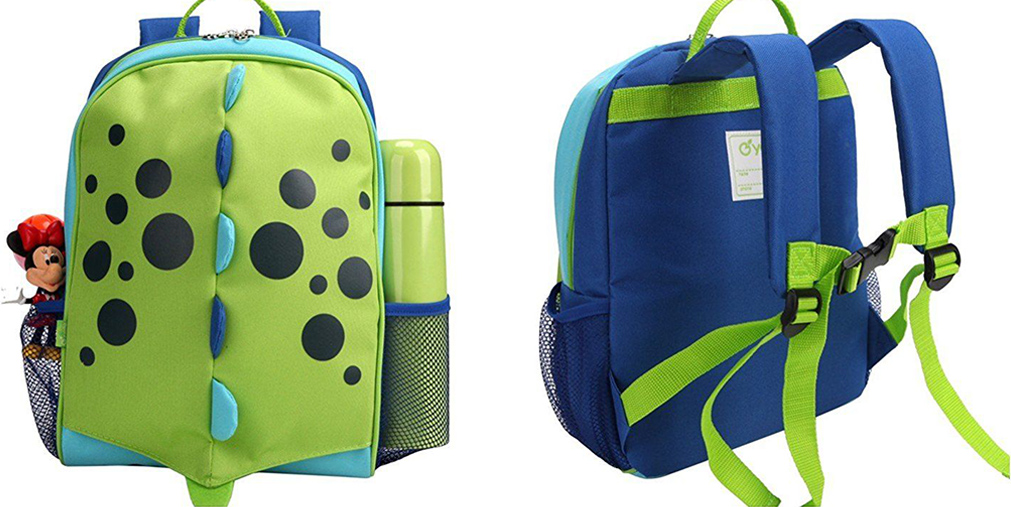 Conclusion
A backpack might mean a lot for your child. It could not only be a perfect toy to play with but a good educational object developing your kid's fine motor skills, teaching him colors, shapes, and numbers (counting pockets and zippers, or cartoon characters on the print, for example).
In case of a right choice, the backpack could show off personality of your child as well as his interests.
Yes, it's not that easy to find the best backpack for your little one, but don't rush and spend your time looking for the best available option you can afford! You surely want your baby to stay healthy and happy, don't you?
FAQ
1. Do all backpacks have padded back panels?
No, they don't. Try to buy a backpack with a fully padded back panel. This additional feature enhances more comfort while wearing: it prevents overheating and wicks away any moisture.
2. Backpack of what size is suitable for a kindergarten?
Kindergarten backpack should be medium size, but not larger than your child's back. Most commonly, such backpack should accommodate a lunch box, a water bottle, and some personal stuff your kiddy would like to have on a daily basis. If you want to know for sure what size you need, measure your kid's back (from the shoulder to the waistline), and you will have a correct size. Don't buy the one with a thought that your little one would grow into it anyway: it doesn't work with the backpacks.
3. Does the material of a toddler backpack matter a lot?
Yes, it does. If your kid is very active and likes to run, try to find a lightweight backpack with ventilated mesh back panel for a better airflow. In case of often rains make sure your little one has a waterproof backpack.
4. How many compartments should a toddler backpack have?
At least two: a main one for some small toys, food, napkins, etc., and a smaller one (inside or in the front) for some snacks or other items your kid might need.
5. Is it possible to attach a leash/tether to any toddler backpack?
It's possible to attach a leash/tether to a backpack with a special fixing, otherwise it is not safe.