What is the best toddler ski helmet?
For me personally, the best skiing helmet for a toddler is the one that fits perfectly, has a good ventilation system, durable and lightweight. And of course 360 fit system is a must of kids helmet, because it offers both lateral and forward fit adjustments.
I'm not going to tell you scaring stories what could happen when kids' heads are not protected. Neither I'm going to sell the idea of importance of a ski helmet for a toddler. For me and my family safety is a key issue. For this very reason toddler ski/snow helmet is a must-have, without any discussions. 
Best Choice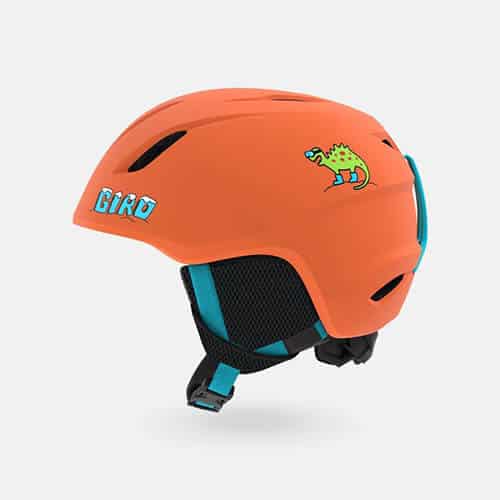 Giro Launch Childrens Snowboard Ski Helmet
Best Toddler Ski Helmet
This Giro Launch helmet features in-mold outer shell construction, which makes it lightweight, whereas the impact-absorbing foam liner ensures good protection.
Read Verified Customer Reviews
How to fit a ski helmet for a toddler?
First thing you need to do is to measure the head of your little one with a soft fabric measuring tape. You have to measure around the widest part of the head, just above the eyebrows. Once you start measuring, place the soft measuring tape in the middle between the eyebrows, go round the head until the tape overlap and get the number. While on the store or shopping online for a helmet, make sure that you buy one as close to that measurement as possible.
How to put the helmet?
You should put the brim of the helmet right above the eyebrows and squeeze it backwards. Then make sure it secures the head of your kid perfectly well. While adjusting the chin strap remember a rule of thumb: you can slip only one thumb behind the buckle. That allows for adequate space, however, the helmet is tight enough and won't choke your kid.
How do I know that a helmet doesn't fit?
The first indicator that the helmet doesn't fit is when you put it on your kid's head and it covers his eyebrows. It should be ABOVE the eyebrows.
The second indicator: the helmet moves side-to-side, and front-to-back.
5 Best Toddler Ski Helmets in September, 2023 Review
As always I'm prepared to share my experience with you and help you to make a right choice. I can assure you that you can pick up any helmet from the list below, and you can't go wrong with any of them.
See More Images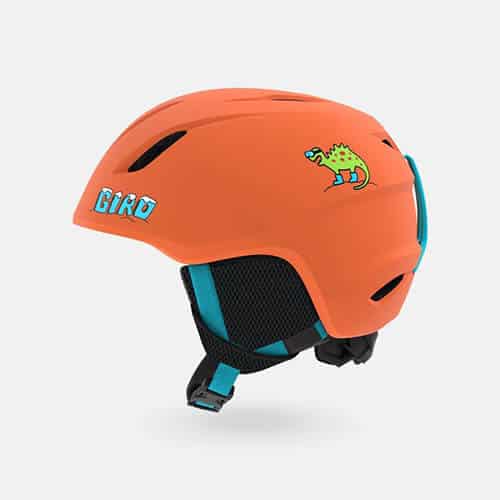 This Giro Launch helmet features in-mold outer shell construction, which makes it lightweight, whereas the impact-absorbing foam liner ensures good protection. An obvious advantage of the helmet is In-Form Fit System. It opens the way to adjust the snug fit of the helmet within seconds even with gloves on. Easy-to-use dial system allows for up to 2 inches of fit adjustment.
On top of that there is vertical tuning – a separate feature that makes it possible to adjust the tilt of the helmet on the head and eliminate the gap between the helmet and goggles. This seamless lockup of helmet and goggles is called seamless compatibility. It means that two Giro products (helmet and goggles) are designed to work together.
Super cool vents are constructed in such a way that fresh air gets into the helmet while heat, moisture, and stale air goes out.
Inside the helmet there is a soft interior which is more comfortable for a kid to wear.
Recommendation: This helmet is definitely a good investment: great quality and really lightweight.
Note:  As the helmet comes in great variety of colors (38 to be exact!), you may ask your kid to make his own choice! And later on you won't have any difficulties to identify your little skier due to the bright design of his helmet!
Pros
Perfect fit
Perfect quality
Worth the money
In-Form Fit System – easy to adjust a perfect fit
Seamless compatibility with Giro goggles
Vertical tuning
Super cool vents
Good sizing system
Lightweight and super comfortable to wear
Certified: CE EN 1077
Cons
Smaller than expected by some customers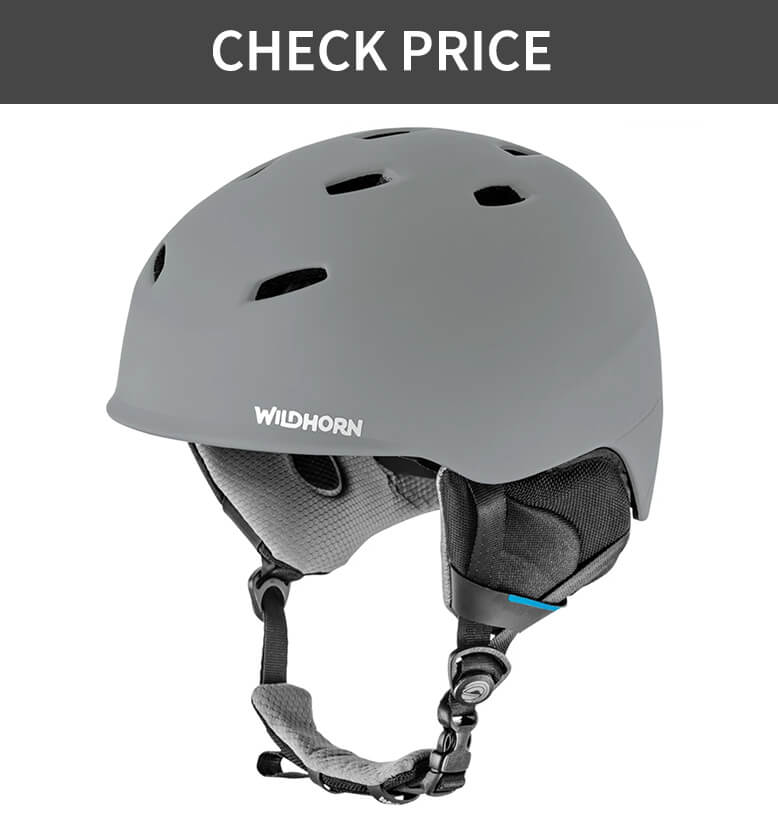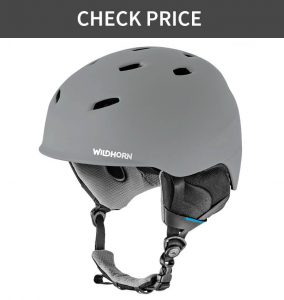 If you want your little skier look like a pro, this Wildhorn Drift Snowboard & Ski Helmet would be a perfect choice! You probably know that Wildhorn is a proud supplier of the U.S. Ski Team; and it's a pretty big deal!
With this helmet on, the head of your kid won't look big and bulky; it is an extremely comfortable helmet with a snug fit.
Moreover, it features fully adjustable ventilation system with 13 vents and a special slider that goes down when you need more airflow and goes up in case you need to keep heat. It is the easiest way to control temperature and increase the level of comfort to maximum.
A patented fine-tune adjustment allows for perfect fit of the helmet. There is a goggle strap lock at the back of the helmet to hold the goggles in the right position. Super-plush interior liner ensures maximum insulation: with this helmet your toddler won't need any extra balaclava underneath.
The helmet comes in 11 different colors.
Recommendation: I would recommend this super lightweight, warm and comfortable helmet! Might be a nice Xmas gift for a boy or a girl!
Pros
High quality
Perfect ergonomic fit
Lightweight design
Low-profile design
Fine-tune adjustment
Goggle strap lock
Removable ear flaps
Interior soft and comfort liner
Certified: ASTM F2040 and EN1077 standards
Cons
Some users miss a storage bad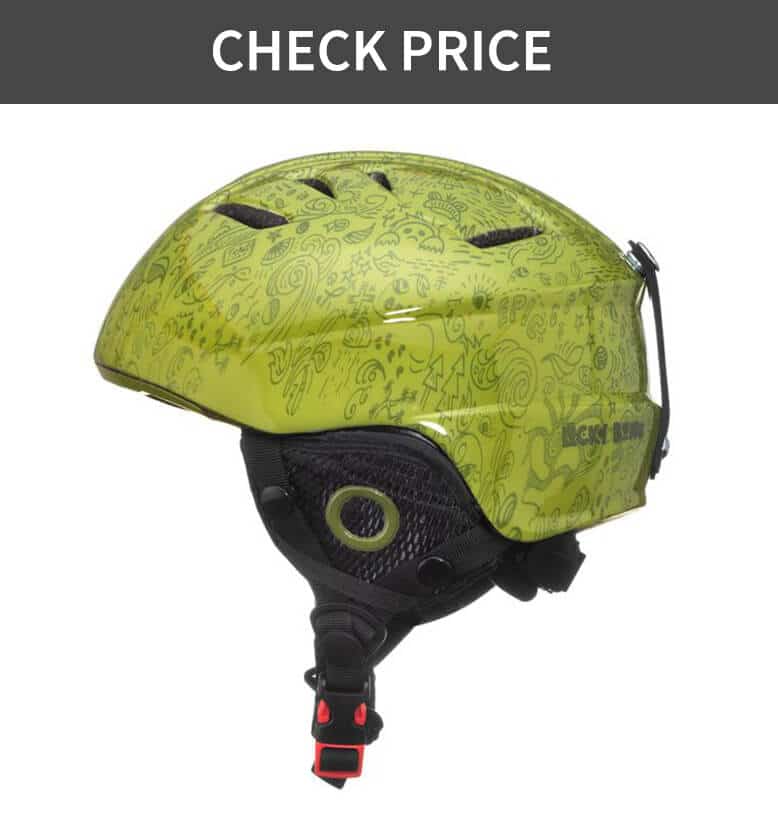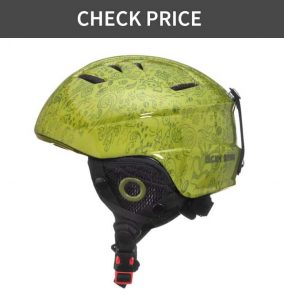 This is another extremely lightweight kids' ski helmet: it weighs less than 1 pound! What is more, it's a multi-sport helmet. It can be used not only for skiing, but for skateboarding and sledging as well. That's why it is one of my picks!
Furthermore, in-mold construction of the helmet provides solid and durable protection, keeping the head of your little one safe. It also features ultra thick chin strap and goggle strap lock: both of them make the helmet more functional and comfortable to wear. The helmet is CE EN1077 certified. In addition, it comes in two sizes toddler XS/Small and toddler Medium/Large.
Recommendation: Could be a perfect first ski helmet for a toddler!
Note: You can choose from 5 different colors.
Pros
Lightweight
Warm and comfortable
Perfect snug fit
High quality
Adjustable head size
CE EN1077 certified
Multi-sport helmet
Good buy
Accurate sizing chart
Cons
There are some complaints regarding the poor quality of the chin strap: it tends to break easily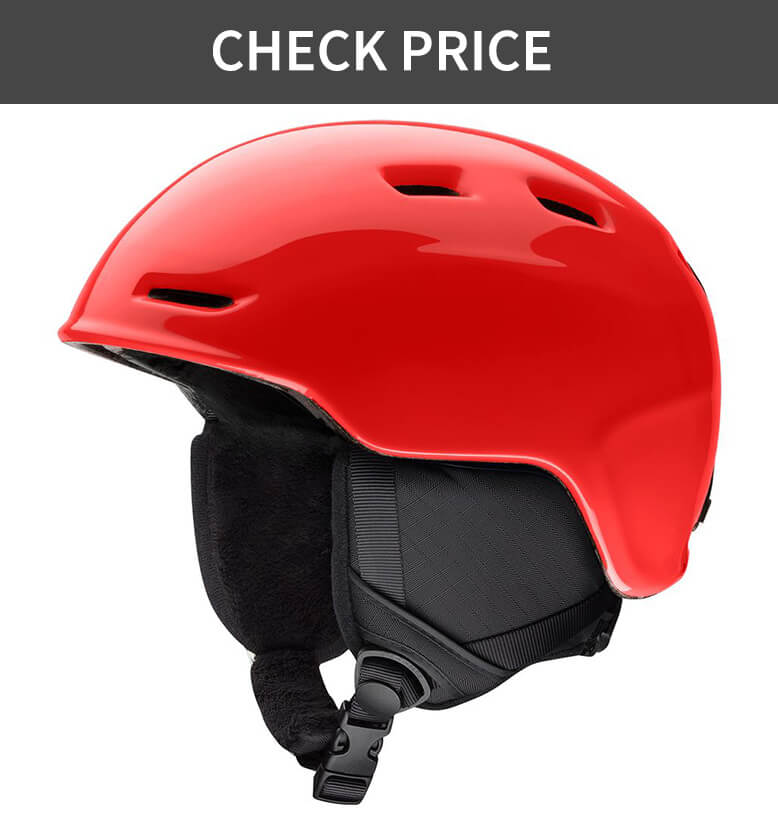 If you are looking for super lightweight and warm toddler skiing helmet, go for Smith Optics one! It weighs only 2.65 pounds!
Super thick plush ear pads are very comfortable and will keep kids head and ears warm. My friends bought this helmet for their 3 year old son. They are very happy with the purchase, however, the helmet tends to fit a little bit larger than expected. But they've bought an additional beanie (kids balaclava ski mask) and the issue has been solved.
Recommendation: You may also buy Smith Goggles to go with the helmet!
Pros
Perfect snug fit
Good value
Easy-to-use dial adjustment system
2 ventilation with airflow climate control
Goggle retainer in the back of the helmet
Great choice of colors
Cons
There are some complains of the users with regard to the size chart: it is not very clear
Ear pads are not removable
Some users miss mesh over the air vents to keep the snow out when they kid tumbles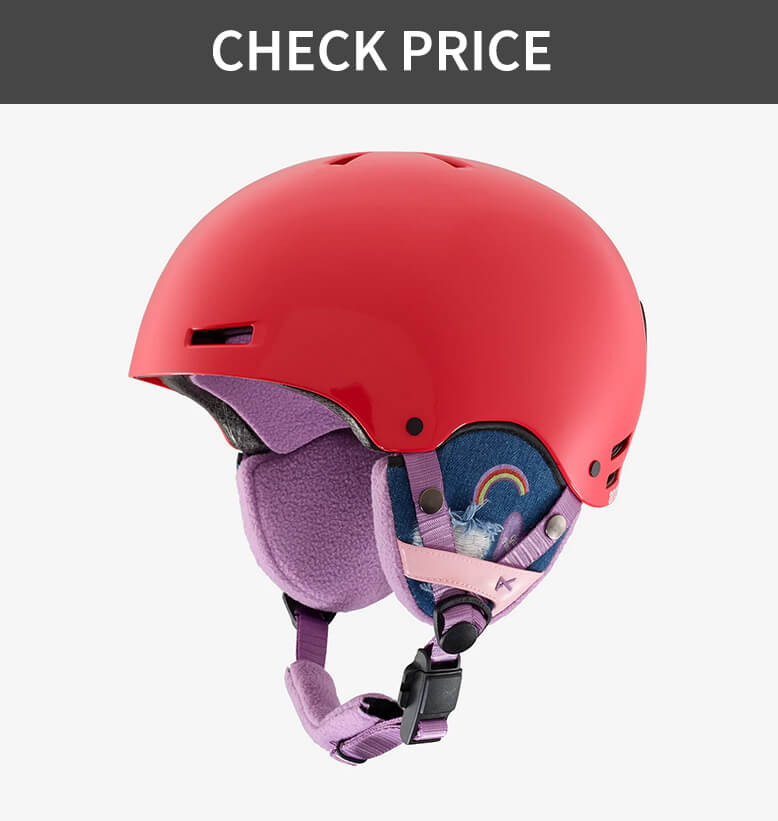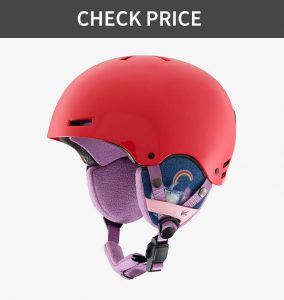 This Anon Rime Snow Helmet has a classic look and is available in 6 different colors. It meets multi-season certification standards in North America and Europe. The helmet features passive ventilation system allowing the fresh air in and pushing moisture out.
Furthermore, this system keeps goggles from fogging. The helmet inside is super thick due to removable ear pads and fleece liners. Having said that, you can easily remove them, if it is more comfortable for your kid to wear a balaclava under the helmet. The same is the case for a removable goggle clip: if your little one doesn't wear goggles, you can easily remove the clip.
Pros
Removable ear pads and fleece liners
Passive ventilation
Good value for money
Cute lining design
Removable goggle clip
Cons
Too heavy for some of the users
Buyer's Guide: What to look for in a toddler snow helmet
Safety
Any ski helmet (from toddler through to adult) is regarded as personal protective equipment, the main purpose of which is to protect a head whilst skiing or similar winter sports. There are so many options available in the market today, and you can make your choice taking into account your personal preferences and the amount of money you are prepared to spend. You can buy helmet of any design, color or manufacture, but make sure it passed all the safety certifications. That is what really matters!
Ventilation
Of course it's better if a helmet features adjustable ventilation! Temperature control is one of the most important characteristics of the helmet; it indicates the level of comfort.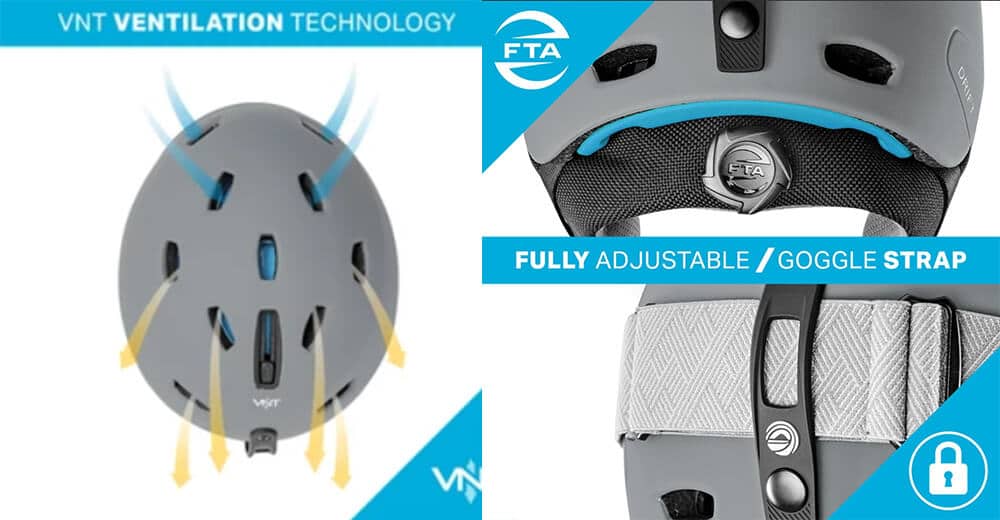 Fit system
Fit system offers both lateral and forward fit adjustments. This is another important feature of the helmet. Make sure you are able to ensure a snug fit of the helmet you are going to buy for your little one.
Overall comfort
This is the feature that also should be taken into consideration. Kids would never wear things they don't feel comfortable with… If you want your little one wear a helmet during all snow activities, make sure it fits perfectly well; and your kid doesn't feel any pain, pressure, or discomfort while having the helmet on his head.
Conclusion
Every detail makes a difference if you need to pick up a right snow/ski helmet for your toddler. Make sure you have enough time to read at least about general features and have an idea what you are looking for and what you need. I do hope my findings were of help. Happy skiing!
FAQ
1. Do ski helmets have to adhere to any special standard systems?
Yes, it's CEN EN1077 (European ski helmet standard); ASTM (American Society of Testing and Materials) F2040 certifications; and RS-98 safety standard of Snell Memorial Foundation.
2. What is the difference between ski and bike helmets?
As ski helmet is designed to be used in snow, its construction is heavier than a standard bike helmet; ski helmet is more padded and has a special insulation for a cold weather, whereas a bike helmet has more ventilation.
3. How do I know the size of the ski helmet for a toddler?
You need to measure your kid's head circumference. The size of the helmet is equal to the circumference; for this reason, is it important to select a helmet that is the closest to the numbers you have measured.
4. Is there any difference between ski helmets for boys and girls?
In fact, ski helmets are unisex. They might differ in color and design; and you can pick up any theme you wish for your toddler to wear; or even your little one can make such a choice.
5. Is it compulsory to wear ski goggles with a ski helmet?
No, it is not, however, it's more comfortable when it comes to sunny weather or wind. Make sure your little one is getting used to wearing them.