Some parents might think that as scooters don't go very fast, there's no need to wear a helmet. I can't and will never agree with that. Safety is a value and a priority! Being a beginner scooter rider one of my kids fall a lot. The helmet has saved her head many times.
Best Choice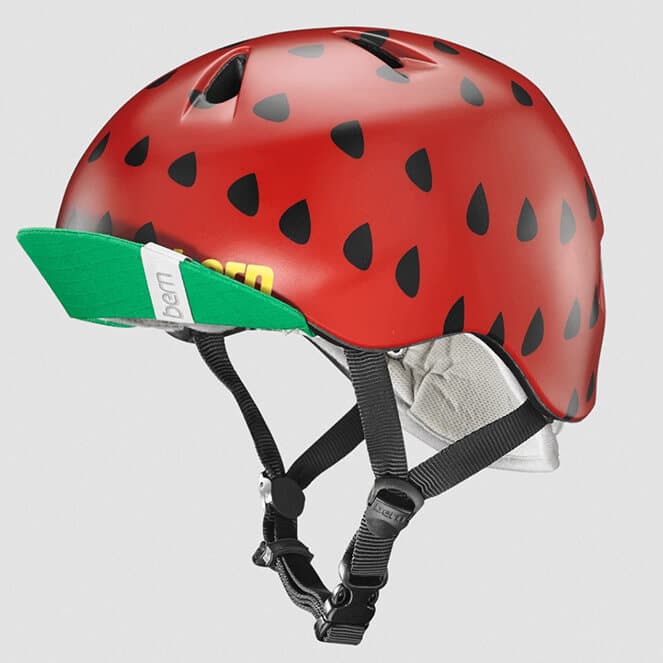 BERN Nina Helmet
The obvious advantage of the helmet is season versatility: your little one can wear it all year round.
Read Verified Customer Reviews
I want my kids to stay safe doesn't matter what they are busy with: scooting, cycling, balance biking, roller skating, or doing other wheeled sports. Most of the helmets are designed for all the activities and I know for sure that each of my kids doesn't need more than one helmet.
As always I'm sharing my experience with you and do hope that my tips would help you to decide what is best for the needs of your little ones. Let's have a look at few of scooter helmets.
Best Toddler Scooter Helmets in June, 2023 Review
BERN Nina – Best Scooter Helmet for a Toddler
I must admit that this helmet has a funky catchy design due to its patented soft flip visor which could be worn up or down.
It's an excellent looking helmet with great protection.
It comes in 2 shell sizes and it's possible to customize it with the special adjustment in the back.
The obvious advantage of the helmet is season versatility: your little one can wear it all year round.
It's ultra lightweight with a cool color and top and rear vents to keep the head cool in summer.
Pros
Adjustable size
Detachable pads for cold and sunny days
Detachable visor
High-impact liquid foam
Lightweight
Cons
Buckle is not very convenient for a toddler
The helmet features the rear adjustment wheel for a snag fit.
Pros
Good quality
Lightweight and airy
CPSC-certified helmet for scooting, biking, skating
Good quality
Replacement pads are available
Cons
There are some complaints regarding the adjustment system: the helmet seems to slide on the head even after being adjusted to the smallest settings
Note: The helmet comes with two nice gifts:
A set of 3D puff stickers so your kid can decorate his helmet and create a unique look.
A nice bag for store and carry.
Pros
Perfect quality
Sturdy and durable design
Lightweight
CPSC-certified helmet for scooting, biking, skating and other outdoor sports
Washable liner pad
Led trail lights
Good ventilation system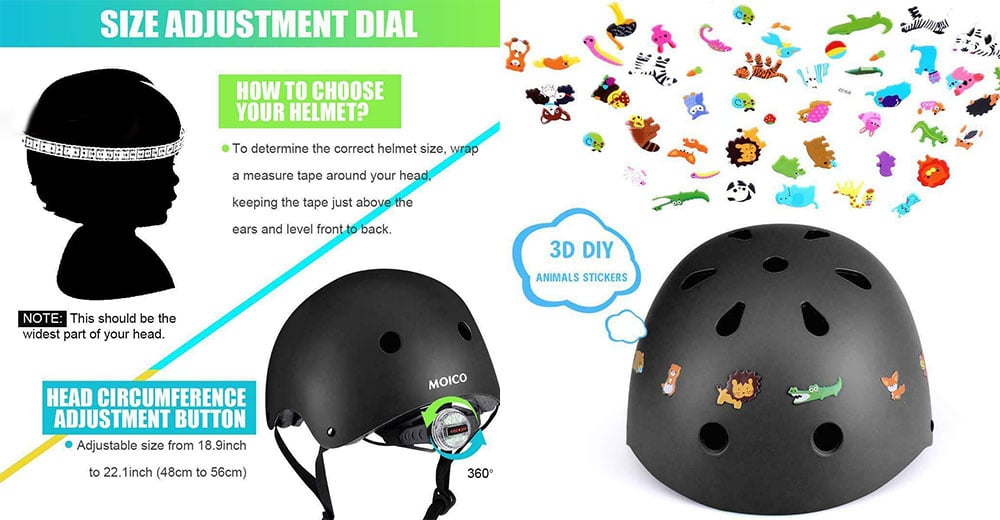 This helmet is built of a durable material and has Twist Fit system that allows it to "grow" along with your kid. It comes with dial mechanism which is very easy and convenient to use. The helmet has a standard classic design but, according to the manufacturers, it is able to withstand multiple low impacts or a single high impact.
Recommendation: If you don't want any funky model, go to that one and you will be sure that the head of your kid is safe!
Pros
Adjustable size
Fits nice and tight
Good quality
Lightweight
Meets the bicycles and skate helmet requirements: the helmet passed all the relative tests
helmet with
complete protective gear set
, including knee, elbow pads and wrist guards, go to this helmet by Ledivo. The helmet features absolutely everything a young scooter rider could think of: head size adjustment system, breathable pads, 13 vent holes, adjustable straps and shock absorbing EPS foam.
ABS shell together with high-density EPS great impact resistance material provide better protection of the head. Adjustable straps make it possible to wear the helmet for some years. On top of that, the straps are very easy to fix with exquisite fixed buckle and quick release button.
This versatile helmet is suitable for 3-8 years old boys and girls and comes in 5 colors: black, blue, green-yellow, orange and pink.
Recommendation: Could be a perfect set for a beginner!
Note: In fact, the helmet is versatile and could be used for all wheeled sports: scooter, bike, skateboard, etc.
Pros
Complies with CE CPSC standards
Sturdy and durable construction
Total set of protective gear
Easy to have a proper fit
Turning knob to adjust the size
Good value for money
Cons
As the helmet comes with knee, elbow and wrist protection pads, some users complain about the fact that there's no way to adjust additional protection gear
As the helmet comes in 5 different colors, there's a chance to pick a right one and more appealing for your kid. The helmet features good ventilation system, ensuring air circulation and reducing heat exposure. Adjustable straps have soft material under the chin making it nice and comfortable for a kid to wear the helmet.
Pros
Lightweight and durable helmet
Cute and unique dragon teeth design
Bright colors
Well-padded and comfortable
6 holes ventilation system
High quality, anatomically shaped chin buckle
Room to grow
Easy to adjust the straps in the back
Cons
There are complaints related to the sharp edges of the dragon's teeth.
Long ago I read about very helpful information related to raising awareness of the risks with not wearing a helmet while cycling. The campaign was arranged by The Middlesex-London Health Unit. They introduced so called "Helmet Salute" (see below). I loved the idea and taught my kids all the elements of the salute. It does work and my kids used to have fun checking the correct fit of each other's helmets. Try it! Maybe this simple exercise would work with your kids too!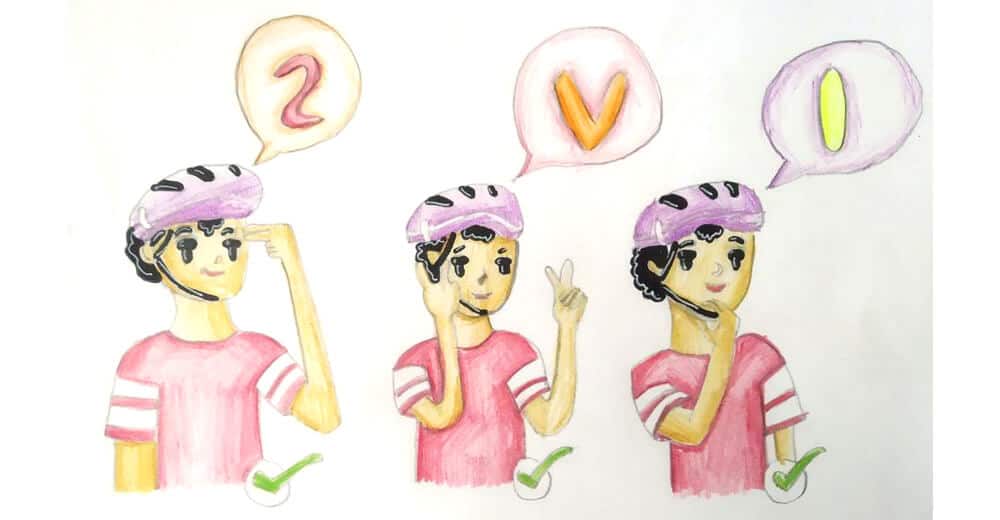 How to measure the head, choose the right size and adjust a helmet for a toddler: Tips
It can be a challenge to find a right helmet for a toddler. And it doesn't really matter what helmet you are looking for: bike, snowboard, scooter, etc.
Just remember rule N 1: as long as your kid is doing any wheeled sports, he has to wear a helmet! As I did it more than once for my own kids, I would be more than happy to share my experience with you. Now let's get started!
Before you even go to the shop or order a helmet online, the first thing you need to do is to take a soft measuring tape and measure the head of your little one. Start measuring right above the eyebrows and ears. The tape should go around the widest part of your kid's head: that's the exact place where the helmet is going to sit.After that look at the technical description of the helmet and find out the exact size you need to buy. If your measurement happens to be in between size, go for a bigger one. But I don't recommend sizing up (with room to grow) as it may not be safe for your little one.
Recommendation: If you don't have a soft measuring tape, you can also use a string or a shoelace. Wrap it round the head and then measure the string with a metal tape measure or any ruler you might have.
Helmets Size Chart by Age
Age                 Head Circumference (inches)
12 months       18,1
2 years            18.9
3-5 years         20
6-10 years       20.8
Once you have a helmet make sure it fits properly. Put it on your kid's head: front to back. The helmet should neither be too far forward nor too far backwards. If the helmet is far forward it means that it is covering forehead of the kid's head and the back of his head is unprotected. And if it's far backwards, the front of kid's head is not protected.
Note: The general rule is that the front edge of the helmet is 1-2 fingers above the eyebrows.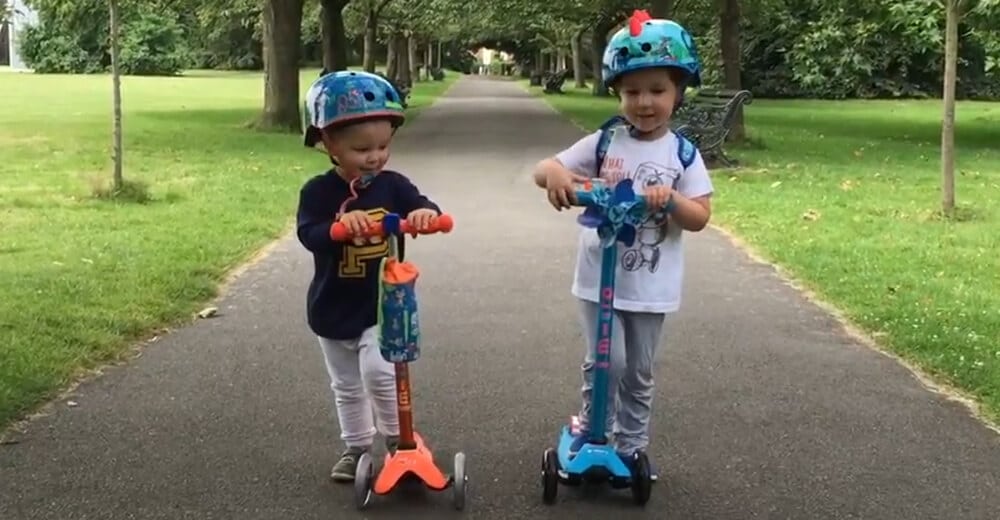 After you put a helmet on your toddler's head and it's sitting comfortably, the next thing you need to do is to fix and adjust the side straps. They should form a letter "Y" and meet below the ear lobe of your kid. If they are not, you can make them higher or lower by expending the strap and moving it up or down.
Then you go to a chin strap and buckle the helmet. It should provide a snug and comfortable fit. Note that no more than 1 finger could fit under the strap. It should be neither too loose nor too tight. The chin straps might loosen over some time. So, don't forget to check the helmet from time to time and tighten the chin straps.
If the helmet has a visor, make sure it sits parallel to the ground.
Best toddler scooter helmets – Buyer's Guide
When buying a scooter helmet for your toddler you should be aware of the following criteria to be considered.
Size
Right size is the key issue of the helmet! A helmet, picked by wrong size, could be either too tight and your child would refuse to put it again or too loose and would cause a helmet tilt to the sides ever so slightly. Take a measure of your kid's head circumference by using a string or a measuring tape: this is the size of the helmet.
Weight
Try to find a solid and sturdy helmet, and yet lightweight.
Air vents
A helmet should have plenty of vent holes for a proper air circulation. Good air flow is important for a decent helmet, so a toddler would feel comfortable even in the heat of the day.
Side straps
Side straps should form a letter "Y" and meet below the ear lobe of your kid.
Chin strap
A chin strap should provide a snug and comfortable fit.
Extra adjustable pads
Extra adjustable pads are good if you plan to buy a helmet at least for a couple of years: you can always remove them as your kid grows.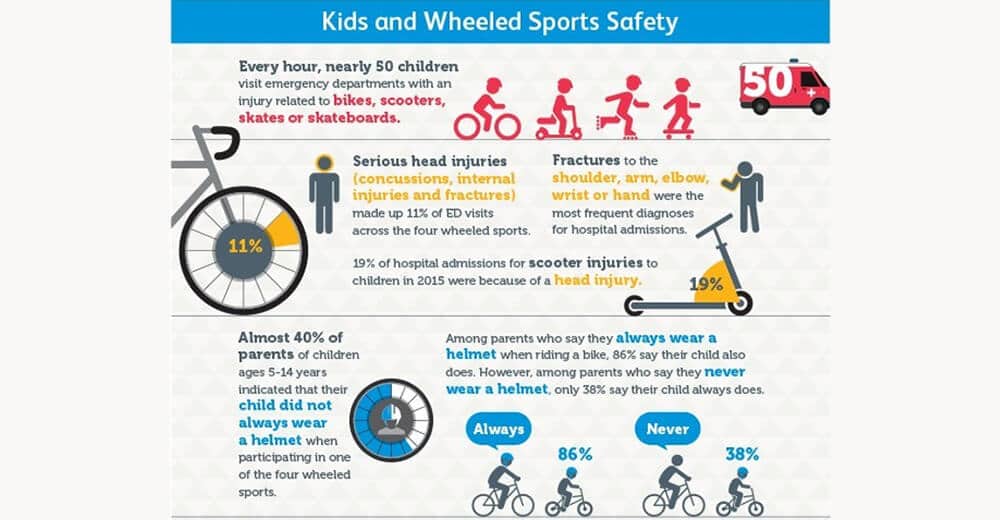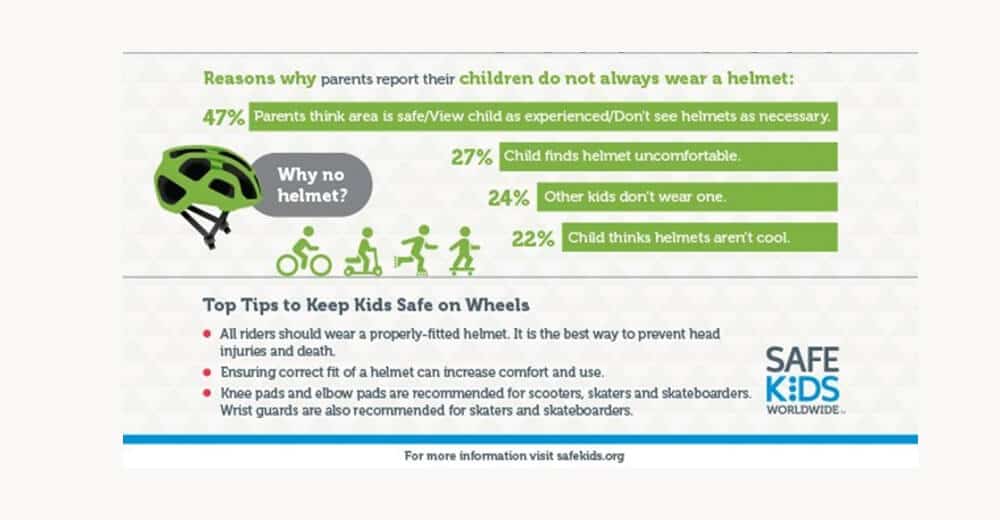 Conclusion
If you want your young scooter rider feel and look like a pro, spend your time and buy your kid a proper scooter helmet. Think of all the criteria to be taken into account and don't ignore fun patterns and styles.
They will definitely please your little one and make riding lots of fun. I do hope that my tips would help you to decide what is best for the needs of your young scooter rider!
Try to introduce "Helmet Salute" rule in your family. It is still working in mine, I do hope it would in yours too!
FAQ
At what age kids should wear scooter helmet?
Kids may wear scooter helmets since 18 -24 months.
What to pay attention to when buying a scooter helmet for a toddler?
Several criteria should be taken into account: - certified by safety standards; - lightweight shell; - air vents to keep the head cool while scooter riding; - extra padding for comfortable and snug fit; - adjustable straps for the ultimate comfort.
Is it possible to adjust the size of a scooter helmet?
Yes, it is. It's better to buy a helmet with foam pads of different sizes to make the perfect fit.
Is it possible to buy a scooter helmet that covers the ears?
Yes, it is. You should look for a classic full-cut design with ear protection.
What is the most convenient buckle type in a toddler helmet?
In fact, it depends on your preferences. The most convenient are Snap In and Go (magnetic closure that is easy to open and close) and quick release buckle.
Is more expensive scooter helmet safer?
The more expensive the helmet, the more comfortable it is. It has thicker padding, is made of different materials and could have a different style. But the most important is to buy a certified helmet as all certified helmets go through similar approval procedures.
When is it necessary to replace a scooter helmet?
Any scooter helmet has to be replaced after any crash, or when the head of the scooter rider grows and the helmet doesn't fit properly. Even though the helmet might not be damaged but the foam may have been weakened. Note that all helmets are designed to withstand one impact only! They lose their integrity after experiencing a crash or dent. Do not continue using a helmet with a dent.