This toddler bike helmets review can help to choose the best helmet before your child starts riding a bike or balance bike.
Riding a bicycle brings joyfulness to a child's life and we all should know that to keep our kids safe on the bikes they need to wear helmets.
Child safety is a number one priority when your kid starts to learn how to ride a two-wheeler. Sometimes even 3 or 4-wheels bicycles are not stable enough from falling over, so buying bikes for your kids should always come with a helmet purchase. "No cycling without a helmet!" – was the first rule my children learned when I started to bike.
I have five kids to choose helmets for, so quite sometimes I have been able to look for the most safe and comfortable helmets.
Comfort and the right fit are, by far the most important criteria to be considered when choosing a protection accessory for your little one. Kid could simply refuse to wear a helmet if it does not fit well. The properly-fitting helmet will significantly reduce the risk of serious head injury.
Toddler Bike Helmets Review in September, 2023
15 Perfect Toddler Bike Helmets – Review
Let's Have a Good Look at the List of 15 Helmets That Meet all Mentioned Above Criteria

This is a sweet-looking comfortable toddler helmet with an excellent air flow. I'm sure your kid would love its fancy design. It is built from durable shock-absorbing protective EPS foam. Thanks to three sets of foam pads the helmet could be customized for a proper fit.
Moreover, it could grow with your kid's head. Magnetic closure is very easy to use: it clicks gently to prevent pinching a child's skin. 11 vents provide for proper airflow and protect kid's head from overheating. It is the best rated toddler bike helmet.
This is another Nutcase helmet but without a visor. It might be a good choice for some kids who refuse to wear helmets with visor.
This light and solid helmet is not only stylish but it is equipped with three sets of foam pads for extra safety and perfect fit. Magnetic closure is extremely easy to use and it's very secure.
Lazer
has been especially designed for the youngest riders or those in trailers or bike seats. It's one of the helmets small enough for toddlers available in the market. It comes with proper rear protection of the head and neck of your baby.
The helmet features super soft padding that makes it very comfortable to wear. It also has reflected material on the shell.
It comes with 6 vents (meaning that it's cool for the kid to wear) and 6 fun color options.
Note: As the helmet features the flat back, it can be perfectly well used in the trailer.
It also comes with built-in visor and good ventilation system: 8 vents would keep the head of your kid cool.
Moreover, you will never lose a sight of your child with such a brightly-colored helmet!
Note: In case you want to buy this helmet for a girl, it is ponytail compatible.
It features a flexible visor and a magnetic buckle which is extremely easy to use with one hand.
The helmet also comes with specific interchangeable pads for proper fit and size adjustment dial. Multiple vent holes are designed for optimal air flow.
The helmet features extra protection in the rear due to the lower molded shell.
The helmet meets the CPSC SAFETY STANDARD and is certified for skating, scooting and cycling.
Note: The helmet comes with a stylish travel bag made from resistant and durable material making it easy for transportation and storage.
You can be assured that the helmet could be kept clean. It also comes with a dial adjustment for a perfect fit.
Note: The helmet comes with pinch guard buckle – a very useful feature preventing pinching the skin of your little one.
The one I bought for my kid was Razor Child Full Face Helmet. I can't say that with this helmet on he fell less but at least he was not severely injured. The Razor helmet fitted him perfectly due to the possibility to make absolute adjustment to his head. The helmet features good vented mouth protection and full-circumference headband padding.
With that said, just want to add that my little one simply loved this helmet and never complained of any inconveniences wearing it. He thought he looked cool!
Recommendation: Should you have the same problem with your kid, go for the full face helmet! It pays!
Other Kids Full Face Helmets you can see there.
11. Bern Boys Camino Helmet – Best Multisport Winter Helmet for a toddler boy
Bern Camino Helmet
is definitely an answer. This is one of the helmets designed to keep the head of your young sportsman warm throughout the coldest season of the year.
The helmet is certified for snow and meets СPSC standards. Moreover, it can be used for both: biking and skating. Bern Camino Helmet comes in a variety of colors to choose from (7 of them all together).
Note: Due to the special technology this helmet is more lightweight compared to traditional in-mold helmets, however, there's no chance your little one would get cold.
12. Bell Helmets – best infant bike helmet
They fit snugly, especially for smaller heads. The chin strap is designed in such a way that I never ever clipped the chin of my kids. With 7 vents on the top of the helmet the heads of my little ones always stayed cool with enough air.
The helmet features extended rear coverage intended for extra protection of the head.
Recommendation:  If you are looking for an infant helmet, I would recommend going for that one!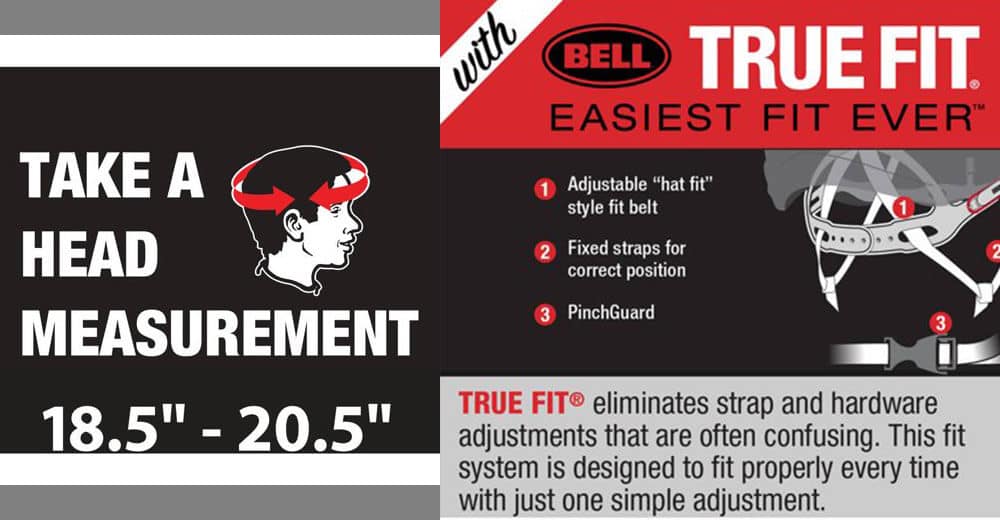 13. Ouwoer Kids Bike Helmet – Best Multisport Helmet for a boy and a girl
The helmet comes in 7 colors and may be worn by a boy and a girl. It also has 2 sets of interchangeable pads with different thickness which are not only easy to adjust but to remove and clean as well.
Recommendation: Might be a great birthday present for any toddler!
Best Toddler Mohawk Helmets in September, 2023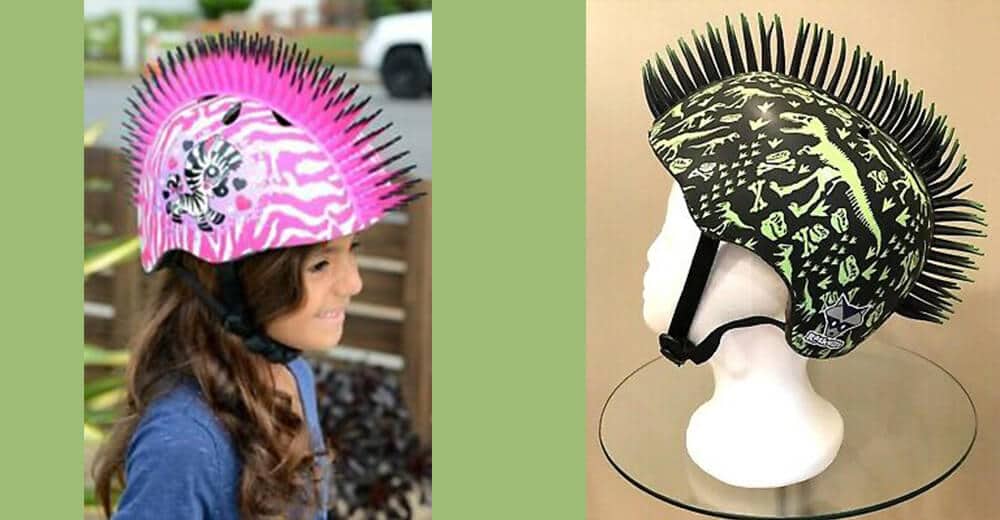 Once I saw a toddler wearing such helmet in a public transport… I'd like to say that the kiddy didn't go unnoticed, and there was no question that the helmet drawn the attention of everyone!
Although the helmet looks like lots of fun, it does its main job: prevents the head from injuries.
Recommendation: Could be a nice gift and definitely a huge hit for a little Spiderman!
The helmet's shock absorbing shell is made of expanded polystyrene and aimed to protect child's head against any impact. It also has a reasonable amount of cooling vents to keep the head of your kid well ventilated while riding a bike. Having said that, these aerodynamic vents are masterfully incorporated in the helmet design.
Note: Designed for toddler 3+
Toddler Bike Helmets Review – Buyer's Guide
Size
First thing you need to do before buying any helmet is to take a measure of your kid's head circumference by using a string or a measuring tape. A helmet, picked by wrong size, could be either too tight and your child would refuse to put it again or too loose and would cause a helmet tilt to the sides ever so slightly.
If you plan to buy a helmet at least for couple of years, try to find one with extra adjustable pads: you can always remove them as your kid grows.
How to size toddlers bike helmets you can read there.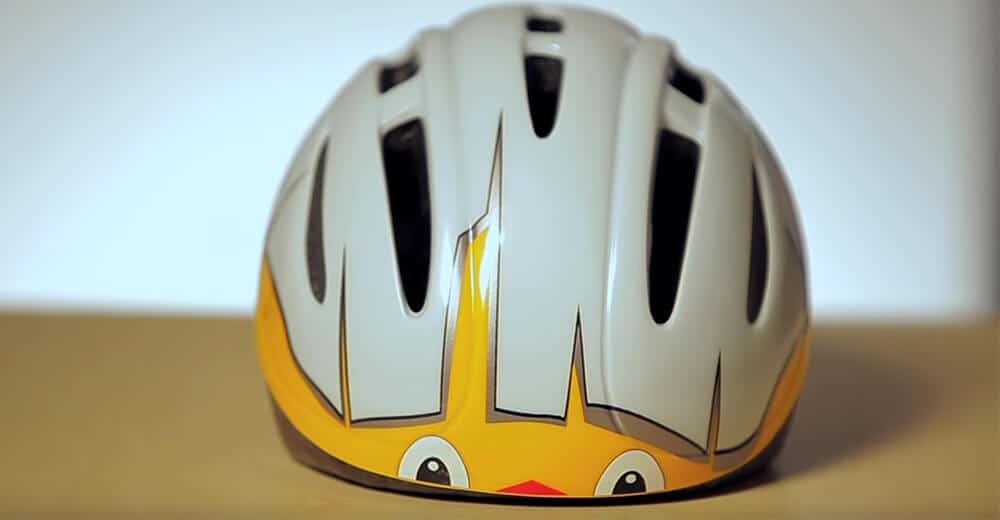 Position
There's a strict rule with regard to the position of the helmet on a kid's head. Any helmet should sit low on the forehead (not tilted back), one or two fingers above the eyebrow.
Weight
The helmet should be sturdy and yet lightweight.
Air flow
A helmet should have plenty of vent holes for a proper air circulation. Good air flow is important for a decent helmet, so a toddler would feel comfortable even in the heat of the day.
Side straps
Side straps should form a letter "Y" and meet below the ear lobe of your kid.
Chin strap
A chin strap should provide a snug and comfortable fit. Note that no more than 1 finger could fit under the strap.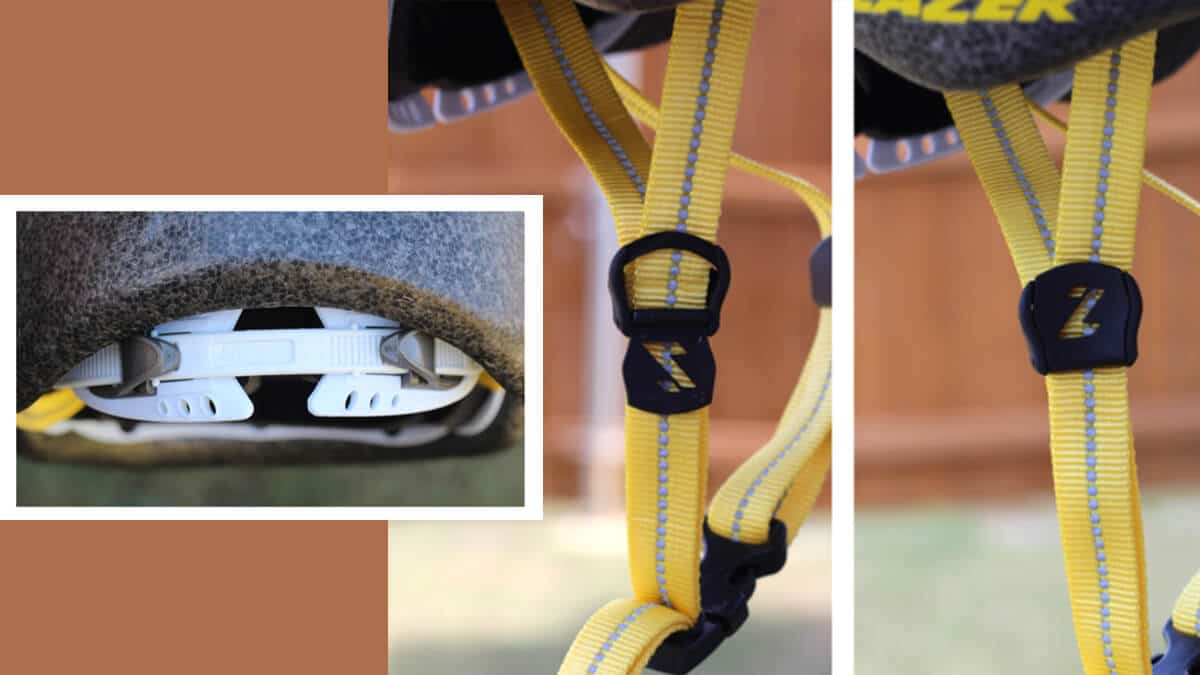 When to replace a helmet?
There are several reasons to buy a new helmet for your kid:
The helmet becomes small (your kid's head is bigger than the helmet).
Obvious damage of the helmet after being dropped.
Damage of the helmet after a crash.
How does a typical helmet look like?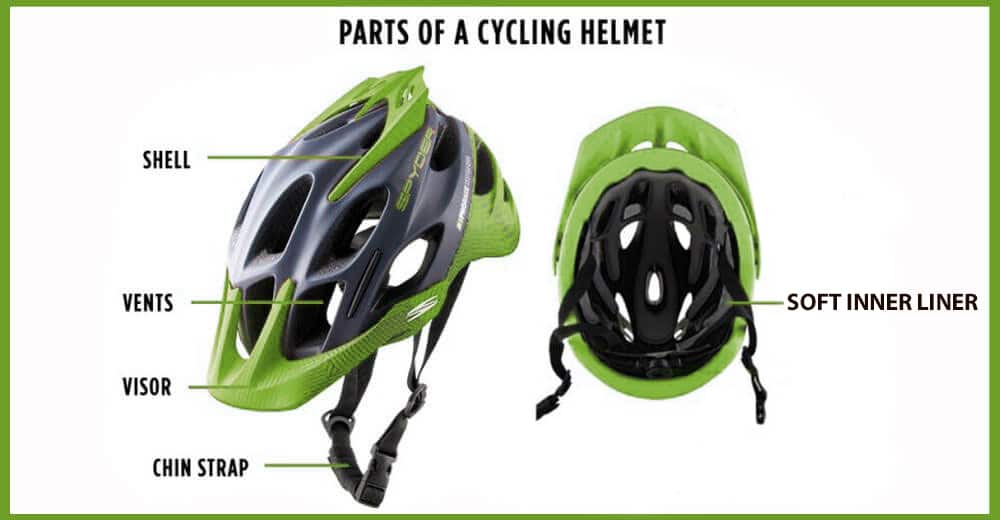 Although all helmets are not absolutely the same as made with different purposes in mind, they all feature two main components: the hard outer shell and the soft inner liner. The purpose of the outer shell is to distribute an impact force over a bigger area of the head; while the soft liner is used to absorb the energy at the impact point and protect the head from a bad injury.
Usually the soft liner is made of styrofoam, or expanded polystyrene foam; and the hard outer shell is made of plastic or polycarbonate plastic (depending on price).
All helmets feature front and rear openings (holes) for ventilation (so-called vents). They provide airflow and allow the head to stay cool and comfortable.
All helmets have straps which look similar but vary in fabrics, finish quality and other characteristics.
Some helmets come with visor which shields the sun and helps a bit in case of a rain. And it's up to you to choose which one to buy: with visor or without.
Does my toddler really need a helmet?
The answer is YES! This is the bicycle safety rule No1!
If you want your kid to ride a bike or scoot, or do any other wheeled sports, he needs to wear a helmet, moreover, it should be a properly fitting one. You may say that low speed crashes, like slipping on sand or gravel, bumping in a hole or into a parked car or a tree or just messing up are very common but sometimes they might be very damaging if your kid doesn't have his head protected.
His skin and knee will heal shortly, but not the head if it's severely damaged. It's a common knowledge that the bike helmet is reducing the risk of injury by 85%. If you want your kid to have a good habit of wearing a helmet, it's better to start earlier. Never forget about it!
What is the best bike helmet for a toddler?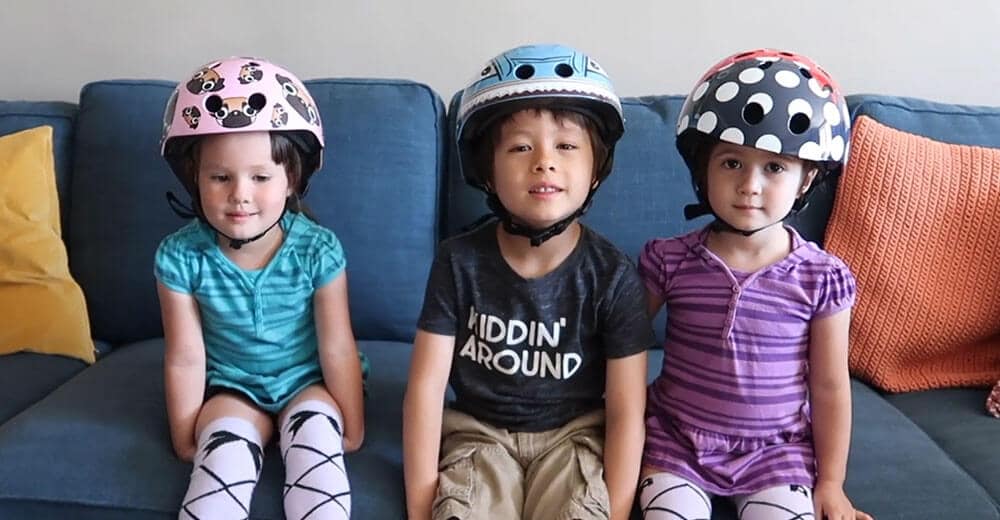 The best bike helmet for your kid might not necessarily be from the best manufacturer, the most fashionable (meeting the latest consumer standards) or the most expensive one. There are other and more important characteristics that should be taken into account.
The best bike helmet for a toddler is the one with a snug fit and enough vents for the head to stay cool, lightweight, comfortable, and meeting US CPSC (Consumer Product Safety Commission) bicycle helmet standards. Once you find a helmet like this, go for it!
How to measure the head, choose the right size and adjust a helmet for a toddler: Tips
Sometimes it can be a challenge to find a right helmet for a toddler. As I did it more than once I would be more than happy to share my experience with you. Now let's get started!
Before you even go to the shop or order a helmet online, the first thing you need to do is to take a soft measuring tape and measure the head of your little one. Start measuring right above the eyebrows and ears. The tape should go around the widest part of your kid's head: that's the exact place where the helmet is going to sit. After that look at the technical description of the helmet and find out the exact size you need to buy. If your measurement happens to be in between size, go for a bigger one. But I don't recommend sizing up (with room to grow) as it may not be safe for your little one.
Once you have a helmet make sure it fits properly. Put it on your kid's head: front to back. The helmet should neither be too far forward nor too far backwards. If the helmet is far forward it means that it is covering forehead of the kid's head and the back of his head is unprotected. And if it's far backwards, the front of kid's head is not protected.
After you put a helmet on your toddler's head and it's sitting comfortably, the next thing you need to do is to fix and adjust the side straps. They should form a letter "Y" and meet below the ear lobe of your kid. If they are not, you can make them higher or lower by expending the strap and moving it up or down.
Then you go to a chin strap and buckle the helmet. It should provide a snug and comfortable fit. Note that no more than 1 finger could fit under the strap. It should be neither too loose nor too tight. The chin straps might loosen over some time. So, don't forget to check the helmet from time to time and tighten the chin straps.
If the helmet has a visor, make sure it sits parallel to the ground.
How do you check if a helmet sits properly?
Ask your kid to open and close his mouth. At that moment you will notice that the helmet goes up a little bit and comes back to its initial position. That is the sign that it's properly fixed on your toddler's head.
You can also rock the helmet forward and back or ask your toddler to shake his head. In case of properly sitting helmet you will see his eyebrows and forehead skin moving with it.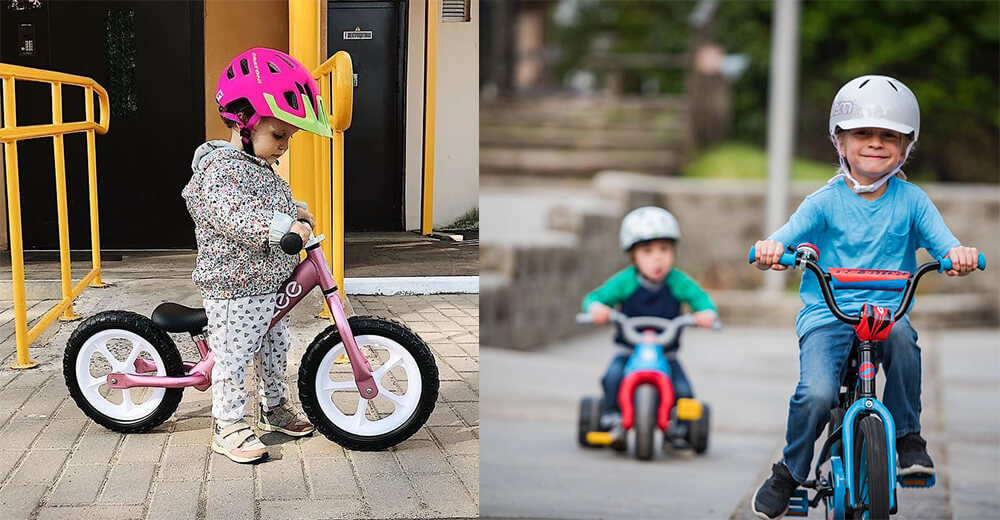 How to pick the best bike helmets for toddlers?
The second very important rule I always bear in mind while looking for a bike helmet.
I would never ever buy a helmet that is too large (thinking that my kid will grow to it anyway).
And some more useful tips:
What shape to choose?
Bicycle helmets come in variety of various shapes. Note that rounded-shaped helmets may better protect the head and neck from injuries than helmets with angles because the shell of the rounded-shaped helmets allows the helmet to slide in a crash protecting the neck from injury.
How to check the quality of the helmet's inner liner?
You already know that this part of the helmet is made from the material called styrofoam. Take a helmet and try to make a mark with your nail in the styrofoam. If your nail doesn't leave a mark, the inner liner is too old and hard. It means that it won't absorb the shock well enough in the case of a crash.
When to replace the old helmet and buy a new one?
Important safety note:
If your kid has ever had a crash in the helmet, immediately get a new helmet! Even though the helmet might not be damaged but the foam may have been weakened. Note that all helmets are designed to withstand one impact only! They lose their integrity after experiencing a crash or dent. Do not continue using a helmet with a dent.
How to wear prescription glasses with a helmet?
In case your kid is wearing prescription glasses I don't recommend buying a helmet online.  Of course, you can do it, but after trying it in the shop. Make sure your little one feels comfortable with both: his glasses and a helmet. And note that in such a case an open-faced helmet is a better option than a full-head one.
Do kids need to wear sunglasses while cycling?
Sometimes I am asked if my kids wear sunglasses while cycling. The answer is yes, they do, but not the youngest. The glasses are protecting their eyes from bugs, wind, mud, and ultraviolet light of course. Before buying a helmet I always check if sunglasses fit well with a helmet and my kids don't have any inconveniences wearing both.
Conclusion
It's not that easy to choose best bike helmets for toddlers. Just take your time, don't rush and do your best to find the best model available. Remember that you are the only one responsible for the safety of your child.
And one last point.
In that case your little one might be more willing to wear it any time he is riding a bike. And what is also of great importance: be a good example for your kid and never ride a bike without your own helmet.
FAQ
1. How much does the bicycle helmet reduce the risk of serious head injury?
According to statistics, the risk of serious head injury is reduced up to 69 per cent when wearing a properly fitted bicycle helmet.
2. What is MIPS technology?
MIPS (Multidirectional Impact Protection System) is a patented technology, that adds a low friction layer between the head and the helmet. Its purpose is to reduce rotational forces that may occur as a result from various impacts to the head. In case of a crash the MIPS technology allows the helmet to rotate independently around a head redirecting the impact energy.
3. How does MIPS-equipped helmet look?
From outside it looks like a standard non-MIPS helmet; however, some of the helmet's manufacturers place a small yellow MIPS logo on it. But if you look inside the helmet, you will see a special thin yellow liner beneath the pads.
4. How to make sure that the helmet fits?
Any helmet should sit low enough on the forehead for it to be protected (not tilted back), one or two fingers above the eyebrow, but not so low to impede the vision. It should not be either too tight or too loose. Side straps should form a letter "Y" and join under the ear lobe of your kid with no slag. The chin trap should be buckled tightly under the child's chin. Ask your kid to open the mouth without moving his head. The helmet should pull down with your child's jaw movement. After that try to twist the helmet from side to side: the skin of your kid's forehead should move together with the helmet.
5. How long may it take to adjust a new helmet?
It may take up to 30 minutes to adjust a new helmet. Take your time and don't rush: the safety of your kid is a number one priority when your little one starts to learn how to ride a bike.
6. At what age a kid should start wearing a bike helmet?
Majority of kids learn to pedal and steer between 2 and 3 years of age. And while riding they must wear a helmet.
7. Do toddlers have to wear helmets in the bike trailer?
Yes, they do. Any time the kid is in a bike trailer, he has to wear a helmet.
8. How many vents does a helmet have?
The number of vents depends on the manufacture. Generally, there are up to fifteen vents, but some of the kids' helmets have only 8. The more vents, the more air gets inside the helmet preventing the heat to build up.
9. Do all helmets have a room for a ponytail?
No, not all of them. If your little one has a long hair and loves to wear a ponytail, make sure you buy one with a special vent in at the back allowing for a ponytail.
10. Are the most expensive helmets safer than the cheap ones?
Not necessarily. The more expensive the helmet, the more comfortable it is. Basically it means that expensive helmet is lighter and easier to fit, it has better graphic design with more ventilation. However, even the cheapest helmets equally protect the head in case in an accident.