Today I want to share how to choose the best easel for 2 year old.
Want creative, curious, healthier children with 21st century skills? Let them play
Not long ago I've come across this statement. It's from the article issued by the American Academy of Pediatrics (AAP), and I wish I'd read it way sooner. According to the AAP, play is a fundamental part of children's healthy development.

Best Choice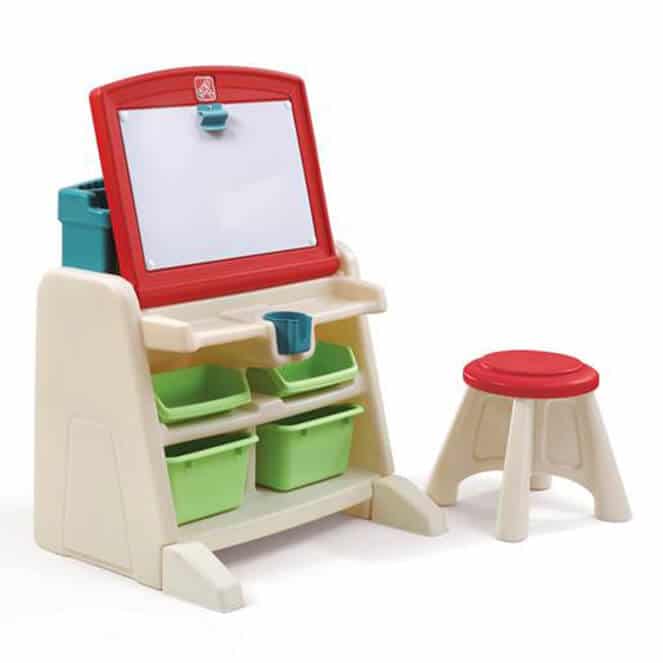 Step2 Flip and Doodle Desk with Stool Easel
Best Easel for 2 year old
It's a perfect size for standing and sitting. This easel has absolutely everything that is needed to perform an art work.
Read Verified Customer Reviews
The benefits of play cannot really be overstated in terms of mitigating stress, improving academic skills and helping to build the safe, stable and nurturing relationships that buffer against toxic stress and build social-emotional resilience.
I fully support this statement! If you are interested you might read it here.
I'm used to being quite serious about the time my kids spend playing; and having discussed the article with my pediatrician, I do my best to fit more playtime in my kids' lives and choose toys and activities that inspire their imagination and play. And one of such toys is an art easel.
I have a pretty clear sense of the mess the kids can make while painting. Of course, it could be very dirty, and lots of work for us after… But put aside all that and think of the benefits of painting for your toddler.
6 Best Easel for 2 year old in September, 2023
Why painting is important for a child?
Painting is a perfect exercise for your toddler's brain that fosters creative growth.
Painting develops fine motor and mobility skills. (When your little one is holding a brush or other tool in his hands, his fine motor skills are being developed).
Painting helps to develop hand-eye coordination.
Painting contributes to memory recollection skills.
Painting helps your kid to express his feelings by putting his thoughts into the paper.
Painting helps to build self-confidence and self-esteem.
Impressive, isn't it?
The artistic side of my eldest boy became obvious when he was around 16-18 months old. At that time as soon as he got access to anything "resembling paint" (mashed vegetables, cream soup, jam, etc.), he immediately dipped his hands in the dish and tried to doodle on his high chair tray.
Truth to be told, it was more than enough for me… When I realized that he was pretty serious about it, and I started looking for kids' easels. And it didn't take me long to find out that not that many easels are for 2 years old. Most of them are intended for older kids, 3 years old, to be exact.
Top Easel for 2 year old in September, 2023 Reviews
Searching the proper item for a toddler can be a daunting task, but there's a chance to avoid all the hassle! Here is the review of my 6 Best Easel for 2 year old. I do hope that it will help you to find a good product for your future artist. Let's get started with the list!
Step2
Flip and Doodle Easel has all the bells and whistles. It's a perfect size for standing and sitting. This easel has absolutely everything that is needed to perform an art work.
One of its best features is that it has lots of storage area.
It includes various bins and tabletop caddy for various supplies. It is common knowledge that all the bins help to keep everything organized and in order.
They could be filled up with crayons, paints, pencils, markers, etc. This art station has an additional rear storage area for books, pads, paper, and probably, masterpieces of your little one.
Built with toddlers in mind, within minutes it can be transformed into a desk. If your little one is getting tired standing, it's very easy to flip the easel down, take the stool and use this art station as a standard desk.
Pros
Lightweight design
Perfect height for 2-year-old
Possibility to transform into a desk
Magnetic dry-erase board
Clip to secure paper for drawing and painting
Built-in storage plus rear storage area for books, pads, etc.
Sturdy stool
Easy to assemble
Easy to clean
Cons
There are some complaints from the users that due to some defects it's very difficult to snap the easel into place
Impossible to adjust the height
Doesn't include markers or chalk
2. TOP BRIGHT Wooden Art Easel – Adjustable Toddler Easel with Magnetic Chalkboard and Paper Roll
Under the easel there's a place for a large tray that could be used from both sides of the device. It is a reasonable storage for painting tools and accessories. And for replacement paper rolls it's better to use 18" refills.
Easily adjustable height allows to use this product for quite a time, when your kid gets taller. To make the easel higher you only need to loosen the screw at both sides.
It is a nice standing option that provides a large area and size for your kid's masterpieces. It comes with a detachable reel and has anti-pinch and non-slip cover design.
A black eraser, a scroll, a whiteboard pen, a pair of chalk and two magnet stickers are also included in the art easel set. A big bonus of this easel is that both sides are magnetized, and your little one is able to use his own magnet toys.
Note: Black erasable marker is included. If you want to use non-erasable ones, you need to order them separately.
Recommendation: I would highly recommend it for a toddler! Could be a nice birthday or Christmas gift. It can provide lots of fun for a young artist as he would love to switch between chalkboard, whiteboard and paper roll!
Pros
Double-sided easel: whiteboard and chalkboard
Both magnetic: chalkboard and whiteboard
Sturdy construction
Easy height adjustment
Painting tools storage tray: easy to remove and clean
Possibility for two kids to draw and paint
Easy to assemble and move around
Cons
Some users complain about missing parts
You don't need to buy any accessories as the easel comes with marker pen, magnetic sponge brush for easy wiping, and twelve chalks.
All these things your little artist would be able to store in a roomy bottom tray.
Pros
Simple but functional and neat design
Lightweight
Firm and durable construction: made of solid pine wood
Large bottom storage tray
Adjustable height
Drawing board set included: pens, 12 chalks
A bonus: magnetic sponge brush for easy cleaning
Easy to assemble
Perfect size for a toddler
Cons
Smaller than some users expected
It is double-sided (chalkboard and magnetic dry erase side) with two large and sturdy fabric storage bins underneath for keeping extra crayons, chalks, markers, magnets, toys and more.
Built with toddlers in mind, it includes alphabet magnets and magnetic character puzzle (bonus fun magnets).
The easel comes in six different themes: Disney Minnie Mouse, Disney Frozen, Disney Mickey Mouse, Nick Jr. PAW Patrol, Nick Jr. PAW Patrol Skye and Everest, Nickelodeon Teenage Mutant Ninja Turtles.
Pros
Safe and sturdy wood construction
Safe and durable finish
Double-sided design
Built-in storage: two fabric bins
Alphabet and bonus fun magnets
Six different themes available
Easy to clean work surfaces
Worth the money
Cons
Chalks and whiteboard markers are not included, have to be bought separately
Impossible to adjust the height
The set also features magnetic numbers and alphabet letters, various magnetic shapes and animal puzzles (140 magnetic pieces!).
Recommendation:  I would highly recommend that set! It's a great educational gift that could bring your little one hours of fun and enjoyment.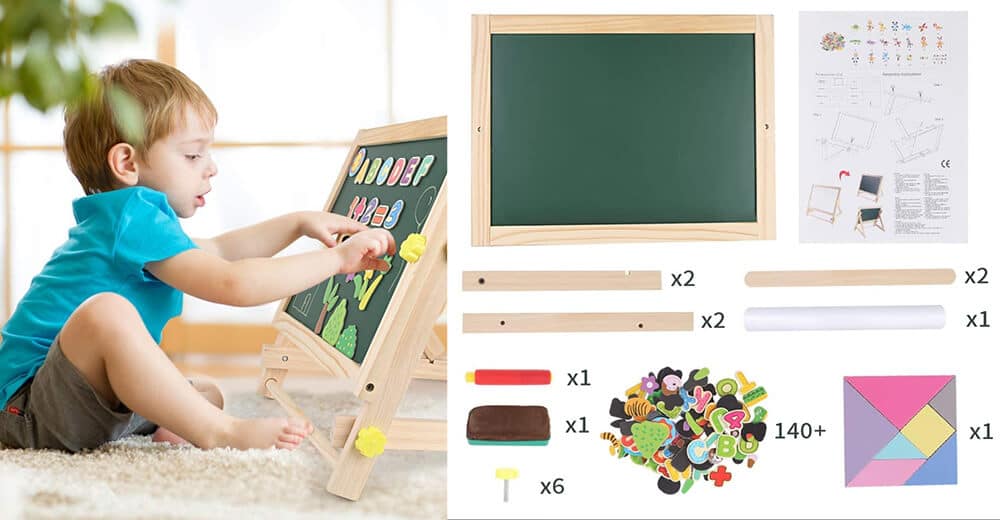 Pros
Double-sided board: magnetic dry erase board and a chalkboard
Made of high-quality wood
Safe, dust-free chalk
140 various magnetic items: numbers and letters, animals
Easy to assemble
Both sides are magnetic
Cons
Some users complain about the quality: rather flimsy
With that said, this side of the desk has even more store space (for any supplies or art works). On the other side another kid has a chance to use a standing easel to paint and draw.
The dry-erase board has a tray for markers and crayons and a paper clip to fix a painting or a piece of paper.
This art easel desk is made from high-quality non-toxic plastic and is a very sturdy and stable construction.
Note: Markers, crayons, chalks, paper, and other accessories are not included in the set.
Recommendation: Great educational station for two kids! I would recommend buying it.
Pros
Extremely stable construction
High-quality non-toxic plastic
Great size for a 2-year-old toddler
Lots of storage to accessories and suppliers
Worth the money
Easy to assemble
Cons
Dry erase board is not magnetic
Some customers found it much smaller than expected.
Best Easel for 2 year old – Buyer's Guide
When faced with a choice of an art easel for toddlers, I had in mind the following criteria:
Safety and high quality
Any easel should not only withstand the tear and wear of daily use but also be produced from sustainable and preferably eco-friendly materials. It's better to avoid the risk of any intoxication and/or injury due to unsafe products. Most commonly, easels are made of high-quality wood and non-toxic plastic.
Double sided or single sided
You need to make a choice between a double sided or a single sided easel. If you have two kids with a small age gap, it's better to buy double sided one. I prefer to find an easel encouraging my kid to paint and enjoy his time.
Magnetic dry erase board
Magnetic dry erase board is a "must-have" of any art easel. Do your best to pick up one with such board. It's more versatile and easier to use.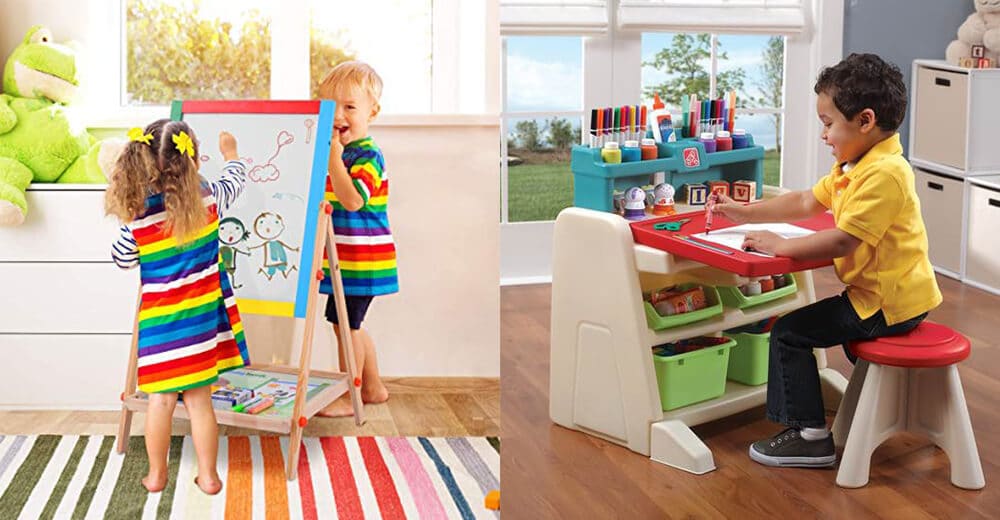 Art accessories and supplies
It's always a plus when some accessories are included in the set, for instance, magnetic numbers and alphabet letters. But as far as markers are concern, I prefer to buy them myself.
Storage bins or boxes
It's better to pick an easel with any storage capacities. Bins, boxes, tabletop caddies or trays help to organize art accessories and supplies and keep them in order.
Foldable and portable
If you don't have enough of space or plan to use the easel in other places, then go for a lightweight, easy to fold and move.
Educational benefits
Any art easel helps a child to develop multiple skills and encourage him paint, learn colors, numbers or letters, spoken phrases, etc.
Conclusion
In some of my reviews I've already wrote about the importance of play kitchens and musical toys in the educational development of a child. I do hope that today I was able to show the significance of painting for mental development of your little one.
The only thing you need to do is to choose the right art easel for your toddler and show him how to use it. Please, do you best to exercise all the patience you have. Kids grow so fast, you know it pretty well without me.
Just enjoy your time and have fun.
That aside, if you buy double-sided easel, try to paint something on one of the sides, at the same time. Or use the board as an educational tool.
One way or another, be a good example for your child. And clean the mess, if any, together! One last thing: whatever your little artist is drawing, don't forget to display all his paintings. It will help to build his self-esteem!