How many times did you fail to keep your toddler entertained? Don't be shy and admit that more than once perhaps… But it should not be a reason to get frustrated. We all are humans and being a parent of a toddler is not always easy. But with that said there are ways not only to calm toddlers down but entertain them as well.

And one of such ways is music, or musical toys, to be precise. It is a good time to choose the best music toy for toddlers.
10 Best Music Toys for Toddlers in September, 2023
My personal top10 includes the following toys. Let's have a look!
Fisher-Price
will help the little ones to get acquainted with the colors, lights, music, and keep them active for a while.
It also encourages the kiddies that are not able to stand yet to raise their arms to activate the blocks. The older ones can stand up and dance/move, repeat the sounds and phrases. Moreover, a ball ramp and a roller-bar are very good in stimulation of fine motor skills development.
Note: Suitable for kids 3 years and up.
You can buy similar toy in Europe and UK.
It's a great fun musical toy for toddlers to explore various instruments like violin, drum, guitar, etc. Your kid can play different melodies in jazz, rock, hip hop by following the lights of the keyboard. It also gives a kid a possibility to record and play back his own musical compositions and songs.
To top it off, this toy can give your kid several years of imaginative and fun play.
Recommendation:The toy can be a nice instrument bonding with family and friends. Don't miss your chance and enjoy the quality time with your loved ones!
It's known that toddles have very short attention spans but I've got the feeling that Melody would keep my kids busy for a long time. It's definitely worth the money!
This colorful toy has three drum pads that provide different sounds, two cymbals and 5 different play modes. Should your kid have a passion for singing, a functional microphone could be a real heat! It has a 90 cm cable that can be connected to a computer.
Note: The toy is recommended for kids 2+ years old.
Mozart
are included in the toy. Each of them lasts 30 seconds and can be played in sequence.
Looking at the toy I can say that it's a pretty durable little piece of equipment. Each of its sides is interactive; it has its own color and represents a different instrument. There's on/off switch and volume control. That's a huge plus!
Pressing different sides the kid can either add or remove various instruments to the orchestra: violin (yellow side), flute (blue side), harp (purple side), piano (green side), and a French horn (orange side). If the kid presses the top red button, all the instruments play as a whole orchestra.
But with that said, the best age for this toy is from 6 months up to 3 years old 🙂
Note: 3 AA batteries can hold up to 5 hours of play on a maximum volume.
Moreover, each interactive page has a moving or sliding object allowing your kid to learn about different shapes and practice his fine motor skills. Buttons on the side not only help your little one to learn colors but get him acquainted with the sounds of different instruments as well.
I think that the toy is absolutely perfect way to entertain toddlers. I took a closer look and noticed that the instruments from the buttons were shown at the pages.
Recommendation: With the help of this toy you can easily teach your kid about colors. You can point up the color of the border of the page and ask your baby to press the matching color button. You can also ask you kid to match the color of some items on the pages. This nursery rhyme book can be highly recommended!
You can place it on the floor for a baby who can only sit yet; and once your kid is able to stand and play you can attach the removable legs.
The toy seems to be built with tough design. It is made from the robust plastic and is durable enough to withstand long-term use.
In the music mode your kid would be able to explore various sounds, songs, and instruments at his own pace. Colorful buttons, sliding and moving objects along with lights and sound effects would definitely capture the attention of your little one and easily keep him engaged for some time (hopefully without annoying other members of the family).
Moreover, it's a functional educational toy for a bilingual child as it has two languages: English and Spanish. Special switch will allow you to use both languages.
I would classify it as one of the toys that you won't be disappointed after buying!
Note: This music table is intended for kids between six months and three years of age.
And of course, could be a nice noise-making present for the families that doesn't mind noise throughout the house!
Recommendation: In case you plan to make a present for a birthday, Christmas or any other event and want the kids to use it straight away, it's better to spend some time beforehand and unpack the pieces from plastic. Moreover, you might need scissor and/or a knife to remove unnecessary plastic wrapping.
I'm sure your kid could have lots of fun placing and removing the gears in different positions. After pressing the button, swirling gears and music could keep your little one engaged for a while. And that's one of the ways for a toddler to learn cause and effect.
Note: Suitable for the kids 12+ months.
Having said that, the toy has certain educational aspects. It will not only introduce and develop music skills, but improve fine motor skills, memory and hand-eye coordination, and encourage audio recognition.
Recommendation: Could be a great gift for a little musician!
Best Music Toy for Toddlers 2020 – Buyer's Guide
When faced with a choice of a musical toy for toddlers, I'm guided by the following criteria:
Safety and Perfect quality
A toy should not only withstand the tear and wear of daily use but also be produced from sustainable and preferably eco-friendly materials. I don't want to put my kids at risk for intoxication and/or injury due to unsafe products.
Fun and activity element
Any toy should bring a toddler some time for enjoyment. And it's always better when such toy is in high demand by your little one and not in the bottom of a toy box. Every time I'm looking for a new musical toy, entertainment/fun element is always an issue. I prefer to find a toy encouraging my baby to move and enjoy the music.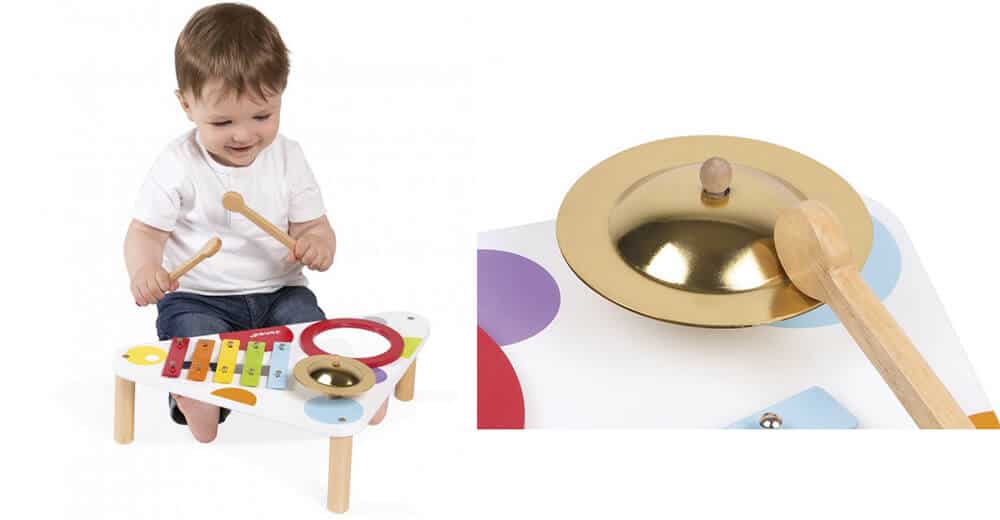 Sound
Good sound is a must-have item in case of musical toys. It should be pleasant and preferably with volume control.
Educational benefits
Musical toys can serve different educational purposes. I prefer those that help my kids to develop multiple skills and encourage them to sing and play, learn colors, numbers or letters, spoken phrases, etc.
Conclusion
It's not that easy to choose a right toy for a toddler as lots of factors and criteria should be taken into account. You should always bear in mind various educational aspects, durability of a toy, materials it is made of, etc. And of course any toy you are going to buy should help your kid to explore the world and develop his skills and abilities. In that case music is one of the best ways to entertain your toddler and encourage a love of music.
However, before buying any musical toy, you need to take into consideration the type of music your kid prefers.
However, in case of some difficulties in telling the preferences of the kid, you can always look for a versatile musical toy.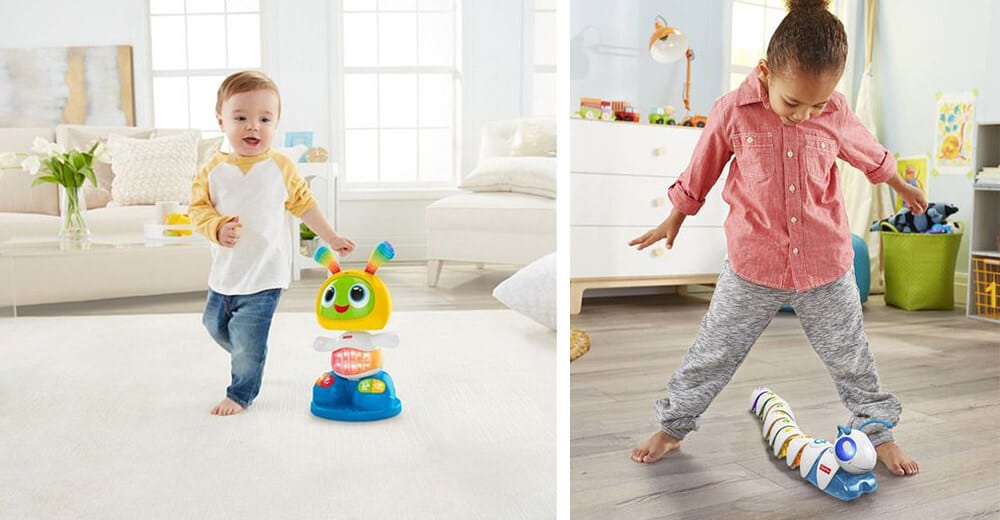 I do hope that our review would be helpful in choosing the best music toy for toddlers. At least you can have an idea of various products available in the modern market. And don't forget about the most important thing: your kid should have lots of fun playing with the toy that you've bought!
FAQ
1. What is the role of music in the early development of a child?
Music has a deep influence on all areas on kid's early development: it helps to recognize and learn new sounds and words, encourage to listen, repeat, sing and play, develop music skills, etc.
2. When is the right time to introduce a child to a musical toy?
Your little one can show his first interest in simple musical toy starting from 3 months old, but he can start playing with it being 1.5-2 years old.
3. What is a must-have feature of a musical toy?
Adjustable volume control is a must-have feature in any musical toy. Some musical toys are incredibly loud. Before buying any of them make sure you would be able to adjust the volume, and your kid could not get an easy access to it!
4. What materials are used to make musical toys for toddlers?
Most musical toys are made of wood and quality plastic, both are non-toxic and not easy to break.
5. What is the best musical toy for a 2-year-old kid?
It might be any musical toy your kid shows his interest. But as a general pattern kids of this age enjoy pretend play, and prefer to have active toys. Try to get some musical toy with a microphone for your kid to sing and interact.