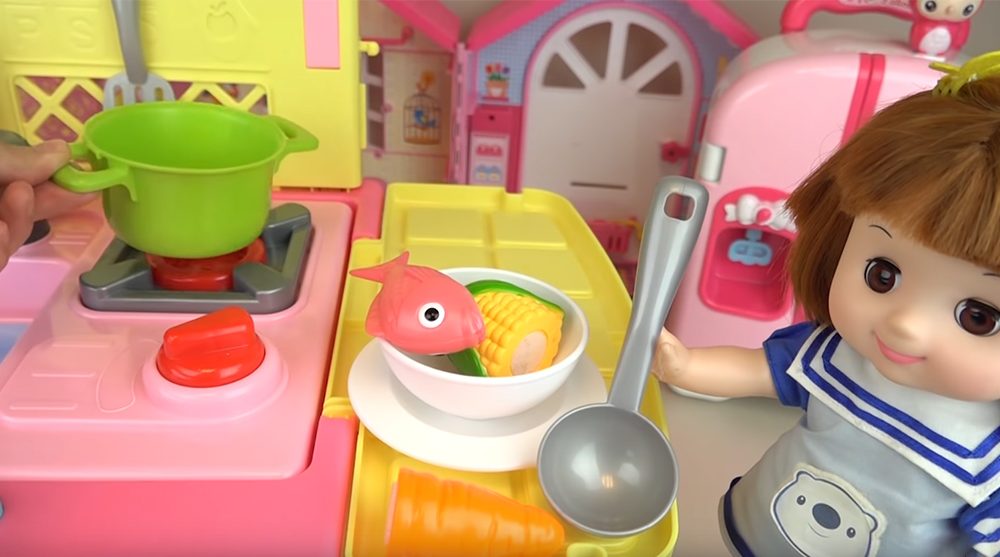 Best play kitchen for toddler might be an absolutely perfect investment in the education of your little one. And please don't think that it is a typical toy for a girl…
Actually, there's no reason at all why a boy should not have this cute thing to play with!
Well, it's only fair to say that there are special kitchens for boys too but, to be honest, I don't see much difference between those marketed to girls and to boys, might be the issue of colors only. But it's my personal point of view.
Why to have such a toy might be of great importance for any child?
First, a toy kitchen is not a single-purpose thing. It awakes interest and promotes kid's creativity. Dramatic and pretend play means a lot for a child; and toy kitchen is one of the ways to learn the life and interact with the others.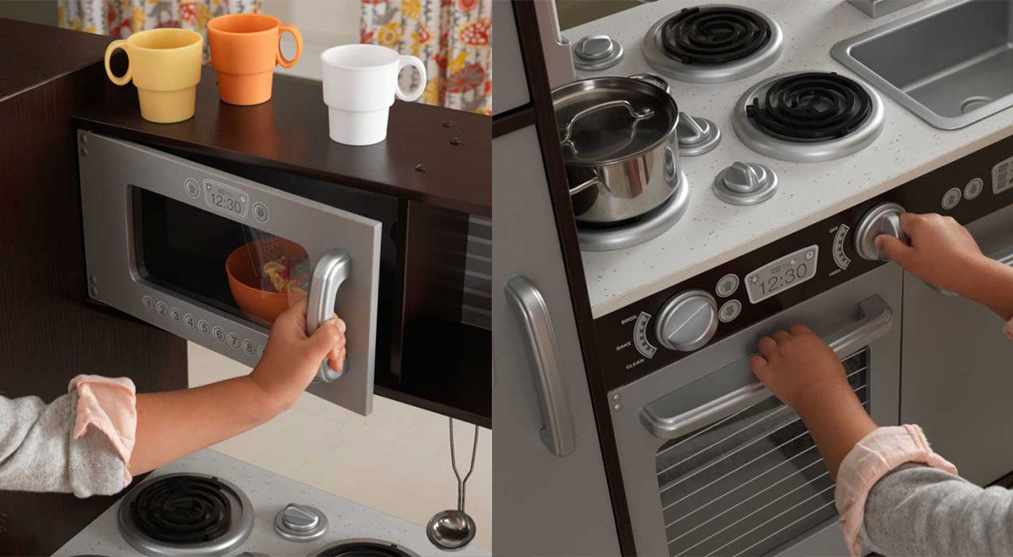 And don't think that such a toy is only for those kids who show their interest in cooking! No, that is not necessarily the case. It's a great way to teach the kids colors, objects, numbers; to develop their social and fine motor skills, etc.
Being a parent of a toddler you know perfectly well how difficult it is to keep an attention of a child for a long time but not with the pretend play kitchen.
In fact it's a toy your kid would show his interest for a long time. Moreover, play kitchen could be kept for some years before your kids outgrow it. Make a good choice, and your pretend chef would have fun for a long period of time!
9 best play kitchens for toddlers in February, 2020
Below is a review of 9 toys kitchens I like the most. Apparently according to the manufacturers' requirements, not all of them are suited for toddles; most of them are intended for kids 3 years of age and up. But you never know: your child might show a great interest in the toy even earlier. Just make sure that he is not left alone as there are many small details in some of the kitchens that your little one might want to bite or simply put in his mouth.
Let's have a look!
Best Choice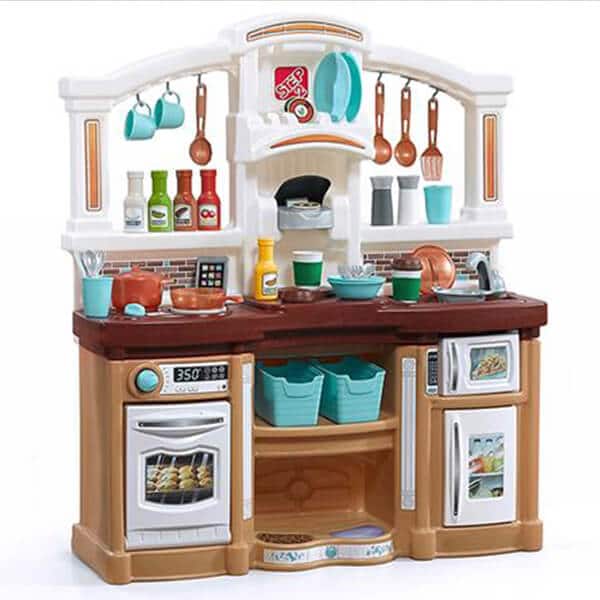 STEP 2 Fun with Friends Kitchen Play
Best Play Kitchen for Toddlers
It is big enough and is intended for 2 (or even more) kids to cook and play together.
Read Verified Customer Reviews
Obvious advantage of this kitchen is as follows: it is big enough and is intended for 2 (or even more) kids to cook and play together. It has all the necessary appliances: a microwave, an oven, a refrigerator, a stove and even a coffee machine.
With all the equipment included the kids can do lots of things (not only open and close all the doors): make coffee, cook and warm up food, use the fridge to keep things "cold".  Moreover, there's a possibility to "wash dishes" in the sink with swivel faucet.
The kitchen comes with plenty of cooking accessories as well: pots, pans, plates, mugs, and cutlery. There are also some readymade food, fruits, vegetables, bottles and storage boxes. It only means that don't need to buy any extra items.
An electric stove burner operates as a real one: once a pot is on top of it, the light is on and typical cooking sounds are produced. The kitchen also features enough of the storage space for all the items.
 Recommendation: Don't forget about the clock with movable hands. In fact, it is a great possibility to teach your child time! And windows can be used to play a game of a restaurant!
Note: Dog is not included in the set; however, there are two bowls for a puppy. Make sure your little one has a pet to feed.
Pros
Suitable for 2 years old and up
Fair price
Good quality plastic
Sturdy kitchen
With typical cooking lights and noises/sounds
Numerous cooking accessories
Cons
Some customers find it difficult to assemble the kitchen due to the absence of holes for screws, only indentions in the places for screws
Requires 2 AA batteries (not included)
I'm sure your kid would be happy to spin mixer tabs and turn hob knobs that click into the various cook settings. The kitchen also features a clock with moving handles. Don't forget about it! It's a nice and easy way for a kid to learn time. Apparently, the toy comes with few accessories: washing up liquid bottle, salt and pepper shakers and three cooking utensils.
Recommendation: As there are not so many accessories, you can always buy Tildo wooden play food (different crates with various vegetables, meat and fish) or any other play food items you may like.
Note: There are two handles on both sides of the kitchen. You can lift it and move around.
Pros
Great value
High quality materials
Sturdy and durable design: it can't tip over if your kid leans on it
Easy and clear assembly instructions
Easy to clean
Suited for kids 3 years old and up but can be used by toddles too (not very many small details)
A possibility to use the toy at least for several years
Cons
Limited number of accessories and utensils
There's a complaint from the customer that the oven door opens wrong way
Recommendation: This kitchen is so bright and colorful that you can easily teach your little one various colors!
Note: The kitchen doesn't need a lot of space but if you need to store it for a while, there's a possibility to fold it up.
The only thing you should bear in mind: this kitchen should be used under the direct supervision of an adult.
Pros
Good value
Many accessories
Compact and practical design (great for small places)
Easy to clean
Suited for toddlers but under the supervision of adults
A possibility to use the toy at least for several years
One year warranty on replacement parts
Cons
There's a complaint from the customer that the doors are a bit difficult to open and close (the snap closure is rather tight and some force required)
Not very stable (better place it against the wall)
With that said, I might admit that the real hit of the kitchen is a working 3-minutes timer. It means that you can teach your child numbers and time.
Recommendation: As the kitchen comes in bright and bold colors, it is suitable for boys and girls. And it's a nice and easy way to learn colors, isn't it? Don't forget about it!
Note: As the kitchen doesn't come with the accessories, all the pots, pans and cooking utensils should be purchased separately.
Pros
Good value
Good quality materials
Solid and sturdy design
Compact construction
Effective step by step assembly instructions
Easy to clean
Cons
No accessories included
Some customers complain about missing parts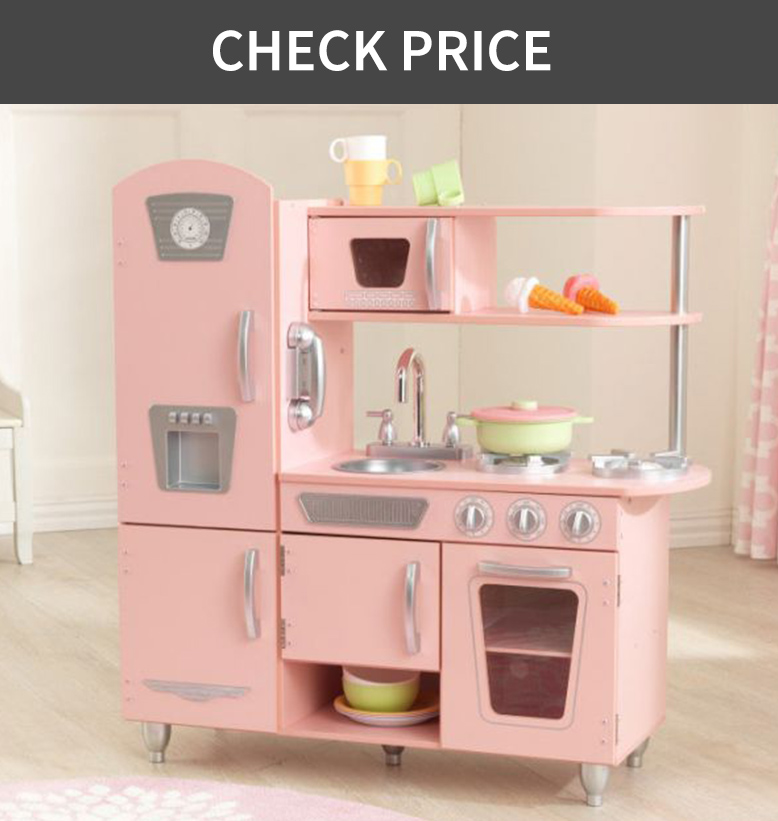 This gorgeous vintage wooden kitchen is absolutely adorable! Apart from the nice girlish color it has lots of realistic features (like ice and water dispenser, turning and clicking knobs on stove and oven, opening doors, etc) that can introduce your little one to practical life skills.
The kitchen is big enough and has plenty of room for two young chefs to "cook" and use all the appliances included. It comes with a fridge, an oven, a microwave, a sink with a tab and a mixer. The kitchen also has enough storage space: a cupboard and two shelves. It features a cordless phone too that might give your kids unforgettable hours of fun. Your little one can practice calling family or friends and inviting them for lunch or dinner.
Recommendation: Could be a great present for a little girl!
Note: Overall majority of customers were happy with the set; however, some of them noticed that the kitchen can perfectly fit a 2-3 years old kid but if your child is over 3 or 4, it would be better to look for a bigger kitchen (with higher countertop).
Pros
High quality materials and non-toxic paints and lacquers meeting demands of the international safety standards
Sturdy and stable wood construction with functional moving parts
Removable sink
Phone and phone stand included
Lots of storage space
Cute pink color
Spare screws included (in case some are lost)
Safety attachment for the wall
Cons
No accessories (have to be bought separately)
Complex assembly instructions
Takes some hours to assemble
Some parents complain that the kitchen is smaller than they expected and might suit very well for toddlers (under the direct supervision of an adult)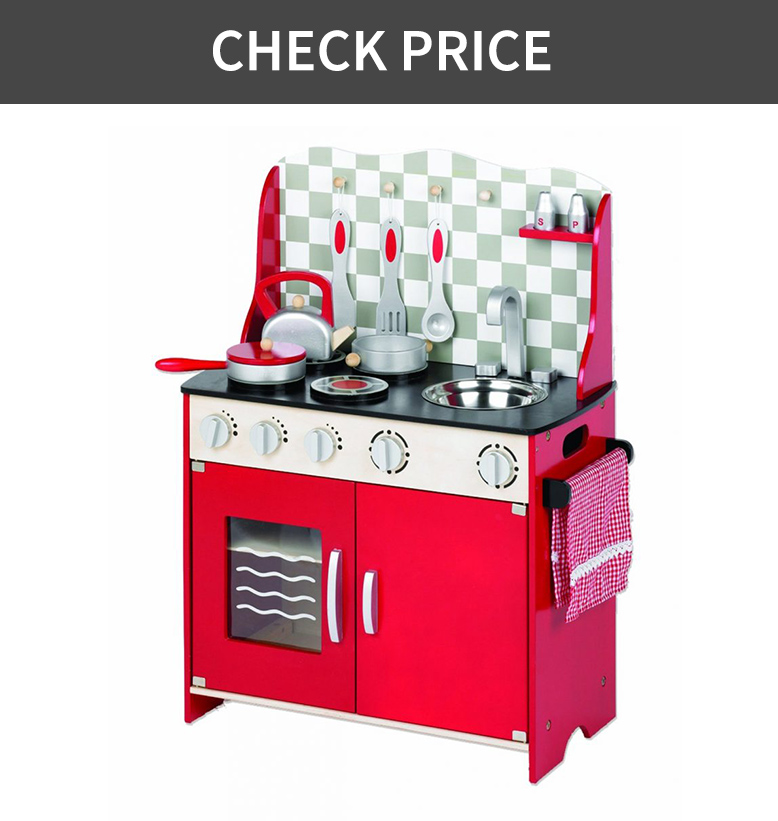 If you are limited with space and looking for a compact and sturdy wooden kitchen, this kitchen station by Tildo is a perfect choice! It's very simple but very convenient to use, and has everything for the pretend play. It comes with a fridge, a sink with tab and mixer, four burners with turning and clicking dials.
You also would be pleased be pleased to find lots of accessories included: a kettle, pans, salt and pepper pots, a lidded casserole dish. All of them are made from wood and very pleasant and safe to play with as they are covered with non-toxic water based paints.
As other wooden play kitchens, this station has more realistic look than plastic ones. And it's relatively easy to take care of a wooden kitchen. In case of any spills and stains on any surfaces just wipe them away with a cloth.
Recommendation: As this kitchen is rather compact and not very high (counter top height is 46 cm) and doesn't have small details, it could be used by a toddler but under the supervision of an adult.
Note: It might be a perfect starting play kitchen for your kid! And a nice birthday present too!
Pros
Good quality set for an affordable price
Non-toxic water based paints which comply with European toy safety standards
High quality materials
Great for small premises
Complete with wooden utensils
Cons
Some customers claim that the kitchen is smaller than they expected
There are some complaints with regard to the quality: scuffed and scratched parts
Sometimes pre-drilled holes are not properly aligned
The design of this small kitchen is pretty simple, but it can inspire your little chef to cook and play anyway as it has almost all basic appliances required.
This all-in-one kitchen is made from wood and comes with a stovetop, cabinets for storage, an oven and a sink with a mixer and taps, and a spice shelf. And it also features a realistic control panel with three turning and clicking hob knobs.
Recommendation: As there are no accessories, you can buy anything you like or use the ones you already have. Actually, it's a nice chance to customize the kitchen to the needs of your kid and make it look the way you like. Don't miss the chance! By the way, you can also buy a matching fridge from Hape.
Note: Taking into account the size of the kitchen and absence of small accessories, it could be suitable for kids under 3 years of age, provided they play under the supervision of adults.
Pros
Good value for money
Strong and sturdy design
Durable materials and non-toxic paints
Practical and very easy to assemble
Easy to clean
Cons
No accessories included
No refrigerator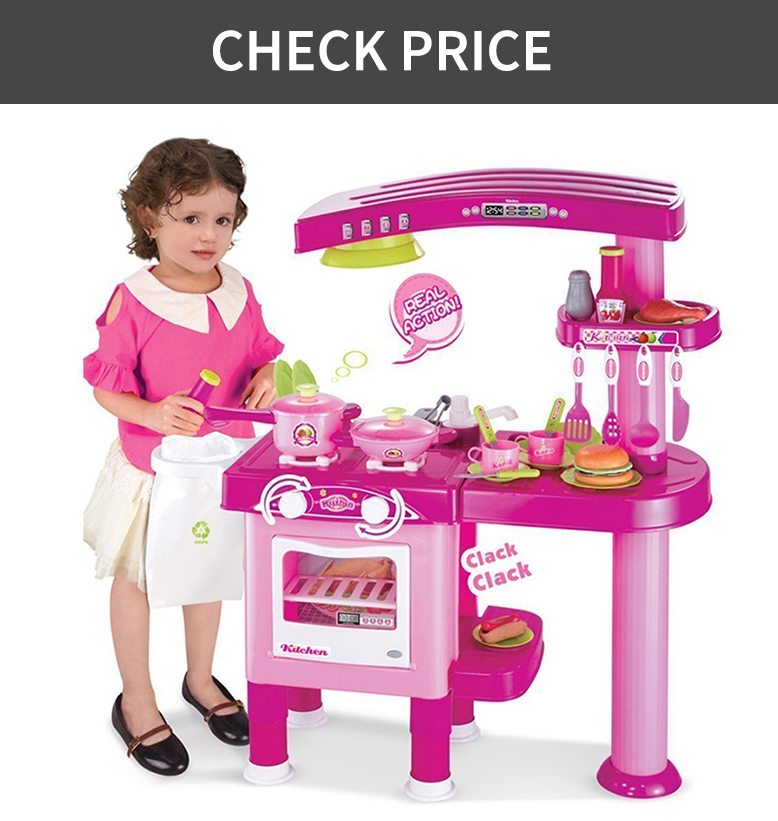 Bright colors and lots of accessories are one of the great ways to stimulate the imagination of your little one and make him active. This kitchen features lots of items that we use daily in our own houses. Don't miss a chance and ask your little one to cook together, but in his personal kitchen and with his own utensils.
The kitchen has a cooker, a dishwasher, various pots and pans, plates, cooking utensils and even some pretend food. You don't need to buy anything extra.
As it comes fully assembled your chef could start "cooking" straight after shipment. I'm sure that the bright design and all the accessories will encourage any kid to play more than an hour with this multifunctional toy.
Recommendation: It might be a great present for a future chef!
Note: According to the manufacturer's instructions, the kitchen is not suited for kids under 3 years old. If you want to buy it for a toddler, make sure that he is not left alone while "cooking".
Pros
Good price
No assembly required
30 various accessories included
Burners turn and make realistic noises (clicks)
Accessories are not flimsy
Easy to clean
Cons
Some customers complain about not very sturdy design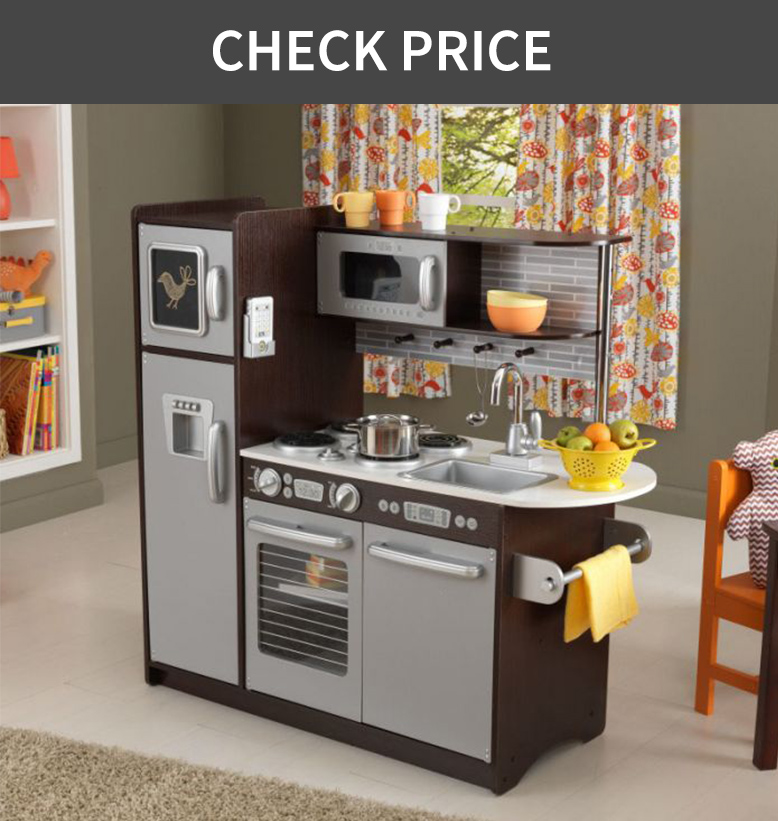 If you want to have a realistic play kitchen set for your kid, this KidKraft kitchen is a good choice. It has enough room for two kids to play at the same time. The kitchen comes fully equipped with all main appliances: a refrigerator, a freezer, an oven, a dishwasher and a microwave. Your kid can open and close all the doors, switch on and off all burners with clicking knobs. It's properly made and intended for many years of play and perhaps could be handed over to other kids.
The kitchen is very practical and has lots of storage space. It also features built-in hooks to hang various utensils and accessories. The set is easy to clean: you can wipe out all the spills with a cloth and remove the sink for a quick cleanup. Moreover, you can fill the sink with water and make it a real one!
Recommendation: As the accessories are not supplied you need to buy all the stuff (including pretend food) separately.
Note: The kitchen should be used under the direct supervision of an adult.
Pros
Reasonable price for such quality
High quality materials: wood and MDF
Very realistic design
Solid and sturdy construction
Assembly instructions are easy to follow
Cordless phone included
Lots of storage space for accessories
Easy to clean
Cons
Might be difficult to assemble
No accessories included (you need to buy everything separately)
Flat packed and takes time to assemble
Some customers complain about missing parts
Best play kitchen sets for toddlers February, 2020 – Buyer's Guide
I just want to highlight that play kitchen is not a single-purpose thing. Maybe you have never realized how many educational aspects you could cover having that toy for your little one!
Dramatic, or pretend play, contributes a lot to the development of a kid. He is leaning by observing, imagining and copying the actions. Through dramatic play a child gets an idea of the real world, develops his social skills and experiments with different roles. Pretend play will also teach your little one to share responsibility and solve problems. It's a great opportunity to develop language skills as well. In view of this any play kitchen must never be underestimated!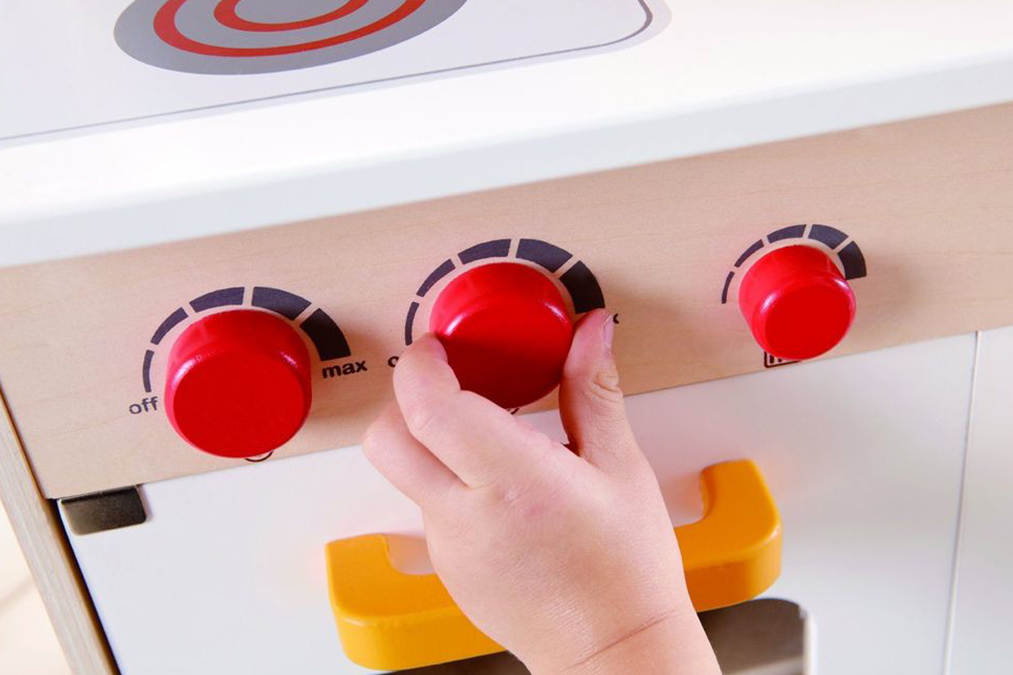 What to consider before buying a play kitchen set?
1. Size and style
Size of a toy kitchen is a very serious issue and you need to think twice.
Firstly, it matters with regard to your own premises. Even the smallest kitchen set will occupy a certain amount of your house space. Before buying a set for a kid decide where you are going to place it, make all the measurements required and check the dimensions of the play kitchen in the internet. Make sure you are buying a suitable toy.
Secondly, any kitchen should have the right height for your kid to play. He should felt comfortable and able to reach most of the surfaces. Perhaps not the top shelves at first but within a year as he grows.
Play kitchens come in variety of styles. You can make a good choice and buy the one that matches perfectly well the style of your own house. Why not?
2. Material
Wood or plastic? How to make the right choice?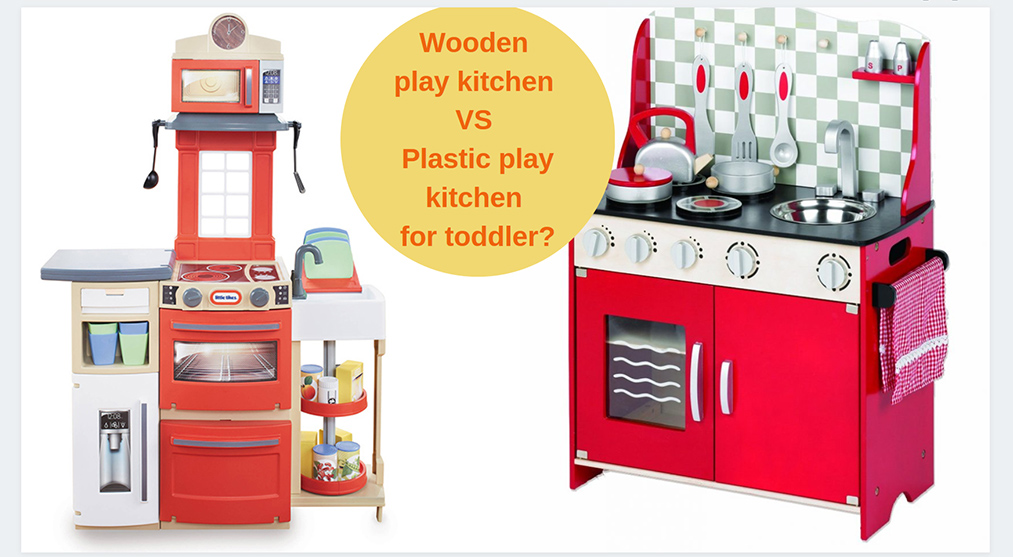 Of course, if you want the best toy for your kid, it's better to have a proper, solid and sturdy wooden set. It's safe, durable and made from good quality materials. With that said, wooden kitchens look more realistic: they may be considered a mini version of a traditional set we have in our houses.
Wooden kitchens are heavy and that is why are safer for a kid to play. Even if your little one wants to climb on the countertop, the whole construction won't fall apart. Of course it's better if the kitchen is bolted to the wall or the floor for additional safety.
However, plastic kitchens are also worth a look. The obvious advantages of such sets are as follows:
easy to clean and assemble,
portable,
affordable price.
Don't forget about the safety of the materials: paints, lacquers and plastics. In fact, doesn't matter the material (wood or plastic), you kid should play with a safe toy. And it's up to you to make the right choice!
3. Accessories and Features
The most typical kitchen appliances are a stove and a sink. However, majorities of sets come with a fridge and even a microwave. Before buying a set think about the necessity and usability of all the features and accessories. Maybe your kid doesn't need a fridge and would be happy to play with a stove and a sink?
Some kitchens are fully equipped with additional accessories like pans, pots, plates, cups, cutlery and other utensils. And here again think what is the best for you and your kid and consider all the items included.
If you don't want to spend time looking for any additional accessories, just go for a complete set and bring a matter to a close.
Conclusion
One last thing… Should you already made your decision with regard to the purchase of the kitchen, make sure that you would always have time to play with your child or at least sit and "eat the breakfast or dinner" your little one "cooked" for you!
1. What age is the best for a toy kitchen?
All kids are different, but majority of them start to engage in a dramatic, or pretend play between the age of 2 and 3.
2. What are the most important criteria to think of before buying a play kitchen?
Size, material, accessories, and your budget of course. You may start with a small, compact kitchen and invest in some new pants, pots, toys food or other accessories at a later stage if you want to breathe a new life into your toddler's kitchen.
3. What to do if a kid stops playing with his toy kitchen?
Don't even try to get rid of it! If you see that your kid starts losing his interest in his toy kitchen, just put it away for a while and don't force your little one to play with it. Sometimes kids leave toys and come back to them later. Maybe once your child gets a bit older, or you buy any new kitchen accessories, his enthusiasm would come back.
4. What material is the best for a play kitchen: wood or plastic?
Everything depends on how much you are prepared to spend on a play kitchen for your kid. If you have a limited budget, then go for a plastic one. But don't get under the impression that a plastic kitchen is a bad one, it's not the case. These kitchens are easy to clean, move, assemble, and they are affordable. Should you want to spend more – buy a wooden play kitchen for your child. They have realistic look, sturdy and durable design.
5. What skills does a play kitchen help to develop?
Apart from creativity, play kitchen is very good in developing language skills and vocabulary. It's a good chance for a child to learn not only names of various food, dishes, kitchen utensils but different action verbs too.
Awesome 10 best toddler backpacks