I love riding a bike. For as long as I can remember, I've been cycling all the time. And you can guess that being a mom of five I keep doing it. I must admit that I know almost everything about bikes.
I tell you more: I'm a member of our local Kids' Cycling Club where we arrange regular bike races for kids of different ages. And I'm ready to share my experience, that's why I'm here and writing this guide.
I understand that you might have a slight confusion – especially in case of your first child – with regard to the best bike for your little one. I'm prepared to do my best and give you answers to the most important questions: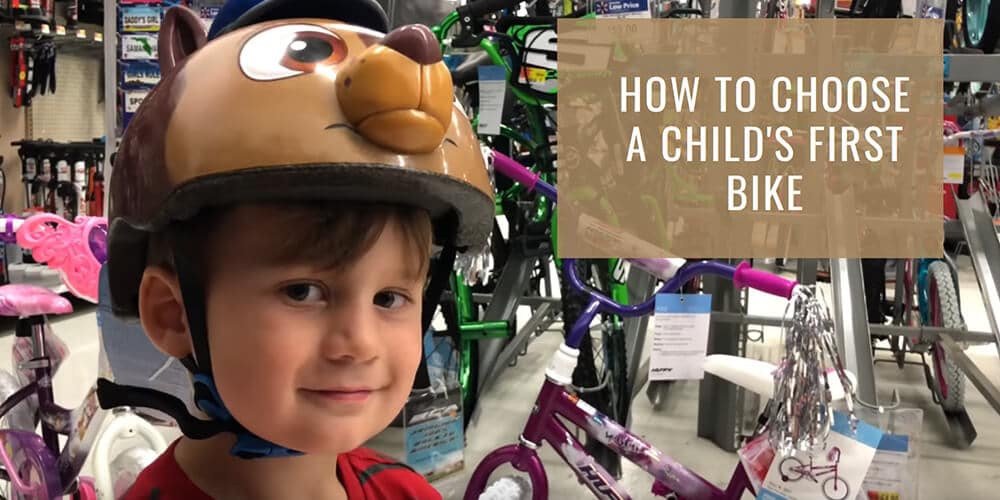 When is the child ready to cycle?
Let's be clear: if you mean unsupervised cycling, perhaps, it's possible to say that your kid could do it at 7-10 years of age. But it depends on where you live and your personal attitude to the issue. In case of controlling parents unsupervised cycling might be out of the question till the kid leaves the house of his parents.
However, if we are talking about physical ability of learning to pedal and steer, then it might be between 2 and 3 years of age with the majority of kids.
But it might be a bit earlier or later, you never know. And of course there are kids who don't want to cycle at all! If that's your case, please be reasonable and don't force your little one. His time might come later.
What should be the best first bike for my kid?
With all my kids I started with balance bikes and have no regrets. For four of them run bikes worked perfectly well: they had no problems whatsoever to push two-wheeled pedal-less bike and did it with lots of joy. They were able to balance on two wheels and push the bike when they became 1.5 years of age.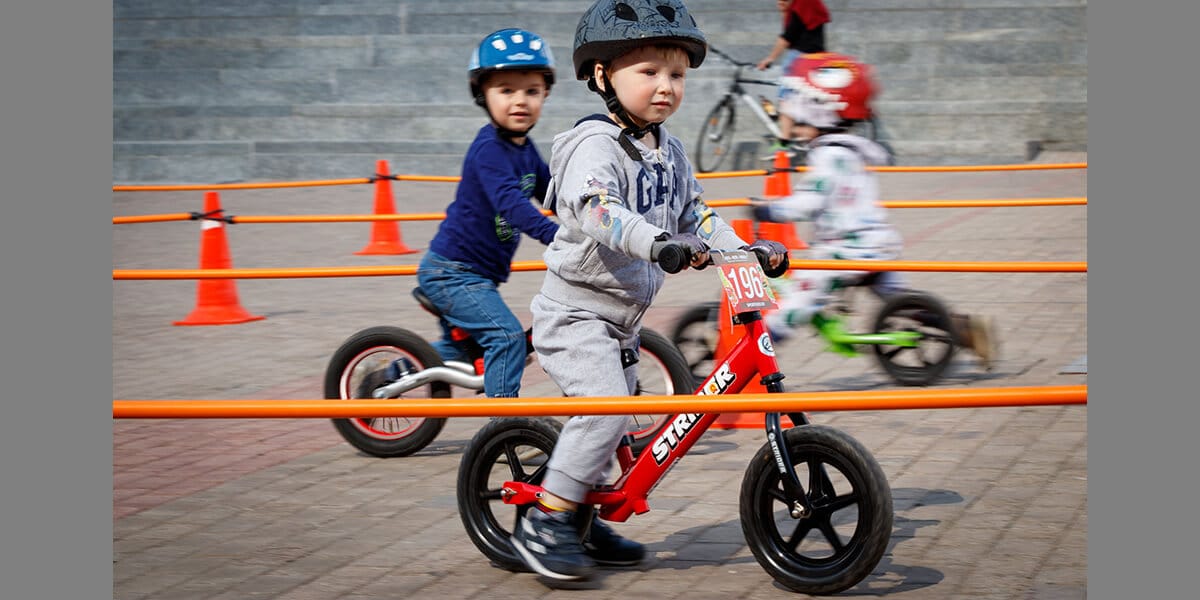 My four kids have been riding balance bikes till the age of 4-5. Later they move on to the classical bikes with pedals. With that said, all kids are different. Even one of mine flatly refused a balanced bike but was totally happy with a trike.
After 2 years on the tricycle he moved on to a two wheel bike being 3.5 years of age. Maybe for yours the best one would be a tricycle too and a bike with training wheels at a later stage.
What's the difference between a balance bike, tricycle and a bike with training wheels?
Cycling is all about balance and confidence. The sooner your kid starts riding a bike, the better and more confident he will be on a bike later on in his life.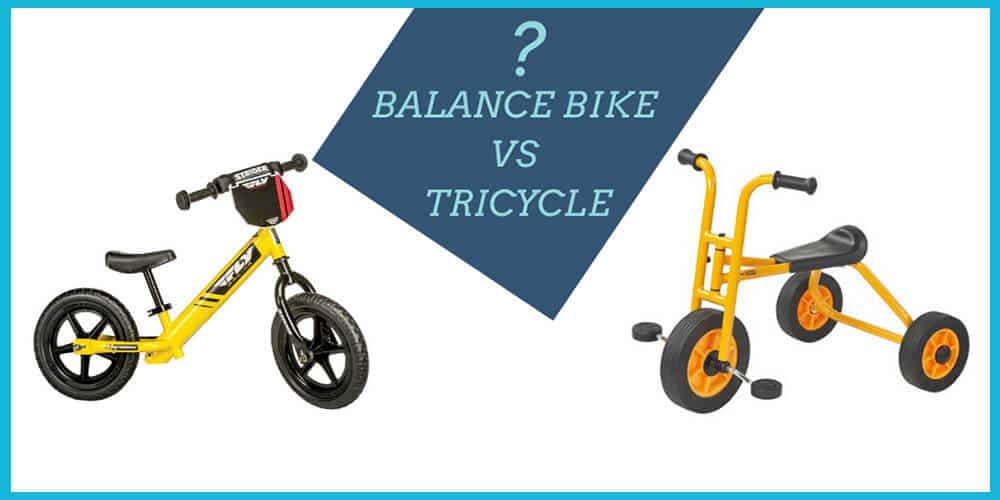 Balance, or run bikes are a perfect way to start cycling. There are no pedals, and all the way a kid has to push it with his legs. Doing so the kid learns how to balance and steer. Note, that balance bikes could be used indoors provided you have enough space. And kids love riding them! Bear in mind that balance bikes are suitable for kids 2-5 years old.
Tricycle, or trike is 3 wheeled bike aimed for the kids between 1.5 -2 and 5 years of age. Majority of tricycles feature a push handle which is used by parents when the kids are still not able to pedal. Trikes are safe and reliable. They teach your kid to steer and pedal at a later stage. For some of the kids tricycle is a perfect beginner bike. Just try it! It might work perfectly well for your kid.
Bikes with training wheels might seem a good and rather safe option but they don't teach your kid how to balance. With the help of the training wheels the child will learn to steer and pedal. As a rule kids start riding a bike with training wheels when they are between 3 and 5 years old, but the age range may vary from 3 up to 8.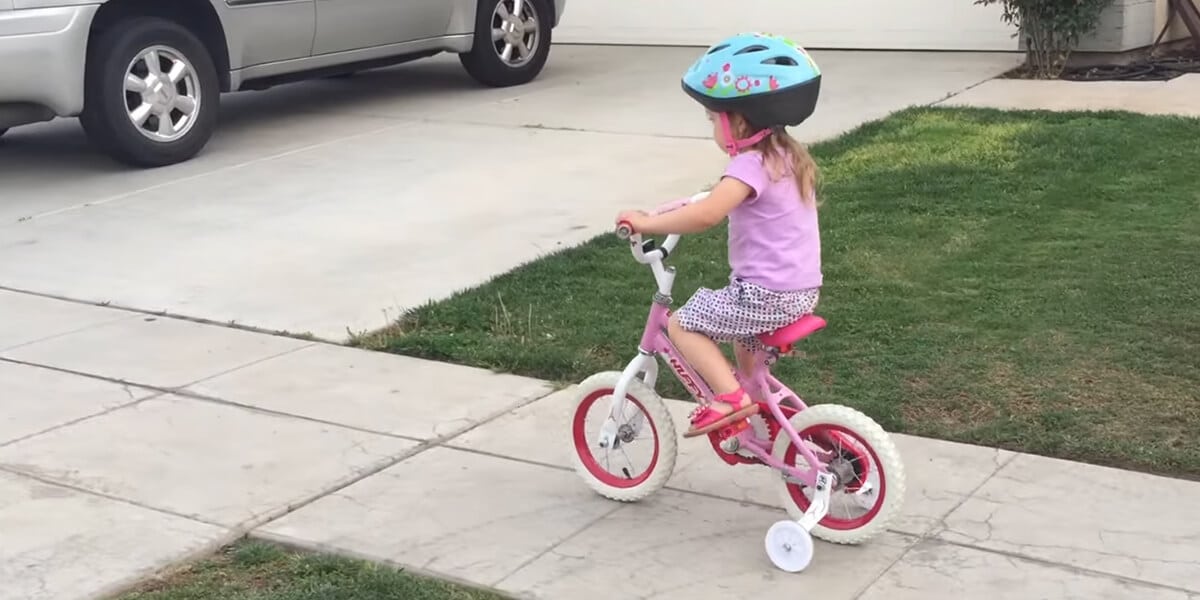 Training wheels are available for bikes of different sizes to accommodate kids of various ages. Having said that, you might have problems finding a small bike with training wheels for your 3 year old. Note that for your child to sit comfortably on such a bike, both of his feet should touch the ground.
| | | | | |
| --- | --- | --- | --- | --- |
| Age, year old | Balance bike | Tricycle | Bike with training wheels | Classical two-wheel bike |
| 2 | ✓ | ✓ | | |
| 3 | ✓ | ✓ | ✓ | |
| 4 | ✓ | ✓ | ✓ | ✓ |
| 5 | | | ✓ | ✓ |
| 6 | | | | ✓ |
How do I know when my toddler is ready for a pedal bike?
Sometimes kids wanted to pedal, but they simply couldn't understand how to balance, steer, pedal, and stop at the same time. It only means that a classical two-wheel bike is too early for your kid. Just let him happily keep riding his balance bike or a trike. He would definitely try later and one of the days gets the technique.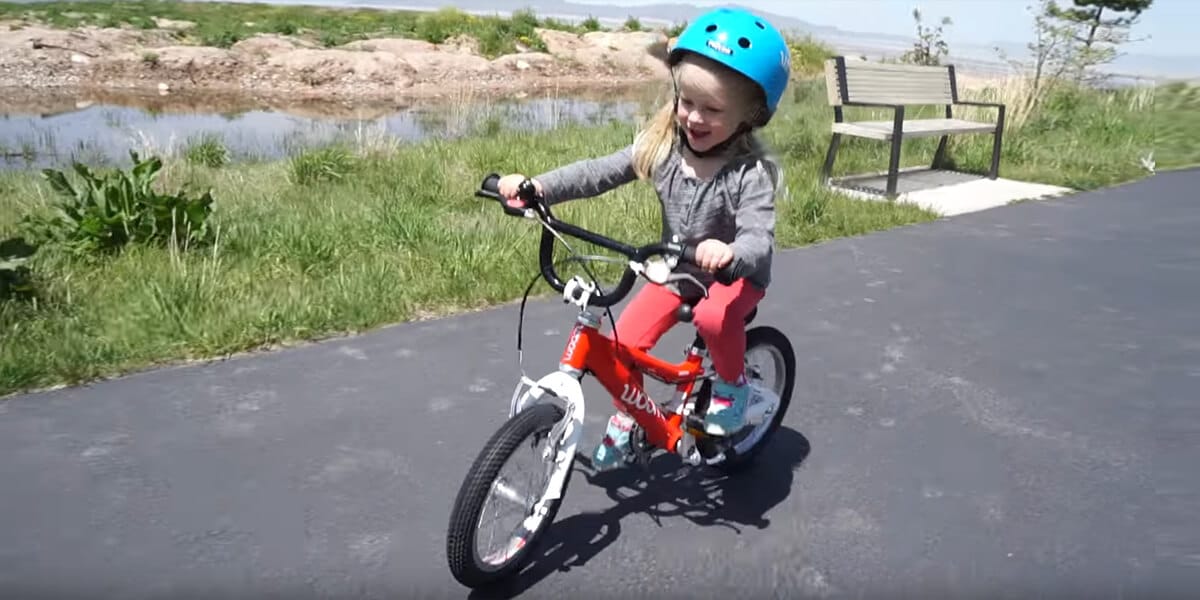 Normally kids want to try a classical two-wheel bike after having some experience either with a balance bike or tricycle. It might happen when your kid is around 3 years of age. Don't stop him! Let him try! The best case scenario is that he would be able to pedal away, and the worst – would fall off the bike.
Doesn't matter the bike, remember one rule: once riding your kid must wear a helmet and knee and elbow pads.
Have you already bought all the accessories required? If not, our review of the best kids' helmets might be of help. And this forum also.
How do I know which size bike to buy for a toddler?
Below is the chart selection by age, height and wheel of the bike. This information will help you to choose the right size bike for your kid.
Age
Child's Height
Wheel Size
2–3 years old
2'10″–3'4″
(85–100 cm)
12″
(30 cm)
3–4 years old
3'1″–3'7″
(95–110 cm)
14″
(36 cm)
4–5 years old
3'7″–4'0″
(110–120 cm)
16″
(41 cm)
Toddler Bike Size Chart – Inseam Length
Another sizing method based on your toddler's inside leg length.
Age
Inseam
Wheel Size
2–3 years old
14–17″
(35–42 cm)
12″
(30 cm)
3–4 years old
16–20″
(40–50 cm)
14″
(36 cm)
4–5 years old
18–22″
(45–55 cm)
16″
(41 cm)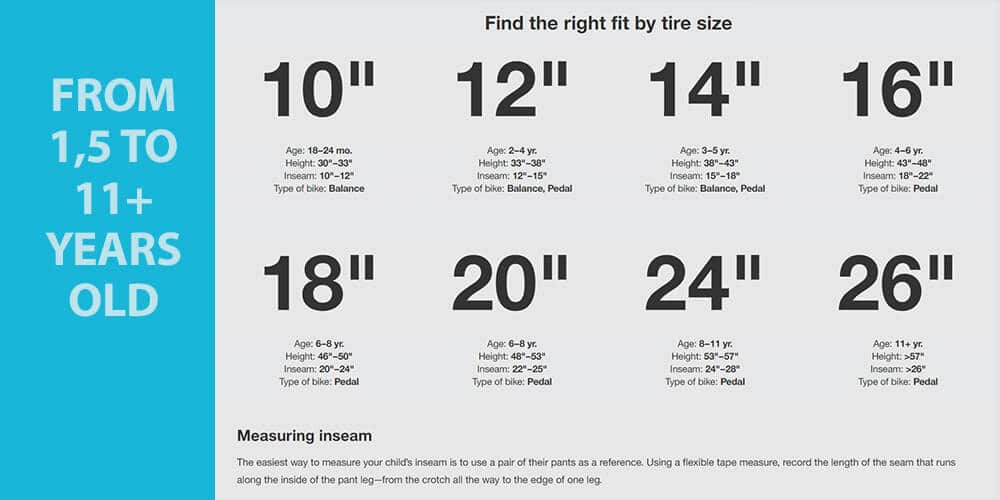 Conclusion
Make sure your little one learns to cycle as early as possible. Firstly, there are many health benefits of cycling. It will help your kid to develop and strengthen his muscles, increase his coordination and balance, improve the work of the cardiovascular system. Secondly, cycling is simply lots of fun and a great experience for a kid.
The earlier he starts on a bike, the easier cycling will be for him later in his life. Just be patient and don't push your kid a lot! Do your best to be reasonable and let your child have fun while riding his bike.
Video how to choose and size the right bike