If you are reading this review Best Toddler Nap Mat – it only means that you may want to consider getting your toddler a nap mat. You might have different reasons behind that.
Perhaps your little one has already started visiting daycare facilities and you are worried about his napping away from home; or you are planning some travel and you want your kid to have a nap in familiar surroundings.
I started thinking of a nap mat only when my older kids were at school and I still have a toddler that is left behind at home and still needs some inspiration to have a nap time. And of course, I wanted to provide my lovely girl the best nap mat available for toddlers.
Best Choice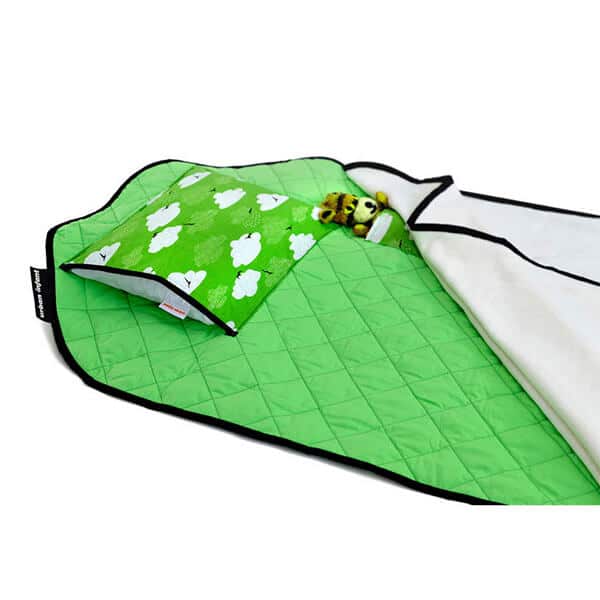 Urban Infant Tot Cot Modern Preschool
Best nap mat for daycare and kindergarten
The mat features special elastic straps to attach to the cot's corners. I must admit, it is sized to fit perfectly well.
Read Verified Customer Reviews
What is a nap mat?
Basically, it's a thin mattress pad with a pillow and an attached blanket on one long side of the mattress that folds over the kid at nap time. Sometimes it looks like a sleeping bag but a bit smaller. And I can tell you from my own experience that it's much better than a sleeping bag, in fact it's a great napping spot ever!
Where to use a nap mat?
There are several situations a nap mat might be used. With my little daughter I use it not only at the daycare center when she is there from time to time, but at her grandparents' or babysitter's house or during any travel as it's a really handy thing to carry around. The nap mat could also be used for camping or as a cozy place to read a book, to play with toys or watch cartoons or movies and fall asleep later.
What criteria to consider?
Which toddler nap mats get the best reviews? Look at the comparison table. I will provide you with more information that will help you in our Buyer's Guide later.
5 Best Toddler Nap Mat in November, 2023 Reviews
Below is a review of my favorite nap mats for toddlers. Let's get started!
The inner blanket is made from cotton flannel; it's really very soft, cozy and pleasant to use. An obvious advantage of the mat is that it air dries very quickly.
This nap mat from Wildkin comes in a great variety of patterns, 18 to be exact. I'm pretty sure that your toddler would be happy to choose the one he likes to use!
Recommendation: There is a small pocket on the front of the mat, and you can insert a name tag for personalization. If the mat is taken to the daycare/preschool, your kid would definitely know which one is his.
Note: You can make a theme buying matching lunchbox, backpack, water bottle, and/or duffel bag.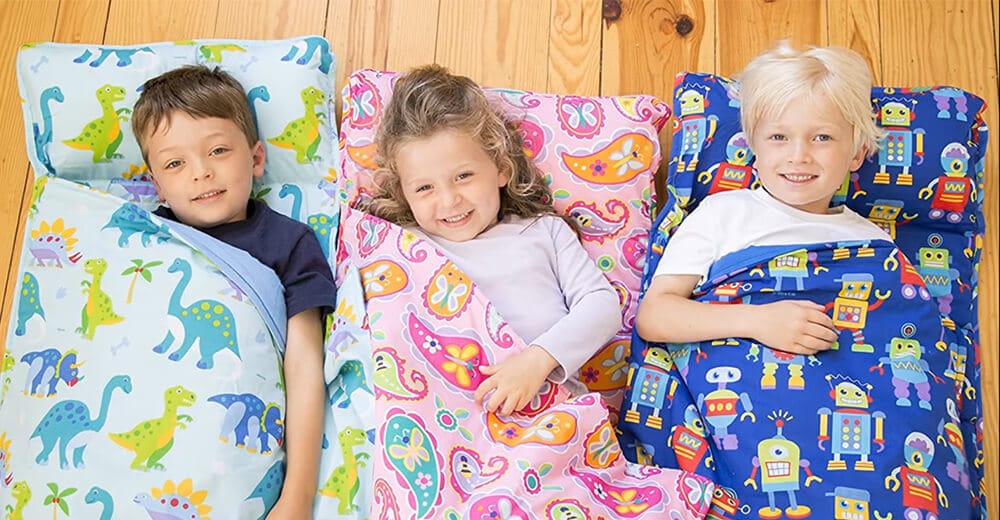 Pros
Lightweight
Removable pillow
Easy to clean
Variety of patterns, colors and themes for boys and girls
Good value for money
High quality durable fabric
Machine washable
Cons
Some users expected this mat to be a little longer for taller kids
Your kid can snuggle up in there. An obvious highlight of this mat is Minnie Mouse design: it features Minnie in her classic pink bow with white polkadots and matching pumps. It's adorable and easy to use.
Recommendation: Could be a perfect gift for a Minnie lover!
Note: Check up the size before buying: it could be a bit short for a tall toddler.
Pros
Perfect for daycare: super comfortable
Cute and compact design
Lightweight
Good quality for an affordable price
Durable fabric
Carrying strap
Machine washable
Easy to store
Easy to clean and quick to dry
Cons
Some parents would like to have a size selection as the kids grow.
There are some complaints that the mat is not thick enough to use it on the floor.
This pillow bed cover is a versatile item that can be used as a toddler nap mat, portable alternative for a sleepover, or as a lounger for playing, reading or watching TV. The cover comes in two sizes: king and queen: the length is the same, but the width is different (queen size is 26" and king – 32"). King size can easily accommodate two toddlers.
This pillow bed is very easy to use.
It features five pillow pockets and each of them has a zipper. You need to stuff each of the pockets with a pillow and the bed is ready! Mind that it doesn't come with the pillows, so you have to buy 5 pillows matching the size of the cover.
But even if you choose queen size, you probably don't need all 5 pillows: 4 would be enough for a toddler.
Make sure you don't buy extremely firm ones: in such a case you might have problems inserting them and zipping the cover.
If you have some extra pillows from the guest bed, you don't need to buy anything: just stuff the cover with the pillows you have and when you don't need it, simply take the pillows out, fold the cover and put it in the drawer.
It's a very easy to assemble toddler sleeping mat, and, well, it is the best thick nap mat I've ever seen.
Recommendation: One of the pillow pockets could be used a storage place for stuffed animals or other items your little one would like to keep at hand.
Note: You can fold it over the 1st section to prop it up for your kid to sit. Tip: don't put it on floor because it may slide all over, better place it on a rug.
Pros
Versatile and practical
Well worth the price
Easy to wash due to removable pillows
High quality fabric
Very comfortable
Supper soft
Cute and adorable print
Good quality zippers
Nice floor lounger
Cons
Pillows are not included
The mat needs some storage space when not in use
This one by Lambs & Ivy is more economical choice. It has a handy carry strap, it's extremely lightweight and easy to close with two pieces of Velcro.
The nap mat features an attached super soft blanket (the blanket is attached on the one of the long sides and has a background with woodland animals: squirrels, bears and foxes to be exact); and it also has an in-built pillow with a cute little fox and a thick enough padded bottom mat.
So, in case you don't want to spend much, it's a small daycare sleep mat perfect for a toddler. The mat is pretty easy to fold back with a help of the Velcro closures: it stays secure with them.
The nap mat also has a small name tag, so your little one would know that it is his.
Recommendation: Suitable for 2-5 aged kids. Could be attached to the kid's backpack when it's time to bring it home.
Note: It's not very padded. However, many kids find it extremely comfortable due to the plush soft fabric.
Pros
All-in-one nap mat
Perfect for daycare, travel, overnight sleep away from home
Super soft and snuggly fleece blanket
Perfect fit for a fold up travelling toddler bed
Super lightweight
Cute design
Cons
Pillow is not removable
Can't be attached to the cot
Some users considered this nap mat to be too thin and flimsy
This nap mat is another versatile item that can be used at the daycare, camping, travel or any other visits to friends or relatives. It is made of 100 % cotton, skin-friendly material. It features breathable lightweight blanket, removable pillow for easy care, and plastic safe buckles and simple carry handle. It rolls in easy to carry cylinder.
Recommendation: Could be a nice gift for a boy or a girl!
Note: This mat is a perfect match for a portable toddler bed.
Pros
Variety of cute themes and design
High quality, skin-friendly fabric
Worth the money
Lightweight and breathable blanket
Super soft mat
Air dry
Durable, snuggly and comfortable
Removable pillow
Warm enough blanket
Cons
Some users have pointed out that the mat is a bit bulky once folded
The Best Toddler Nap Mat – Buyer's Guide
What size to choose?
Nap mats come in different sizes. Make sure you know exactly which one you need for your kid.
If you want it to grow with your little angel, you'd better buy a bigger one;
if you are looking for a really compact one, than go for one that is good for your child right now.
Design
Nowadays the nap mats come in a variety of themes, colors, and designs. If your little one loves unicorns or any other cartoon characters, go for them! Don't forget to let your kid choose the color he likes. It's more likely that he will be willing to use it more often. You can also come across the nap mats with backpack straps so your little one can carry it on his own.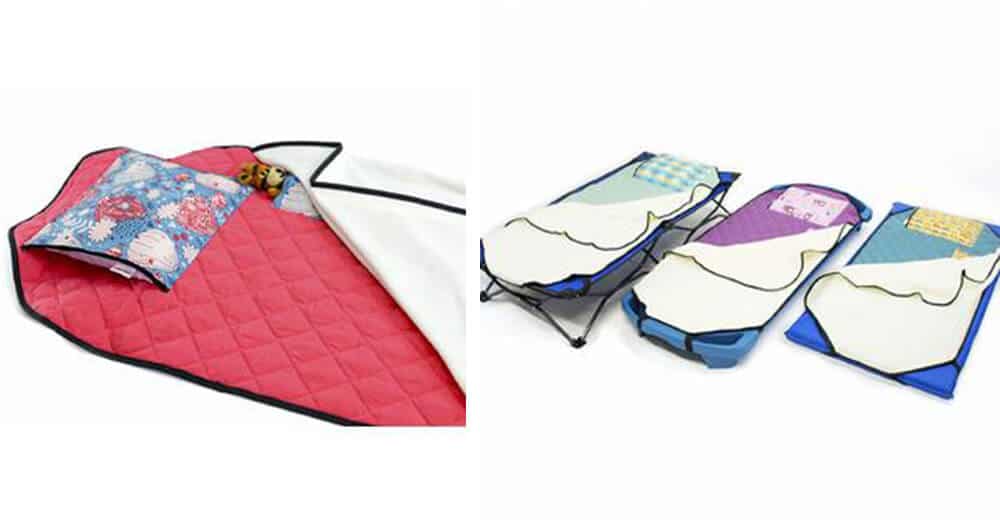 Fabric
You can also take into consideration the fabric: some are softer and more pleasant to rest than the others.
Conclusion
If you want your little angel to feel cozy and comfortable sleeping away from home, a nap mat is a great solution.
And the most important feature of the best nap mat for toddler is that your kid should love it and want to sleep on it. At least it should be a familiar item helping him to get used to a new environment and support his emotional comfort.
However, make sure your toddler gets to know how to use it before he goes to a daycare or a kindergarten, or you bring him to any new place where he needs or wants to have a nap.
Perhaps it would be even better if you have a chance to buy a nap mat one-two week in advance and get your little one used to it before taking it to a daycare or any other place.
FAQ
Are there nap mats with detached blankets?
In most of the nap mats I've come across the blankets are attached to one long side of the mat.
How to take care of a nap mat?
It's an obvious plus when a nap mat is a washable one. Make sure to check all the wash care labels and find the one you can wash. Removable pillow is also an advantage.
How to wash a nap mat with a built-in pillow?
Check wash care labels. Almost all nap mats are machine washable.
Do all mats fit on standard cot bed?
Not all of them. Before buying any mat make sure you know what size you need. Moreover, not all nap mats have ways (special straps) to secure the mat.
Does a nap mat have to be with an attached blanket and an attached pillow?
For my little girl I've bought all-in-one nap mat: a mat, an attached blanket and a pillow and I don't have any regrets. My daughter loves it!