How did I choose the best toddler chair? Whenever I tried to sit quietly in my lovely chair in the corner of the room and relax a little bit looking through some fashion magazines, my youngest toddler girl immediately climbed into the chair with her favorite touch-and-feel book.
She made herself comfortable next to me and started "reading" her book. When I asked her if she would like to have her own toddler chair, she gave a cry of surprise and happily agreed after.
I promised to find a similar comfortable toddler chair for her and that's where this review of best toddler chairs started.
Why does a toddler need his own chair?
As I've already said toddlers learned and explored the world through imitation and play. And what is also of great importance is that all the gaming activities should take place in comfortable conditions.
Just to name a few, if your little one is playing with a busy board, or lock and latches activity board, or putting together jigsaw puzzles at the high-top desk, while sitting on an adult height chair, he definitely would feel uncomfortable within short.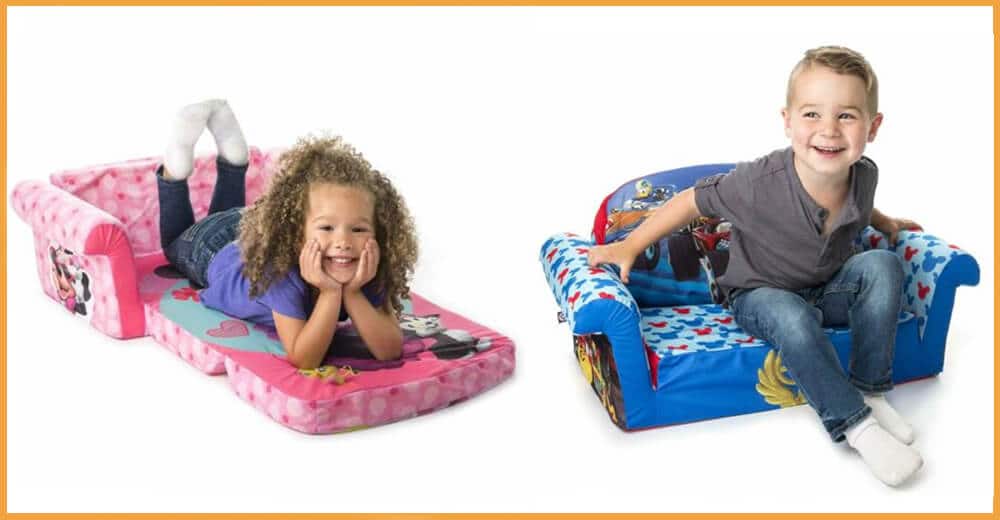 As his legs are not supported and dangling, he gets tired very quickly, and eventually this wrong position might affect his posture. It's very easy to explain: max possible load on the spine or back bone is not when we are standing, but when we are sitting. When we are standing, part of the load goes to the feet.
That is why it's very important to create healthy conditions for the kid's back bone from the early childhood. And investing in the best chair for toddler can help your baby to have a very own place to play at and keep his spine healthy.
Types of kids chairs
There are so many different types of chairs for toddlers on the market today, too many, actually, more than enough for everyone to get confused. For instance, there are:
toddler upholstered chairs,
toddler soft chairs,
toddler chairs for eating (high chairs),
toddler's activity chairs,
reading chairs for toddler,
rocking chairs,
recliners,
various seats (car, bath), etc.
In this review I tried to put more focus on best toddler chairs upholstered. Let's get started.
14 Best Kids Chair in November, 2023
Which toddler chairs get the best reviews? Look at the comparison table. I will provide you with more information that will help you in our Buyer's Guide later.
10 Best Toddler Chairs Upholstered
Other Cool Chairs for Toddler
Let's have a look at the list of 14 toddler chairs I compiled in this post when I was choosing one for my children.
The frame is made of foam rubber. To lean on the back of the chair is only convenient when it stays against the wall, otherwise, it may tip over. Also note that the chair has protruding parts of the animal's bodies, for example an elephant's trunk; which may be a little uncomfortable for sitting.
In my opinion, a 4-year-old child will not be comfortable in this chair, but for 1-3 years old children it's just perfect. The great advantage of that chair is a removable cover that is machine washable.
Dimensions: 14" x 19" x 20"
My kids have never ever had a chair like this; however I won't hesitate to recommend it for any playroom, living room, and a bedroom. I'm sure it will work well in any of these premises and you won't regret your purchase.
Note: The chair is suitable for 12 months up to 3-4 years kids.
I can assure you that this little sofa would give your toddler a feeling of comfort and independence. It is so light that your little one can easily move it from one place to the other. Moreover, he can flip it open without any efforts and transform in a lounger himself. This sofa/chair is suitable for toddlers 18 months +.
Recommendation: Could be a nice birthday present for a young Minnie Mouse fan!
Note: Slipcover is easy to remove and wash in the washing machine. And the zipper is designed in such a way that a kid is not able to open it. In case you need to need to get the cover off, slip a paper clip through the zipper and pull.
I've bought this Melissa & Doug Child's armchair as a Christmas gift for my niece who was 2 year old at that time. Apparently it was not that easy to get this girl to "read" books, however now her personal armchair is the best reading chair, the most comfortable and cozy place to sit and read. She loves it a lot: it helped to give her a sense of independence and control.
The chair is suitable for kids 2-5 years and comes in denim and two other fabrics (coffee faux leather and pink faux leather).
Recommendation: I have no doubts recommending this chair as a birthday, Christmas or other holidays gift!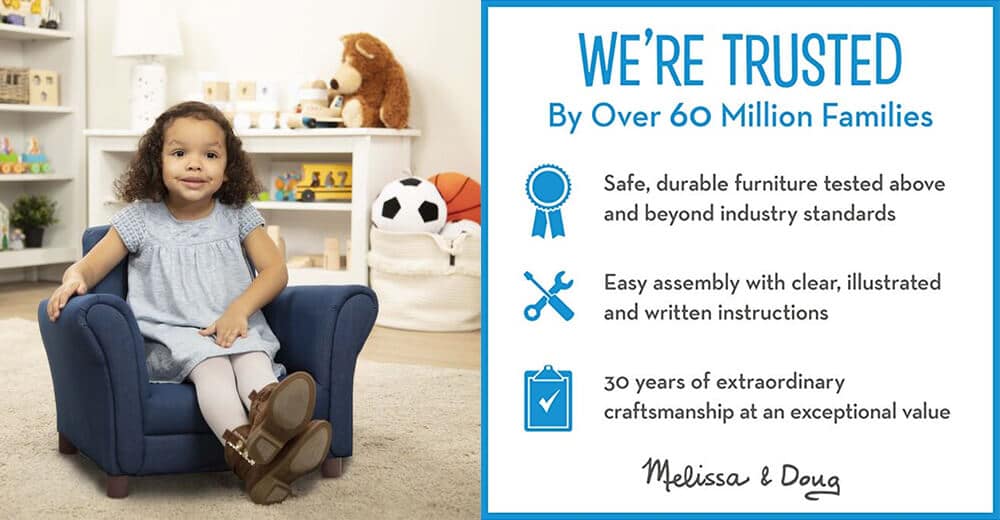 It comes in 5 different colors (hot pink, light purple with white dots, navy blue, pink with polka dots, and Royal blue). It is a comfortable toddler chair with a kid's name.
The chair is suitable for kids from 18 months up to 4 years.
If I had seen this chair in the shop, I would not have paid much attention to it. However, after seeing it in my neighbor's house, I realize that this chair is a good buy! It has a good shape and looks like an adult chair.
In fact my neighbors have two of those now (one is icecap blue and the other one – gray stripes): each kid has his own chair. When the first chair was bought, there was a constant fight between toddlers twins… both of them wanted to sit and play on at the same time. The war was over only when a second chair of the same design was bought.
Great for reading, watching TV or just relaxing. With only half-filled bag, you will get a comfy bean as bag. In my opinion, it is very unusual design that should have been put on this list, even though it is not a typical toddler chair. It's one of the best kids chair.
The size of the chair is suitable for children of all ages. You can not only store toys in the seat-bag, but also pillows, blankets and other soft material things.
Diameter when full: 38"
The chair is designed for children from 3 to 6 years old. It is convenient for a baby to relax, fall asleep while listen to fairy tales, watch animated movies and play games. There are pockets on each side of the chair that can be use as storage compartments for toys, books etc. It provides long lasting comfort with foam padding on the armrest and backrest.
It has a durable upholstered design that is unfortunately is non-removable, so I do not recommend using this chair for dining, as it will be hard to wash it.
Dimensions: 22.8" x 16.5" x 13"
The great amount of foam provides very comfy sitting. The major advantage is strong wooden legs, while the minor disadvantage is that it does not have a removable cover; but keep it clean, all you need is spot clean regularly with soapy warm water.
Dimensions: 24" x 17" x 18"
This is a great set chair for a toddler with attached table at which a child can draw, sculpt and eat. Under the chair there is a mid-size basket where toys, pencils, paints, drawings can be stored. There is a removable built-in cup holder.
It has a beautiful drawing of Mickey Mouse that your child will love.
The drawbacks I want to point out are flat hard surface of the seat, that can be solved by putting a small soft pad, plastic mounts of the chair do not look very sturdy, perhaps, you may replace them with metal ones.
This stool is suitable for kids from 2 to 6 years old.
Dimensions: 235" x 205" x 215"
These chairs are convenient for creative work or mealtime at a small table. The lightweight design will let the child move it wherever he feels comfortable to.
Dimensions: 11" x 12" x 25"
The chair has a seat straps that will prevent your toddler from falling. Unfortunately, they are not removable and have to be cleaned directly on the chair, which is easy to clean itself with a wet cloth.
All in all, I like that chair, it can be used at the table of any height, you just simply adjust the height of the seat and footrest.
This chair is great for studying, drawing and eating at.
There is an additional soft pad that can be purchased separately.
The cost of the chair is on a high-end, but keeping in mind its structural sturdiness, adjustable ability it is a great long-term purchase.
Dimensions: 18" x 34" x 22"
Buy this bean bag chair for your toddler! It's a universal item that can be used not only for sitting and playing, but as a storage place for any stuffed animal toys, extra pillows and beddings, blankets, towels, some play clothes or any other soft things your little one might need. It will definitely make space for your closet and keep things in order.
This soft and frameless chair rather looks like a huge floor pouf for kids to play, read or watch cartoons. And it's a great alternative to a standard bean bag: at least it doesn't look like a typical one.
Recommendation: Can be used as an extra seat when there are guests in the house.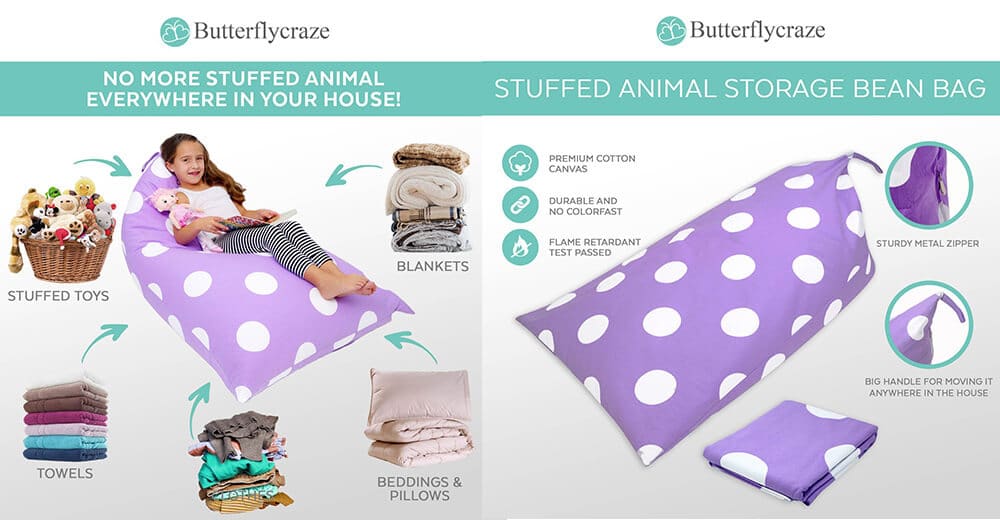 You can also buy a coolest nap mat for a toddler from the same company.
Recommendation: Might be used for a princess theme party: your kiddy could play her part sitting on the throne.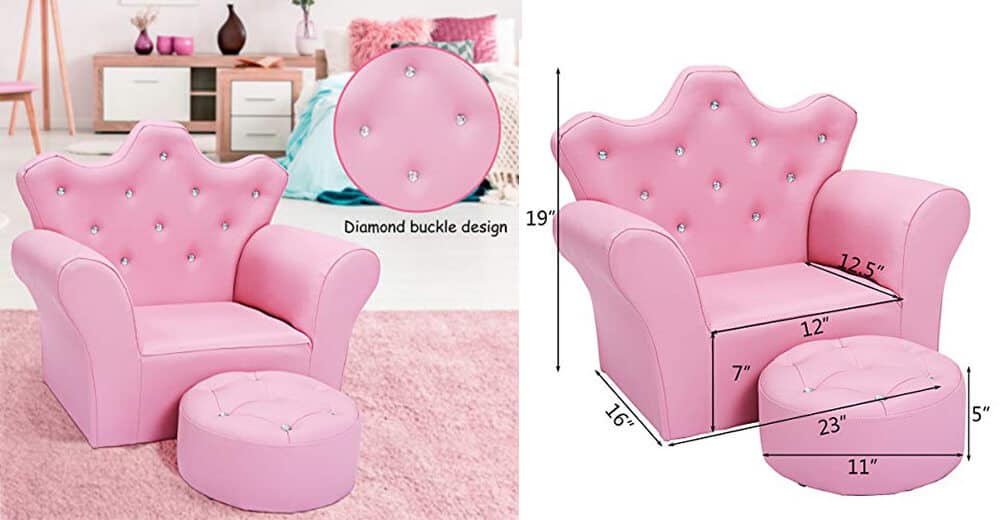 Best Kids Recliner Review
What is a recliner?
A recliner is an armchair that reclines when the one who is sitting, lowers the chair's back and raises its front.
If you have adults' recliners in the sitting room, a kid could demand his own… So why not to have a similar chair for your little one too? With this extremely sophisticated piece of a furniture your kid would have a chance to mimic everything his mom or daddy does.
Your child would have a perfect private spot to watch movies, read a book or simply have a nap. In this case recliner is key! Having said that, recliners are great addition to any home: they offer the best in relaxation!
I would like to present you some of the best kids' recliners. Let's get started!
This recliner features a solid hardwood frame and durable vinyl upholstery. It is extra comfortable, and comes with a plush padded back and a cup holder armrest. This chair is rather compact and doesn't take lots of space.
Note: This recliner comes fully assembled and is suitable for toddlers.
The recliner is coved with soft and comfortable to skin microfiber upholstery. Needless to say, that spills and spots are unavoidable with kids, however, this durable fabric is easy to clean and to take care of.
If the chair gets dirty, the only thing you need to do is to use a damp cloth and get rid of the mess. On top of that, the recliner comes with extra machine-washable pillow cower!
Tip: Have you ever thought of personalizing a recliner? With this extra pillow cover you can do it! Just make the name embroidery or add any other pattern your little one would be happy to have!
As the recliner comes in an array of 21 colors, you can pick anyone matching the style of your kid's room or house in general, or any particular item, for instance: an ottoman, a sofa, a coach, etc. You can be assured that it fits perfectly well with any standard furniture.
The chair features manual reclining mechanism. It means that there are no handles to recline, and you have to push the back of the chair to a reclining position. I would consider it to be a safety feature. Additionally, the chair will not recline unless a kid is in sitting position. Probably, your child would need to have some help at first.
Note: The recliner is easy to put together: slide the back on and use the included wrench for the legs.
If you have a very active kid, maybe this chair would help him or her to settle down a bit… At least you might have some free and quiet time while your child is watching movie, playing, reading, or having fun on the recliner.
The Best Toddler Chairs – Buyer's Guide
If you are looking for a proper toddler chair, it only means that perhaps you are not able to keep your little one safely strapped in his high chair any longer and he is almost ready to abandon it.
Normally it happens when a kid is between 16-18 months and 2 years old.
Choosing the best kids chair is not an easy task. When the issue came up and I had to choose a chair for my children, I always kept in mind the following key-factors:
Purpose
I'm sure you agree that it's much better to have a versatile item than one-off thing. This rule is applicable to a toddler's chair as well: it should be used for more than one purpose. If your child likes to draw, put together jigsaw puzzles, sculpt or just be engaged in creative activities, then it must be a comfortable sitting chair for extended periods of time.
The baby himself should be able easily sit on it and get up, adjust the back of the seat and move further or closer to the table. In this case, look for a firm design wooden or a plastic chair.
If your child likes to watch cartoons, listen to audios or read books, and might even fall asleep while doing that, it is better to go for a soft padded or an upholstered chair.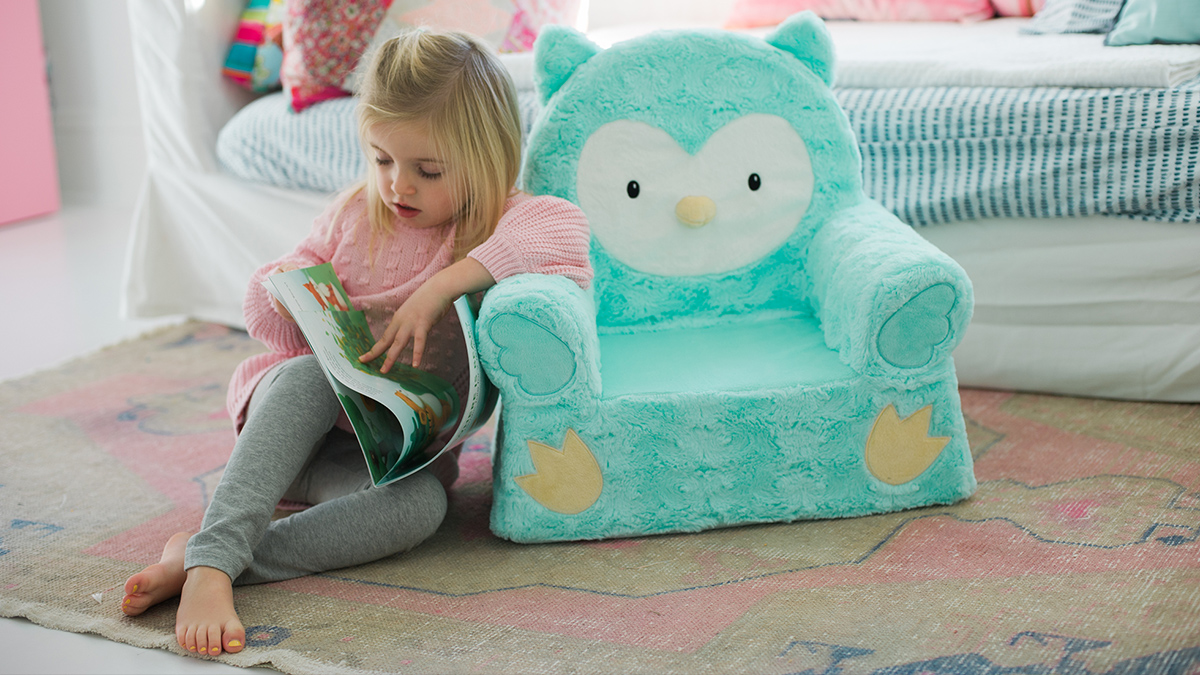 Comfort
While sitting on the chair, your little one should feel comfortable at all time. Ideally, you need to let him try to seat in a chosen chair prior to its purchase.
Weight
A chair should be lightweight, so the kid could drag it at any place of playroom without any help.
Height (applicable for a wooden or a plastic table chair)
Once the kid is sitting on the chair and his feet are on the floor, this is an ideal height.
Sturdy and durable design
This is a very important factor. The chair should be stable enough to support your child's weight for a long period of time. Simply bear in mind that having a steady construction chair is crucial.
Easy to clean
It is easy to keep wooden or plastic chairs clean. The only thing you need to do is to wipe them with a wet cloth from time to time or when dirty.
Any fabric or plush made chairs are not the best choices in this regard. If you are going to buy an upholstered toddler's chair, make sure its top cover is removable and machine washable. It is always an advantage.
Materials
This is another important factor to be taken into account. As toddler chairs come in various materials, you can choose from wood, plastic, different fabrics or a combination of all of them. A chair should not only hold up the tear and wear of daily use but also be made of durable and preferably eco-friendly materials.
I don't want my kids to suffer from intoxication and/or injury due to unsafe products, therefore I always check the materials before making a final purchase.
And of course I do my best to be practical and choose an easy to clean chair and with a removable and washable slipcover.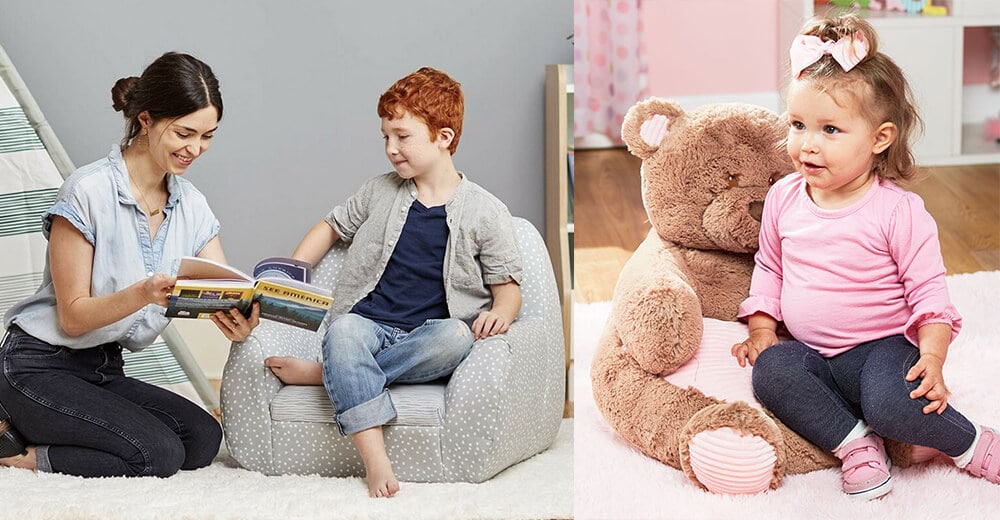 Place
Before buying a chair think where you can place it. You can allocate a special zone where you place an upholstered toddler chair, for example. There's no need to move it around the house especially if there's shortage of space. Try to arrange not only a good light, but some box or any other storage place next to a chair for your little one to keep his toys and other things.
Design
Toddlers love things with their eyes and don't care about all the factors stated above. In fact it is a very good idea to take your child with you when picking up a chair. If you have a possibility to do so, you can always let your kid to choose a color, a pattern and design he likes the most.
That would definitely give him a sense of independence; and the chance that the chair would be constantly used is much higher.
What is the best toddler chair?
The best toddler chair provides maximum comfort to your little one. It's the chair that:
features strong wooden frame
lightweight, yet durable
offers a lot of back support
comes with extra deep wide seat
has a removable cover
has smooth rounded edges
is not too high, rather low to the ground for additional safety
can be personalized with child's name
How to maintain an upholstered chair? How to keep it in a good condition?
How to clean an upholstered toddler chair?
I'm sure you have those questions in mind if you are planning to buy or have already bought this type of furniture for your little one. It's obvious that an upholstered chair needs more care than a plastic one. However, it's not that difficult to maintain. Just try to follow some basic rules, and the upholstered chair would be in a good condition for a long time.
Before starting cleaning (or even better, before buying), find a tag and check a cleaning code of your chair (any upholstered furniture should have such a code, indicating the best cleaning method you are supposed to use). Most commonly, the tags are either under the removable cushion or underneath the chair. Make sure you are using an appropriate product for the upholstery fabric.
How to read upholstery cleaning codes?
W – stands for "water". It means that for cleaning you can use water-based cleaning products, or foam. You can also use various upholstery/carpets products. This type of furniture is the easiest to maintain.
S – stands for "solvent" (cleaning solvents) or water-free products; dry cleaning only, to be exact. It means that you are not allowed to use water at all. Water-based products would leave rings after drying.
S/W – stands for combination of water and dry cleaning. Not the best choice for a toddler chair, truth be told. It's always better if you leave it for for professional cleaning. However, according to the tag, you may use both type of solutions: cleaning solvent and water-based.  Use a mild cleaning product, it's the best!
X means vacuum clean only! Never use water, liquid cleaning or foam.
Vacuum the chair to remove crumbs, surface dirt and dust.Even if you have "W" or "S" on the codes tag, start by vacuuming the chair before applying any cleaning solution. Use the scrub brush or special pad attachments on any hard to reach areas
To clean some dirty spots, take a wipe or a wet microfiber cloth and spot clean the upholstery. Gently wipe the spots with a solution, blot up the excess moisture (soap and water) with a dry microfiber cloth or paper towels, and allow to dry. If possible, try to clean dirty spots as soon as you can and wipe up spills right away.
For overall cleaning use a wet microfiber cloth: in a circular motion clean the whole chair and let it dry.
Conclusion
Being a parent of a toddler you probably know that your little one is always watching you and likes to imitate almost everything you are doing: cooking, cleaning, reading, brushing your teeth, playing musical instruments, and resting of course. If you like to relax and read a book while sitting comfortably in a cozy sofa, it's more likely that your kid would probably do exactly the same. And it is a good time to choose the best toddler chairs. So, you'd better be a good role model!
You are the only person who knows what is better for your kid. Take your time, study the guide and choose the most suitable chair for your little one. I do hope everything I wrote would be of help and give you at least a slight idea how to make a right choice of the best toddler chairs (soft,cushion, personalized).
FAQ
1. What is the best size of a toddler chair?
One of the most important factors while choosing the size of a toddler chair is the age of your child. Of course, you would want any chair to last some time as your kid grows up. Height is really important for any table chair. Make sure once the kid is sitting on the chair, his feet are on the floor.
2. What is the best color of a kid's chair?
Choosing the color really depends on your personal preferences and style of your kid's room. However, it could be anything attracting the mind of your child too. But try to be practical: white or pink upholstery chair might look nice and perfectly blend in with the style of the room, but kids can easily spill anything (juice or chocolate drink) and the chair might be not easy to spot clean. In case you would like to have light colors, make sure your chair has a removable slipcover.
3. What types of sofa chairs are the best?
Sofa chairs with soft and cozy foaming, a sturdy wood frame construction, and arms and backrests are the best. These chairs can easily withstand daily tear and wear.
4. What is the best fabric for a toddler's chair?
If you want to have a stain-resistant and easy to clean chair, go for a microsuede fabric. It's difficult to stain because of its structure and very easy to clean. You can use dish soap and warm water, and remove dust with the vacuum cleaner. Even if the microsuede gets wet, it is water repellent and still less adsorbent than wool and cotton fabrics.
5. When to buy a toddler chair with a desk?
A toddler chair with a desk is suitable for preschoolers (3-5 years old). It might become an ideal spot to make first steps in painting, reading, putting puzzles, and other creative activities.
6. Do all upholstery chairs have slipcovers?
No, they don't. If you are looking for a chair with a removable slipcover, make sure to check the description of the item you are buying.
7. Can a chair be a Christmas/birthday gift for a toddler?
It certainly can! Especially if you choose a theme the toddler likes the most. It can be any plush chair, an upholstered chair with a cute cartoon design, or any other chair you may come across.
8. What is bean-bag filled with?
Generally, bean-bags are filled with PVC pellets, expended polystyrene or polypropylene.
9. Are there any advantages of bean-bag chairs for kids?
Yes, there are some. They help the kids to relax and have fun. Bean-bags are versatile and can be used not only for sitting, playing and relaxing but for storing stuffed animals too. They are easy to spot clean too.
10. Are there any toddler chairs for overnight sleep?
Yes, of course, there are some. For these purposes flip open foldable foam sofas are used.