It is a good time to choose the Best Toddler Floor Beds. When I was a kid I loved sleeping on a low bed, a simple mattress on the floor, to be more precise. It all started when my parents were about to throw away an old sofa, and I asked them to wait and leave one of the huge sofa cushions for me to play with for a couple of days.
They agreed and I got a new lounger: a cozy and comfortable place to relax and play. It didn't take long for my parents to realize how much I loved the place as I spent most of the time there not only playing but even having a nap at the day time. And a bit later the old cushion was replaced with a simple small mattress, and I became very proud to have my special "big" bed.

Now I realize that I had the best floor bed for toddlers at that time. And I also know that these floor beds, or low beds are parts of the Montessori concept, so called Montessori floor beds.

Best Choice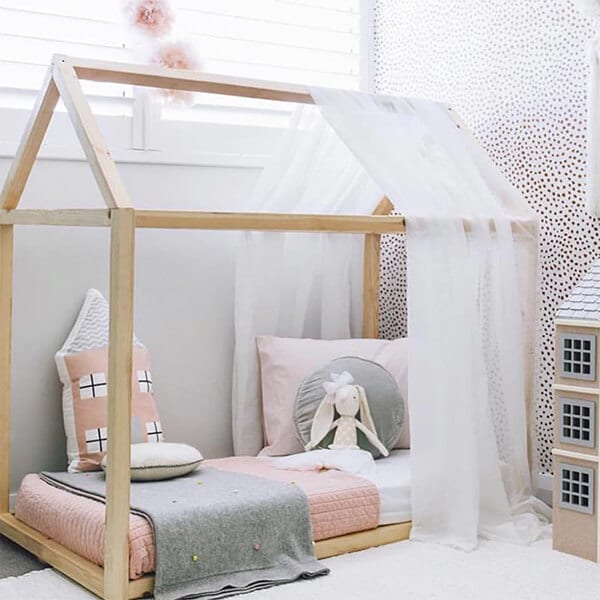 House Bed Frame Toddler Bed PREMIUM WOOD
Best Toddler Floor Bed
This simple floor bed is made from a premium quality, untreated poplar wood with minimum-to-no knots.
Read Verified Customer Reviews
What is main idea of the Montessori method?
The basics of the method is accessibility and independence of the child: a kid should be able to get to his toys, clothes, his bed without any help from the adult.
As this method worked perfectly well for me years ago, you may guess that I've arranged similar floor beds for all of my kids when they were between 2 and 3 years. I didn't buy anything special (I mean expensive bed frames), just put kid's size mattresses on the floor and placed their upholstery chairs, some boxes with their clothes and toys next to the low beds. Any time my kids wanted something, they could easily get out of the bed without my help. And I was not worried that they would hurt themselves even rolling out of their floor beds.
My kids were very comfortable with the low beds and enjoyed their independence very much as well as lack of physical boundaries in their bedroom.
Having said that, this approach really helped me to realize how many things they could do without any help from the adults. And yes, they became more eager to learn, play and sleep in their beds.
I cannot tell you if a floor bed would work with your kid or not. The only thing to know the result is to try. Just buy a mattress, put it on the floor and see if your kiddy loves it or not. Even if he doesn't, it would be a new experience for him anyway, and maybe later he would come back to it. Of course, you could also place any toddler chair next to a floor bed. Maybe this would help your little one to get used to a new environment in a shorter period of time. Has your toddler had his own chair yet? If not, my review of the best chairs for toddlers might be of help.
And one more thing…If your children have already started visiting daycare facilities, you are well aware of the nap mats that are being used in the preschool and kindergarten classes. Strictly speaking, there's not much difference between a daycare cot and a low floor bed. By the way, my nap mats review is here. Switch for a floor bed at home and maybe your kid would love it.
5 best floor beds for toddlers in September, 2023
My personal top 5 includes the following low beds. Let's have a look!
Moreover, you can choose any design you would love to have in your kid's bedroom: simple frame with no adds, or with mattress slats, 6" legs, fence 3 or 4 sides, 3 rails 4 sides, or even with a chimney.
Note: Although it's not that difficult to assemble the bed, it would be better if you have someone to help you. Make sure you have a cordless power drill.
Recommendation: The bed is absolutely perfect for a toddler, however, in case you plan to leave it when your kid gets older and taller, you can disassemble the upper rail for him to get in and out more easily.
Pros
High quality, premium poplar wood
Hand made
Pre-drilled holes
Fits a standard crib mattress
Sturdy and solid frame
Ready to paint
Cons
No mattress
No assembly instructions
The design of this frame bed looks the same but it has legs and comes with slats! The only thing you need to do is to buy a standard twin mattress and assemble the bed for your little one. As all the holes are pre-drilled, it should not take you long to do the job.
Recommendation: You can choose the height of the bed: it can be set as high as you like. If I buy this bed, I would put a rolling drawer for kid's stuff underneath. Rather handy thing! I would recommend buying this floor bed!
Note: This twin floor bed comes with slats!
Pros
Cute design
High quality
Carefully packed for shipping
Slats included in the basic set
Fits standard twin mattress
Sturdy and well-built construction
Easy to instruction to follow and to assemble the bed
Storage space underneath the bed
Cons
None, according to the users' feedbacks
Recommendation: If you live in a warm climate you could place it outside in the yard and possibly use it not only as a sleeping place but a playhouse for your little one, provided you can strengthen it a bit with a roof and walls with a special outdoor fabric.
Note: Twin XL mattress fits better than a twin one: XL size doesn't fit loose.
Pros
Open design
Allen key included
High quality poplar wood
Cons
Not very sturdy design: some users complain that the frame is rather flimsy.
Some customers consider the instruction to be difficult to follow, moreover, sometimes some of the pieces were mislabeled and therefore more difficult to assemble.
The bed comes in a twin size: as the mattress in not included, you need to order a standard twin size item.
The frame has a typical standard shape; however, it could be decorated to meet any needs of different styles.
Note: Slats and legs are not included. If you wish the floor bed to look a bit different, you have to buy them separately.
Pros
Sturdy and durable design
High quality wood
Great buy
Pre-drilled pieces and all screws are included
Cons
Some users find it difficult to follow the instructions due to unmarked pieces.
Note: Slats, chimney and a fence are not included in the basic set and should be ordered upon request.
Pros
Cute design
High quality Finland pine
Covered with an environmentally-friendly paint, meet SGS environmental protection requirements
Reasonable price
Durable, firm and stable construction
Resistant to air humidity and temperature changes
Easy to install
Cons
There was a complaint about a strong chemical small coming from the smell, however, it had gone in a few days.
Conclusion
If you want to encourage independence of your kid, try to apply at least some of Montessori principles in your life. And the best way to start with is to put all the things your child needs at his level and a buy a floor, or low bed for him. Just try it and see how it works for kid!
FAQ
What are the sizes of floor beds?
Floor beds come in 2 sizes: toddler and twin.
What age are floor beds for?
A child can start using a floor bed between 1.5- 2 years.
How do I know the size of the mattress for any of the floor bed?
Mattress size is stated in a manufacturer's description of each bed.
Are fence, slats, rails, chimney, and other accessories included in the standard/basic set?
Not necessarily. Generally, all the accessories should be ordered separately. Only limited amount of frame beds come with slats.
Is it necessary to use slats?
No, floor beds are constructed in such a way that they can be used without slats: just put a mattress on the floor.