When my eldest kid had to go to the kindergarten, I faced a whole array of issues I had to sort out for my kiddy to feel comfortable outside home. And one of them was a right backpack… I was advised by my pediatrician that inappropriate size and weight of a kid's backpack could lead to certain spine problems, therefore I've spent hours trying to find out how to choose a backpack for a toddler.
Here are some tips and tricks to get you some ideas about a right backpack for your child.
I do hope that this information would be of help, and you rather spend good time with your little one than surfing the Net looking for a suitable advice.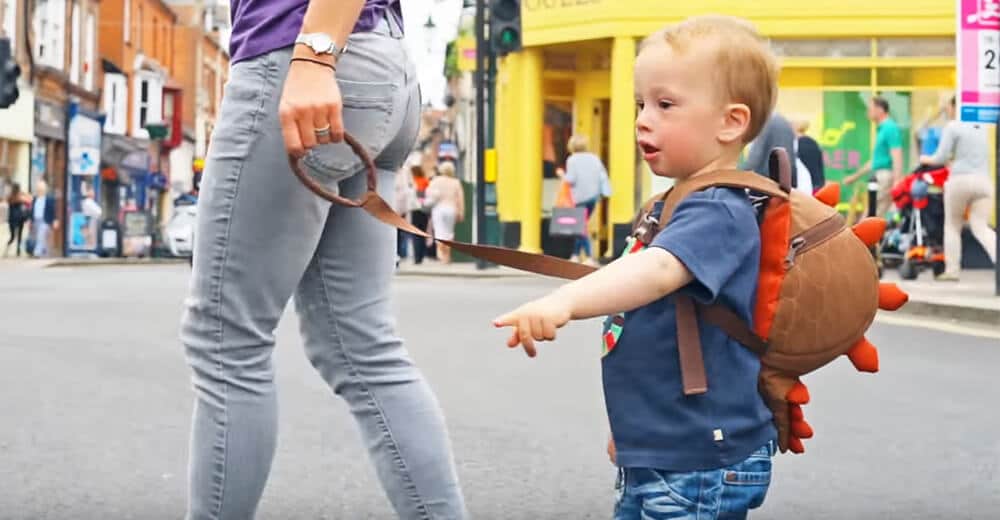 How does an ideal backpack for a toddler look like?
For my part, an ideal backpack for a toddler is the one with a perfect balance between comfort and function; having bright prints, bold colors, and multiple compartments; being lightweight and preppy.
Apparently, the issue of choosing the right backpack is more serious as might appear at  first sight. You sure don't want your kid suffer from different types of pain (back, neck or shoulder) due to the wrong model of the backpack or the weight your baby has to carry.
It is on record that the American academy of pediatrics recommends that your child carry not more that 10% of his or her body weight. Following this rule, a 50-pound child should carry a backpack that weights no more than 5 pounds. If a small child needs to carry lots of stuff, you may want to choose one of the rolling backpacks for him. You may read about my top of toddlers' backpacks here.
What are the most important criteria to consider before buying a new backpack for a child?
Right size
Right size backpack should sit exactly between the neck and waist of your kid and would not go either too high above his neck or too below his waist line.
In case you want to make exact measurement of your kiddy's torso, you may do the following:
The starting point of the measurement is the 7th cervical vertebrae (or С7 Vertebrae), the top of your child's torso length. To find it ask your kid to tilt his head forward, and the protruding vertebrae (the most prominent one) at base the his neck would be the one you need to start the measurements.
To find the bottom of the torso measurements ask your child to put his hands on his hips and, using your own fingers, help him to find the top of his hip bones (or so-called iliac crest). Don't worry, you would easily feel them with your fingers! After that trace a line on top of his hipbones: it is the bottom of the torso.
Place the measuring tape on the top point – the 7th cervical vertebrae – and go all the way down till the bottom line of your kid's torso. The distance between the 7th vertebrae and imaginary bottom line would be your kid's torso length.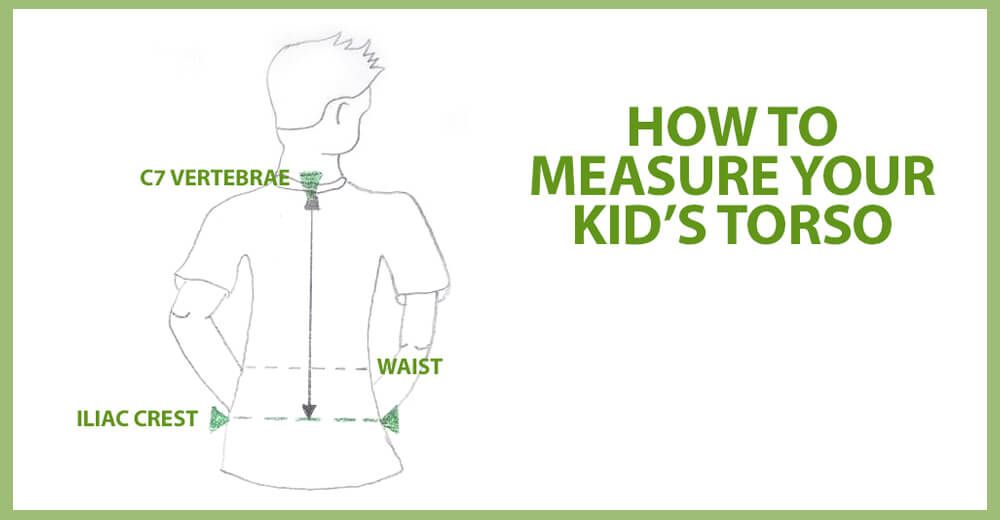 Average Child Back sizes for Backpacks by age (in inches)
| | | |
| --- | --- | --- |
| Age, year old |  Height | Width |
| 3 |   10" | 5.5" |
| 4 | 11" |  6" |
| 5 | 12" | 6.5" |
| 6 | 12.5" | 7" |
Width
It's not that easy to be exact with the width of the backpack. Try to be reasonable and remember that any backpack should be centered between the shoulder blades of your child. You can measure the distance between the ridges of your kid's sholder blades and add extra one or two inches.
12" high x 4" deep x 6" wide is considered to be perfect backpack size for a 3-5-year-old child with the normal height range between 36"- 42". Therefore, it could be a standard size of a backpack for a kindergarten.
Tips: As a general rule, the backpack should be no wider than your kid's torso, and should not hang lower than four inches below the waist. It's always better if your kid has a smaller backpack than a bigger one, which may lead to carrying too much weight and giving extra stress and pain to his back and shoulders.
However, if your child is going to visit any daycare or other preschool facility, there might be some specific size requirements to backpacks; make sure you know them. On top of this, try to find out what stuff your kid is supposed to bring, and buy a backpack which can accommodate everything your child is going to carry on a daily basis.
Weight
There's a worrying general tendency to overload any backpack… Just remember about that and try to find the lightest backpack for your child. Here's only one rule: the lighter, the better. The backpack itself should not add much weight to the load.
Shoulder Straps
For the backpack to fit snugly against your kid's back, shoulder straps should meet certain requirements. They should be soft, broad enough and well-padded in order to distribute the weight more evenly. Moreover, comfortable straps ensure the proper balance when a child is walking, running or playing.
Shoulder straps should be adjustable. Adjustable straps allow not only to have the right snug of the backpack (to help correctly position the backpack on your kid's back), but make the bag last much longer as your child grows.
There are several types of the shoulder straps. The most common are straight and ergonomically contoured.
Straight shoulder straps are the most popular and more often used in the toddlers' backpacks.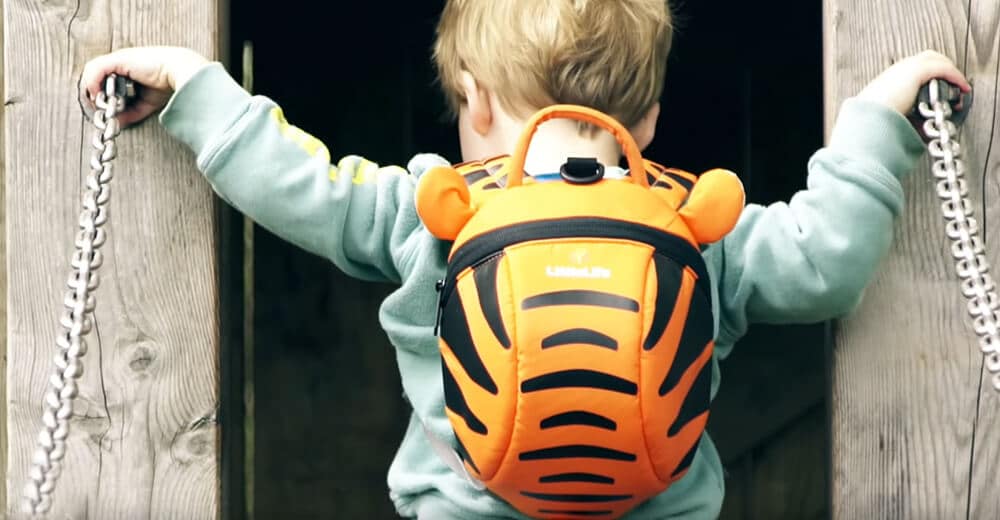 Ergonomically contoured straps
It would be better to find ergonomically contoured straps for added comfort while carrying. This type of straps fits much better than the straight ones but models with ergonomically contoured straps are more expensive.
Recommendation: Doesn't matter the shape of the straps, teach your kid to use both of them and to wear the backpack on both shoulders, not just on one. Wearing on both shoulders will ensure that the weight of the bag is evenly distributed, and, as a result, shoulder and/or back pain chance dwindles.
Chest and waist straps
Chest and waist straps are a must-have, especially in the backpacks supplied with a detachable tether/leash. But even if you are not going to use the leash, chest and waist straps not only help to keep the bag centered on your kid's body, but prevent the kid's shoulders from getting too sore. Having said that, chest strap provides for extra support and ensures that shoulder straps stay in place and do not slide off the child's shoulders.
Back panel
Back panel is an important part of any backpack. It's much better if your kid has a bag with a padded back panel. And to avoid a sweaty back, try to look for a ventilated padding (with suspended mesh).
Material
When shopping for a kid's backpack, make sure you are practical and reasonable. There are lots of beautiful toddlers' backpacks, but the bag of your choice should be from a material you can easily clean after an inevitable food spill. It should be a synthetic fabric that can be wiped off, washed and dried easily.
Water resistant and durable fabric is always a plus! High-denier nylon or polyester are the most popular and most widely used backpack materials as of today. They are very strong, durable, and can withstand tear and wear of daily use.
Cotton canvas might be appealing but not as durable and easy to take care of as any synthetical fabric.
Tip:  Backpacks with heavier fabrics at the base of the backpack will last longer.
Zippers
Zippers are very important because your little one is going to open and close them himself. Look for the backpacks with high quality sturdy wide zippers. And it would be better if you buy the one with extended zipper pulls: they are easier to grab in order to open and close the bag.
Recommendation: Extra weight gives more stress on the zippers. Make sure your kids' backpack is neither overloaded nor overstuffed. In that case zippers would last longer.
Main compartment; Internal and external pockets
Most of the toddlers' backpacks have a main compartment: as a rule, it's the spacy one, with a zipper, close to your kid's back.
Front and side pockets help to organize all the items your little one needs to carry. One rule to remember: all the pockets should be easily accessed by your kid without any help from the adults.
Many backpacks feature insulated food-safe front pocket for a lunch box or some snacks. I always go for things like this!
Tip: If the backpack has multiple compartments, the load weight is distributed more evenly through the pack. Note, that heavier items should be placed closer to the kid's back.
Color/theme
I've never understood parents buying boring backpacks for their kids… My personal choice is a themed-based backpack depending on preferences and interests of my kids. And I love to pick bright prints, color-blocking backpacks for my little ones.
If today your boy is a fan of a dinosaur and a girl loves Barbies or Minnie Mouse, let them have what they like! In case of a right choice, the backpack would show off personality of your child as well as his interests.
And you know perfectly well, that they are not going to carry them for a long time anyway! Be reasonable and let your kid to pick the color or theme he likes!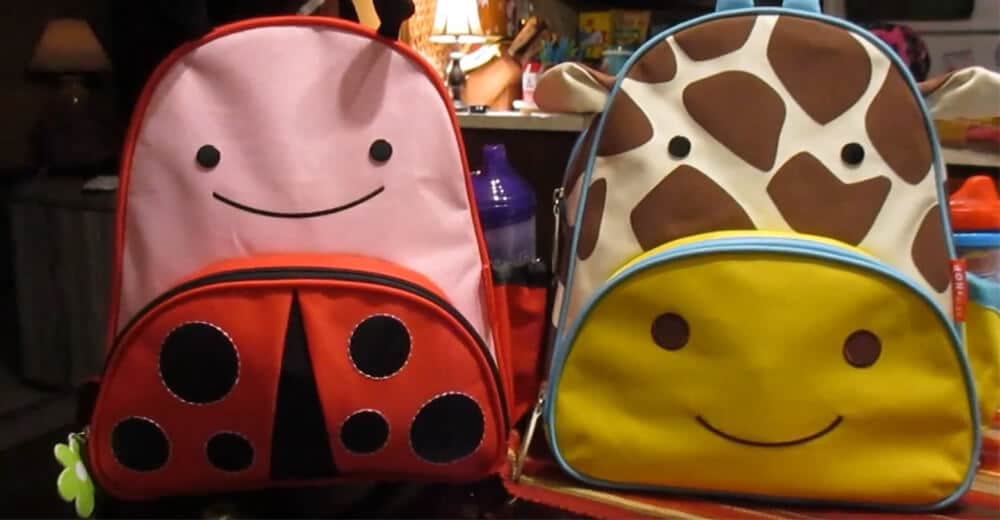 Rolling backpack
Rolling backpack might be a good option in case your kid needs to take more things to school or daily care, and you don't want him to struggle with a heavy weight. But make sure this type of backpacks is allowed in your school. Rolling backpack is also very good for travel.
Personal tag
Personal tag is a great thing to track the belongings of your child and avoid any mix-up. But I prefer internal label that doesn't expose any personal data of my kids to the strangers.
Some extras
Reflectors or reflective glow in the dark tape, side mesh pockets for a bottle or a travel mug, a top handle to hang backpack in a locker, coin purse and some other extras are always a plus!
Conclusion
Kids love backpacks, and they really enjoy carrying their personal stuff… I do hope that after having read this review you get a very clear picture of the most important features of the backpacks. Hopefully these tips will help you to choose the right backpack for your toddler!